By Kirsten Coachman

Ready to cast a spell on box offices this weekend is Disney/Pixar's "Onward," directed by Dan Scanlon and produced by Kori Rae, both of whom worked on 2013's "Monsters University."

New Mushroomton looks like your average, everyday town, but instead of being populated with people, it's occupied by a variety of mythical creatures, including elves, gnomes, mermaids, dragons, unicorns, centaurs, and sprites. At the center of the film is Ian Lightfoot (voiced by Tom Holland, "Spider-Man: Far From Home"), a young elf that's a little unsure of himself. He's grown up with his mom Laurel (voiced by Julia Louis-Dreyfus, "Veep") and his loud and brash older brother Barley (voiced by Chris Pratt, "Guardians of the Galaxy"), who has a soft spot for their town's supposed magical history.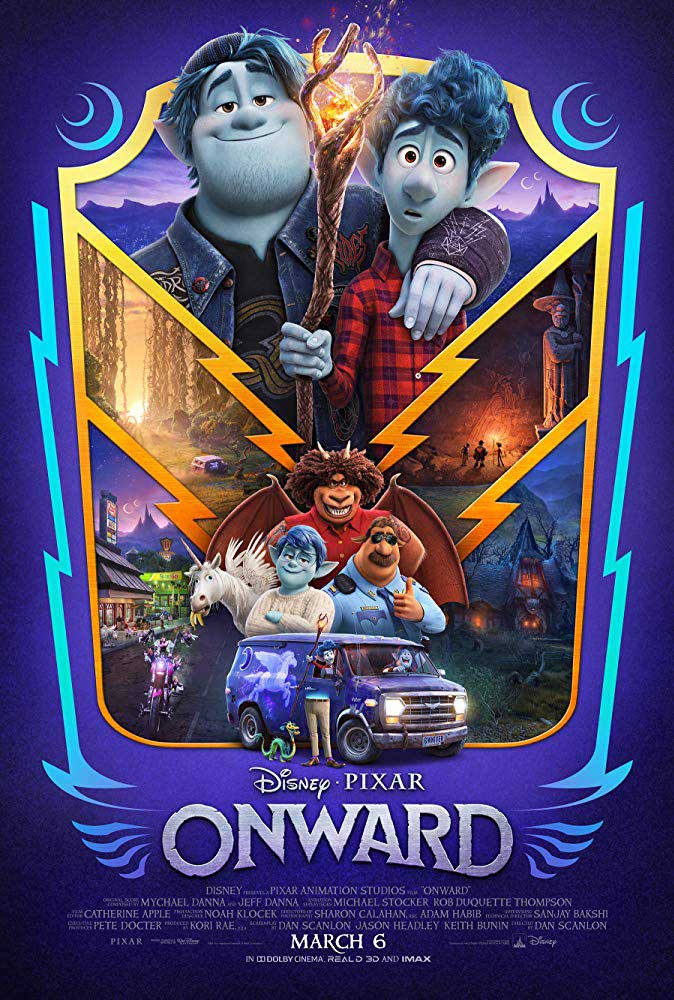 On Ian's 16th birthday, Laurel presents her sons with a package from their father Wilden, who passed away before Ian was born. She explained that she was only to give it to them once they were both over 16. Inside they find a wooden staff, a letter from their dad who opines about "maybe there being some magic left," and a gem that Barley recognizes as a Phoenix Gem from his "Quests of Yore" role-playing card game. The letter also includes a visitation spell that would allow them to bring their dad back for one day until the sun sets. Barley attempts to complete the spell, to no avail. But when Ian is left to his own devices and recites the spell, it kicks into high gear, but an interruption from Barley results in only bringing half of their dad back. Still determined to correct the spell and bring back the rest of their dad, Ian and Barley set out on a quest of their own to locate another Phoenix Gem.

There is a lot to enjoy in this latest offering from Disney/Pixar. "Onward" is packed with genuinely funny and heartwarming moments throughout and audiences will no doubt find it relatable on many levels; from the social awkwardness Ian is experiencing as a newly minted 16-year-old to not always seeing eye to eye with Barley. Yes, it's an animated fantasy film, but it's one that is steeped in authentic emotions.
Additionally, "Onward" features charming voice performances, not just from Holland and Pratt, but from Octavia Spencer ("Hidden Figures"), who plays a fantastical creature known as the Manticore. It's a notable comedic turn for Spencer as her character plays a pivotal part in helping Ian and Barley on their quest for the Phoenix Gem.

While there are lighter moments in the film, there is also depth to Ian and Barley's brotherly bond. Throughout their road trip adventure, the brothers learn more about one another, like Ian's list of things he hopes to experience with his dad and Barley's desire to know what his dad's wizard name would be. Their once-in-a-lifetime quest lends itself to the brothers' respective inner-growth, as both Ian and Barley make selfless, previously unforeseen sacrifices for each other.
Whether audiences are already fans of Pixar or are simply looking to lose themselves in a moving and adventurous story, "Onward's" fictional world of fantasy is the weekend's best quest.