Thanks to originality, preparation, determination, and talent, the MUS student has the chance to audition for "The Voice"
By Nina Tabios
On Dec. 19, TanJanae Parker gripped the arms of her fellow finalists, Ryan Gamboa and Holly Argente, who goes by Holladoughble. It was the season two finale of "Academy's Got Talent" (AGT2) and initially, Parker wasn't even sure she was going to show up to perform; not only was it finals for the School of Music Production & Sound Design (MUS) student, but she was also battling a 102-degree fever.
"I told myself, 'This is the last round, the last episode.' I just had to champ it out, I had to take a chance," Parker recalled. "If I don't win, great, at least I got the exposure. But if I do, that would be a blessing."
Once the hosts called her name and the streamers were falling, Parker was engulfed with congratulatory hugs and cheers from her fellow competitors, hosts, and judges. Her entire family was in the room—including her mom, who works in the School of Communications & Media Technologies (COM), and Parker's 5-year-old daughter, Namiah—and they all rushed to celebrate her win.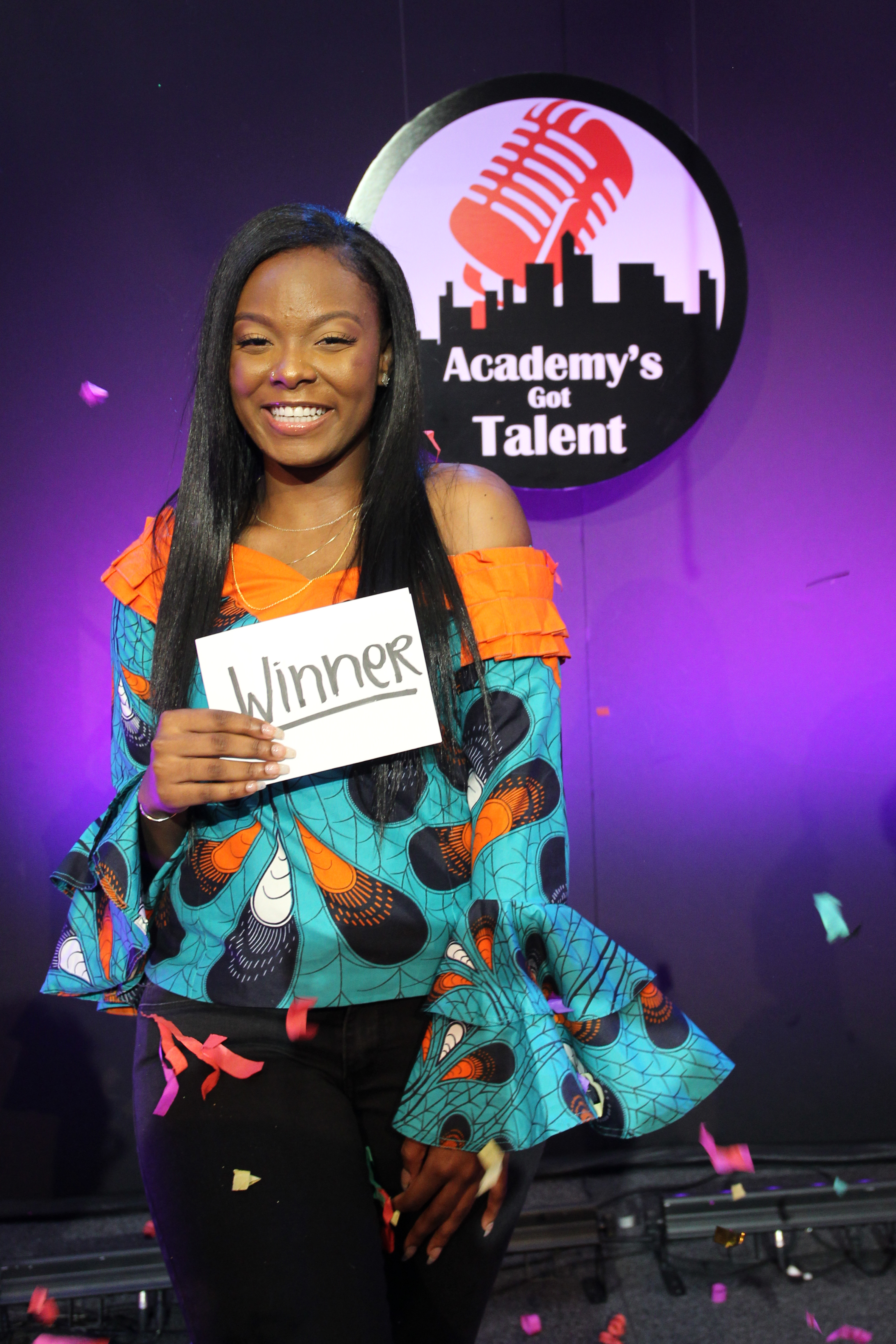 "I was so in shock," Parker recalled. "It was an exciting moment to say that I started something, I completed it, and I won."
Parker solidified herself as an AGT2 fan favorite early on in the season. Performing classics such as Nina Simone's sultry "Feeling Good" and Lauryn Hill's "Ex-Factor" showed her dynamics and raw vocal talent. She set the bar high when she started performing her own original songs ("Fire," "4:40 a.m.") and set it even higher when she started to rap, showcasing an equal amount of flair for the pen as much as the mic.
"[Parker] was thinking of how she can improve without the judges telling her," said Noa Daniels, AGT2 judge and Urban Knights Radio program director. "She brought original songs and even when she wasn't feeling her best you could never tell because she was prepared."
Parker has been doing the music thing for a long time. Growing up in Oakland, Parker started singing in the church when she was four years old. Her entire family was into music, so it was natural for her to follow suit, but Parker remembers she initially didn't like singing. "I knew I could sing but my passion was basketball, dancing—it was just totally different things. My passion just wasn't singing yet."
Parker pursued criminal justice and nursing, but nothing quite sparked her interest like music did. She wanted to be successful—she had a family to provide for—but Parker also wanted to be happy and music was the only way to fulfill both.
In 2014, she started performing at live shows, doing small competitions to test her mettle on-stage. To complete the artist package, she started writing original songs a year later.
"Music fills that void when you're feeling lonely, when you're feeling down, feeling happy, excited, whatever it is," Parker said of her songwriting. "Whenever I write a song I like to hear people's thoughts and see how they vibe to it, if their head is nodding. It's always great energy."
Part of enrolling at the Academy was so Parker could take her music to the next level. Last August, Parker released a mixtape called "Jackin' Yo Beats," original songwriting over beats from mainstream artists [Chris Brown, Floetry] but her vision is to have full control of her music, including the production and engineering.
"The creativity is endless [when you're producing]. When you're able to know the inside of the job and not just behind the mic," she said. Though MUS primarily focuses on sound design for film and gaming, Parker is there to learn everything she can and soak it all in. "It's still endless opportunities for me to grow and progress within the industry."
Parker's 2019 is sure to be busy. As the winner for AGT2, Parker will represent the Academy and audition for "The Voice" this February. She also has a new album coming out in May called, "Tee vs. TanJanae," which will feature all-original productions that explore her dualities as a rapper and singer.
"I just want to be an impact in this music industry," Parker said. "When people are feeling something they go to music and I want to make sure that whatever I feel is something that anybody and anything can relate to."
Listen to TanJanae Parker's original music on Soundcloud: www.soundcloud.com/tanjanaee.