By Tyler Callister
By 2017, fine art photographer Jenny Sampson had been photographing local skateboarders at skateparks for years. One day, at a skatepark in Emeryville, she noticed more female skateboarders at the park than usual. She immediately hit it off with them, and an idea came to mind.
"I realized then that I am only focusing on girl skaters. That's it. I'm going to direct all of my energies to that," Sampson said during a recent presentation at Academy of Art University.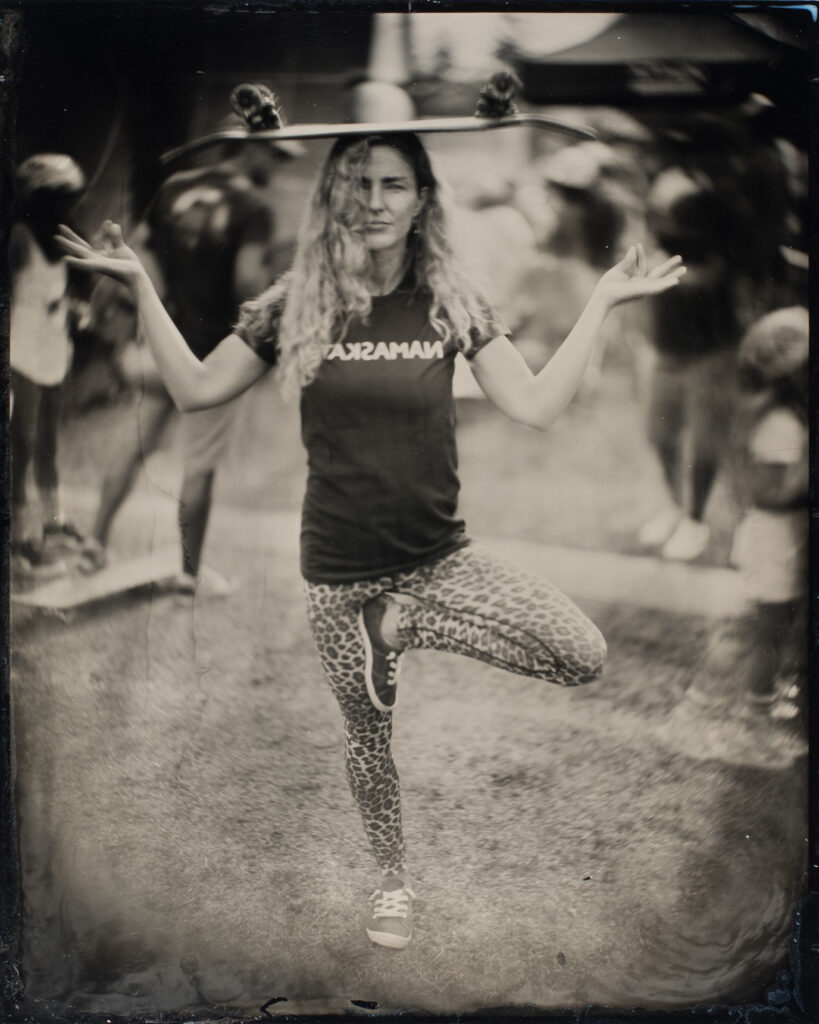 On Tuesday, June 28, the School of Photography (PH) welcomed Sampson to their Contemporary Topics in Photography class led by PH Associate Director Timothy Archibald. She spoke about her creative process and latest monograph, "Skater Girls."
Sampson is a heavily involved fine art photographer in the Bay Area. A Berkeley resident, she is currently the Board President of the East Bay Photo Collective. Her work has been featured in exhibitions across the United States, from Oakland to Philadelphia.
Initially, finding female skaters to photograph for her project was challenging. Sampson shared that she would often wait at a skatepark for eight hours in hopes of crossing paths with a female skater.
The girls she met at the Emeryville skatepark tipped her off to a non-profit called Skate Like a Girl. Suddenly, Sampson found herself immersed in the Bay Area's vast "skater girl" subculture. She became a regular at massive skateboarding events for women, including Wheels of Fortune in Seattle and Exposure in San Diego.
"I quickly grew to love girl skaters," said Sampson. "They were so cool, so tough, so fearless, and clearly breaking down gender barriers."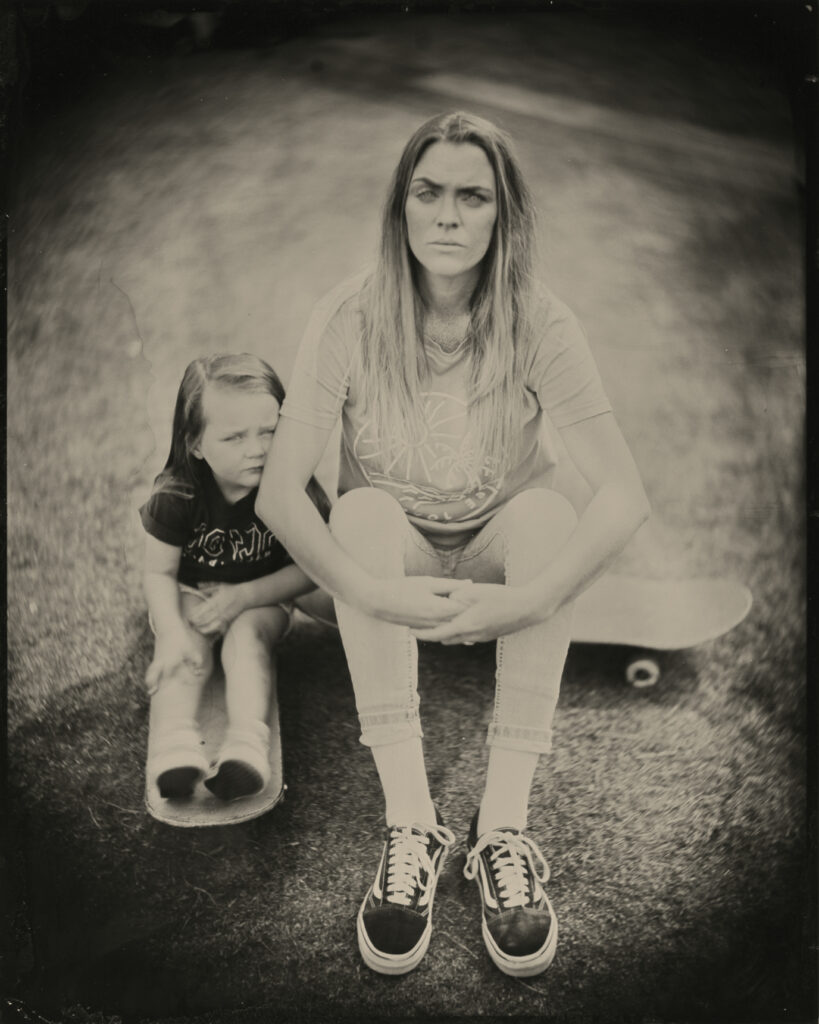 Sampson often drew attention at skateboarding events with her large vintage view camera, portable darkroom, and large bottles of photographic chemicals. She said her craft is part art and part chemistry experiment.
"It's lots of beakers and weights and scales and measures—all that fun stuff," Sampson said with a laugh.
Sampson explained that she uses a process called wet plate collodion, a form of photography invented in 1851. The process involves exposing a thin sheet of metal or glass covered in salted collodion and silver nitrate. She develops the photo in her darkroom on the spot. The result is a one-time-only photographic print known as a tintype.
"It's like a 170-year-old polaroid," explained Sampson. "It's unique. There's only one."
The subjects can't move or even smile during the photograph due to the long exposure time required, resulting in the meditative or somber look on the girls' faces.
During Sampson's presentation, she shared the stories behind some of her favorite photographs with the class, including Bridget Gamble, a skater and yoga teacher she met at Exposure. Gamble held a perfectly still tree pose while balancing a skateboard on her head for the entire duration of the photographic exposure.
"This is a testament to her amazing skills at yoga," said Sampson. "It blows me away."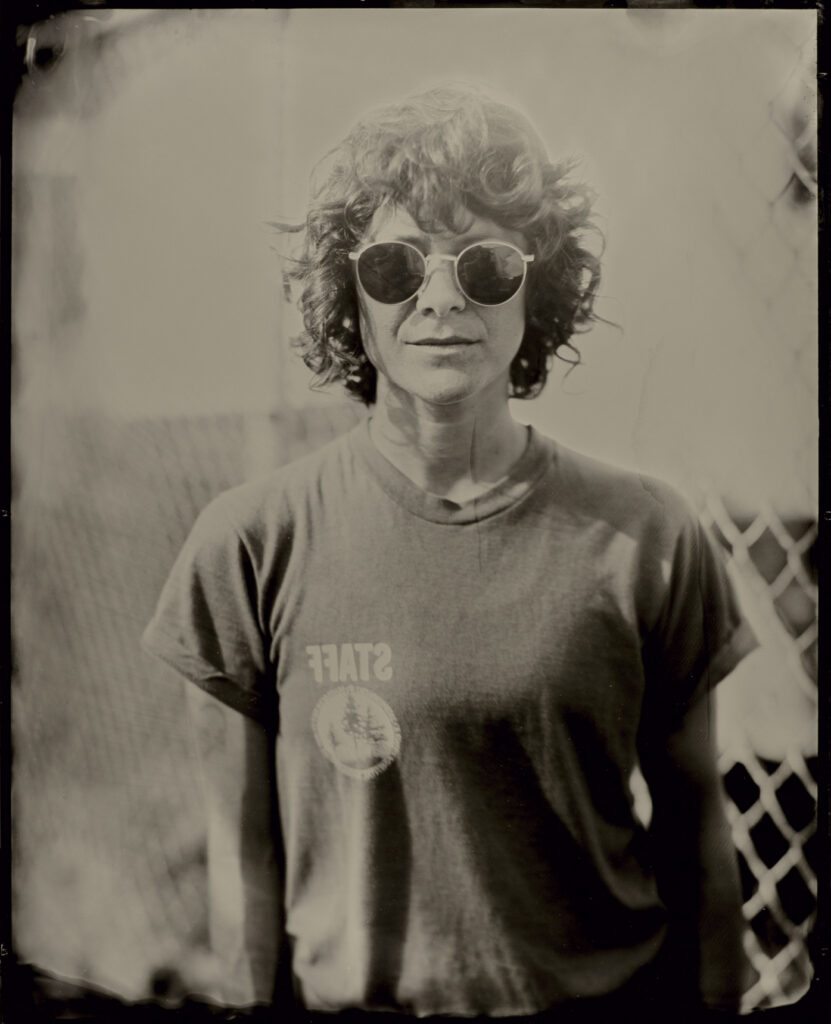 In another shot, Sampson captured a mother, Dani, and her three-year-old daughter, Vada—another challenge in sitting still. Sampson said she doesn't usually photograph young children because they are too restless, but they were able to get the shot in this instance.
"If you can connect the children to their parents, especially a young child, that's where they can find safety, explained Sampson. "They can be natural."
Sampson also had the opportunity to photograph Vanessa Torres, the first woman to win gold at the X Games.
To this day, Sampson still finds inspiration from the first group of skater girls she befriended in Emeryville. She shared that she feels a sense of kinship with them and the community that they have built.
"All of what I saw at these girl skater events… it created incredible positivity," said Sampson. "I was in this other place. It was electrical."
Following her presentation to Archibald's class, he said Sampson is an excellent example of a photographer focusing all her energy on a single subject matter.
"The biggest takeaway I would like the students to get from her is her dedication to her subject matter over such a long period of time," said Archibald. "Projects that carry some relevance, you don't just do them in a semester or in a year. They are woven into your life."