By Kirsten Coachman
For Cooper Raiff, having the opportunity to finally watch one of his films in a theater with an audience this past spring was a momentous occasion.
"It's everything," the 25-year-old director-writer-actor-producer told Art U News back in April during the SFFILM Festival. Raiff's latest feature film, "Cha Cha Real Smooth"—out this weekend in limited release in theaters and streaming on Apple TV+—closed this year's in-person festival. "It's so hard to make a movie and so lucky at every turn that you get to be there making movies. I'm so glad to just be sitting, watching a movie with other people. It's such a nice feeling."
"Cha Cha Real Smooth" follows Andrew (Raiff, "S–thouse"), a recent college graduate who's still figuring out post-academic life back home in Livingston, New Jersey. His uncharted path leads him to becoming a party starter for local bar and bat mitzvahs where he meets and makes friends with a young mother, Domino (Dakota Johnson, "The Lost Daughter"), and her autistic daughter Lola (newcomer Vanessa Burghardt). Teeming with heart and humor, the film is an endearing look at navigating life through periods of uncertainty.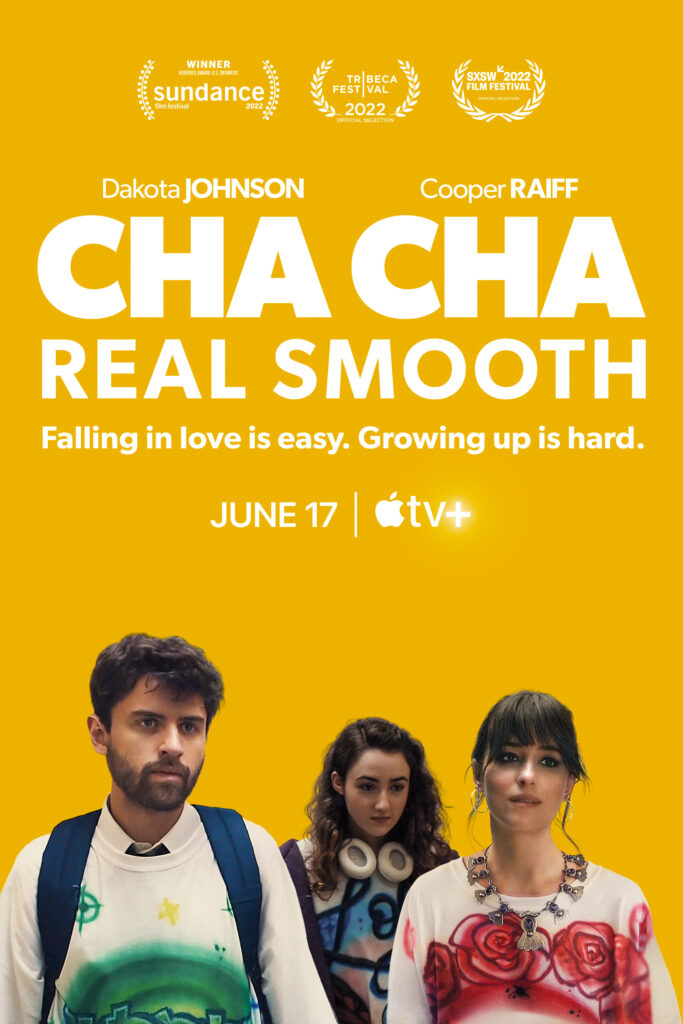 "I do like to think of it as a coming-of-age story for all ages," said Raiff.
"Cha Cha Real Smooth" premiered at the 2022 Sundance Film Festival this past January and took home the Audience Award in the U.S. Dramatic category. In addition to Raiff, Johnson, and Burghardt, the film stars Leslie Mann ("This Is 40"), Brad Garrett ("Everybody Loves Raymond"), and Evan Assante ("Dinosaur World").
Raiff's debut feature film, "S–thouse," received the Best Narrative Feature Jury Award at SXSW in 2020 and was later distributed by IFC.
Making "script buddies"
When it came to making "Cha Cha Real Smooth," Raiff wasn't the only person on set wearing multiple hats. Not only does Johnson put forth a career-best performance in the film, but it's also the first film produced by the independent company she founded with her producing partner Ro Donnelly, TeaTime Pictures.
"When I pitched [the film] to Ro, I think she was under the impression that I had a full script for it," admitted Raiff. However, that wasn't quite the case.
"I was writing this character that was just the mother of a disabled kid, whose early life was defined by her stages and whose life was always going to be defined by those stages. … I had that idea kind of stewing for a long time," explained the Dallas, Texas native, who shared that he initially began writing the character during his senior year of high school. "Then, I came up with the idea of like a young person, and it was like a young person in college meeting her, like maybe she was a professor or something.
"After 'S–thouse,' I really wanted to get this TV show made, and I was working on that. And then I kept having these meetings where people were like, 'What's your next movie?' And I would practice pitching that character. And after pitching so many times, it turned into more of a movie."
After garnering genuine interest from TeaTime, Raiff quickly got to work. "So, then I ran and wrote a script based on a young person and that character that I had been writing for a long time."
Raiff worked with both Johnson and Donnelly in further developing the script and revealed that he didn't feel any pressure when it came to sending his producers items to look at. "They were so lovely and loving, and genuinely wanted to be my script buddies."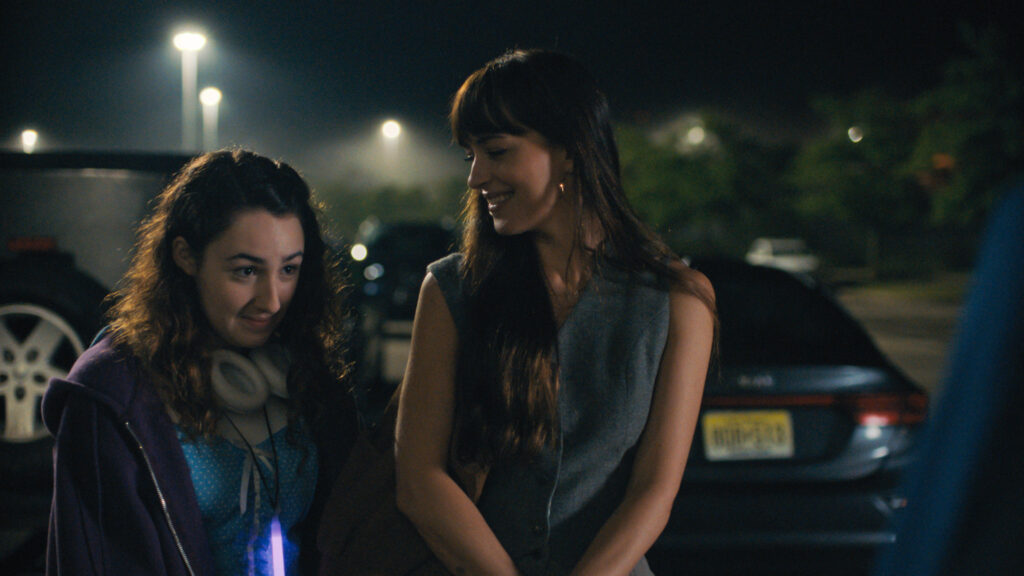 The admiration continued when it was time for the cameras to roll. Working with Johnson on set in multiple facets as her scene partner, a fellow producer, and her director, Raiff shared that she was "just the ideal collaborative partner."
"It's like you're script buddies, and then you're co-parenting a set like a movie, and then we're just chilling with Vanessa, and then we were soulmates," said Raiff. "It was like a rollercoaster, and then we were arguing about blocking."
A multi-hyphenate creative
On writing
Raiff spoke about the first bit of writing he did, describing it as "just like vomit, cathartic crap" that he now couldn't believe he had shown anyone. But he realized that the more he wrote, the more that he was writing for people to consume his work. 
"I always love my characters so much and want an audience to love them as much as I do," explained Raiff. "I think the way to do that—I've learned—is to make them as real as possible so that you really believe everything that you're watching and make them as dimensional as possible."
When it comes to writing humor, he said that he tries to incorporate it into his films so that it comes from the character he's writing versus putting characters in humorous situations.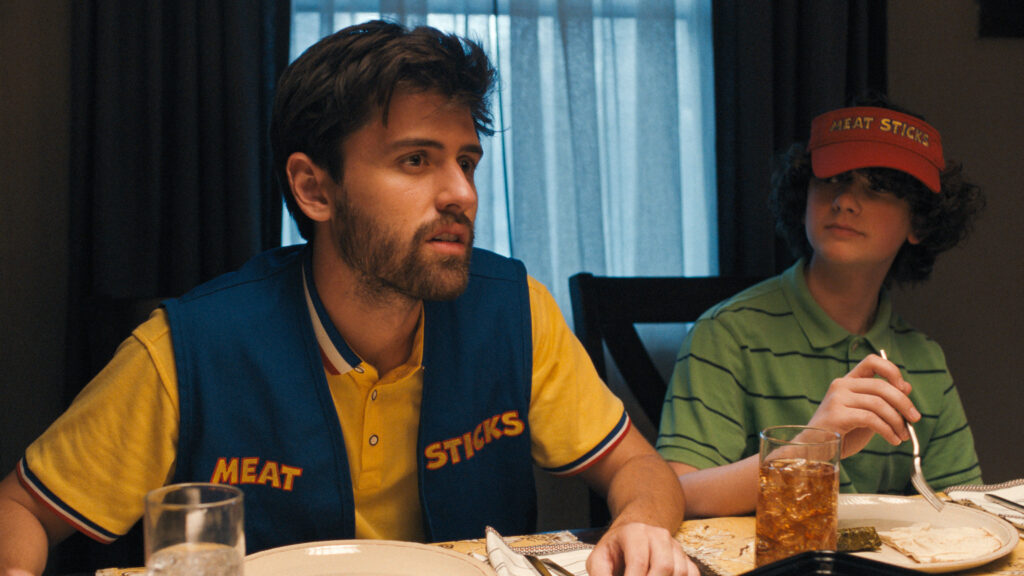 "I think that has a lot to do with how I can balance humor in like a vulnerable way and that sort of thing," he said.
Aside from a lot of dancing, both of his films feature the lead characters' relationships with their respective mothers. Raiff shared that he's just writing what he knows.
"My mom and I have a very particular relationship that I can pull from all the time," said Raiff. "It's a joy to write about my mom. She's a very interesting person."
"Both movies, I think, are love letters to my mom in a lot of ways," he added.
On acting and directing
It was day four of making his debut feature film, "S–thouse," when Raiff realized that ultimately directing was what he wanted to pursue. "That's what combines all of the things that I care about," he said.
He confessed that one of the reasons he never directly sought out directing was that he doesn't think of himself as much of a leader, but Raiff was also questioning himself. "I was like, 'How dare I?' Like, who do you think you are to just be like, 'I want to direct people.'"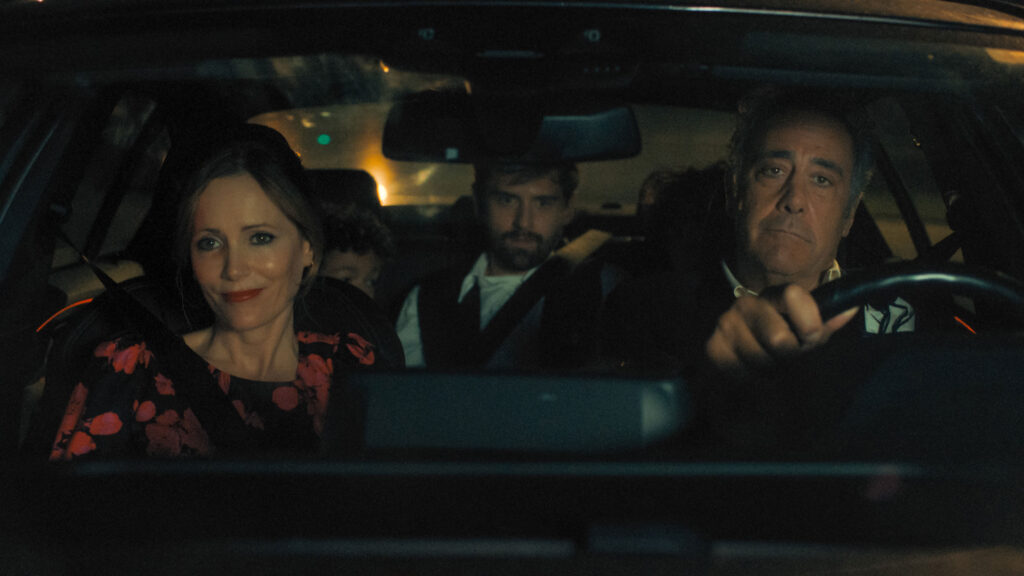 Initially, he wanted to act so he could be on set and participate in the creative process. "I thought that was my way in," said Raiff. "But when I realized that my way in was doing all of the things, I'm just so happy to be here doing that."
And he recognized that "doing all of the things" was part of why Johnson and Donnelly signed on to work with him. He had not planned on acting in "Cha Cha Real Smooth," but knowing that they liked the voice of "S–thouse" and that he had a hand in everything from writing the script to directing and starring in the film to being part of postproduction in the editing room was why he made his way back in front of the camera.
"I think that's who they wanted to work with as the person who was doing all the things and had such a stamp," said Raiff.
At the end of the day, Raiff said it's not about his love of any particular aspect of filmmaking that keeps pushing him forward—it's his overall passion for making movies.
"It's not necessarily about, 'Oh, I love directing, that's the thing I'm going to do,' or 'Oh, I love acting, that's the thing I want to do,' or writing," said Raiff. "I just want to be making movies. I feel so lucky that I can."
Raiff advises filmmaking students that pursuing their craft is not necessarily about confidence. "It's just about realizing that you want to be on a set making a movie."
"Cha Cha Real Smooth" is now playing in limited release in San Francisco and is available to stream on Apple TV+.