By Greta Chiocchetti
Last year, School of Communications & Media Technologies (COM) students at Academy of Art University proved that, despite the ongoing COVID-19 pandemic, the show would still go on.
In COM 720, also known as "Studio 79," students produced a dynamic live-to-tape talent show with hosts and competitors tuning in from around the world. Students participated in the class on-site in San Francisco and from home—both across the States (Utah, Tennesse, and Florida) and the globe (Vietnam, Malaysia, the Philippines, and Germany, among many others). After a seven-week marathon of performances, School of Music Production & Sound Design for Visual Media (MUS) student Stormy Montana was crowned the winner of the Academy's first-ever global online reality TV competition show.
This past spring, COM students did it again with their production of "The Smartest Artists," a global live-to-tape trivia game show that tests its contestants' trivia chops. Led by COM Co-Directors Jan Yanehiro and Steve Kotton, students in COM 720 created an online game show that was competitive and playful.
"COVID hit us last spring—the last time we did the game show class—and we managed to cobble through that semester on Zoom and put a show together," said Kotton. "I don't think either of us were really satisfied with that one. The students had a good experience, and it was credible, but this time around, we took what we learned and built upon it. This is what you do in this business; as a creative person, you're always taking on new challenges and trying to reach a little bit farther."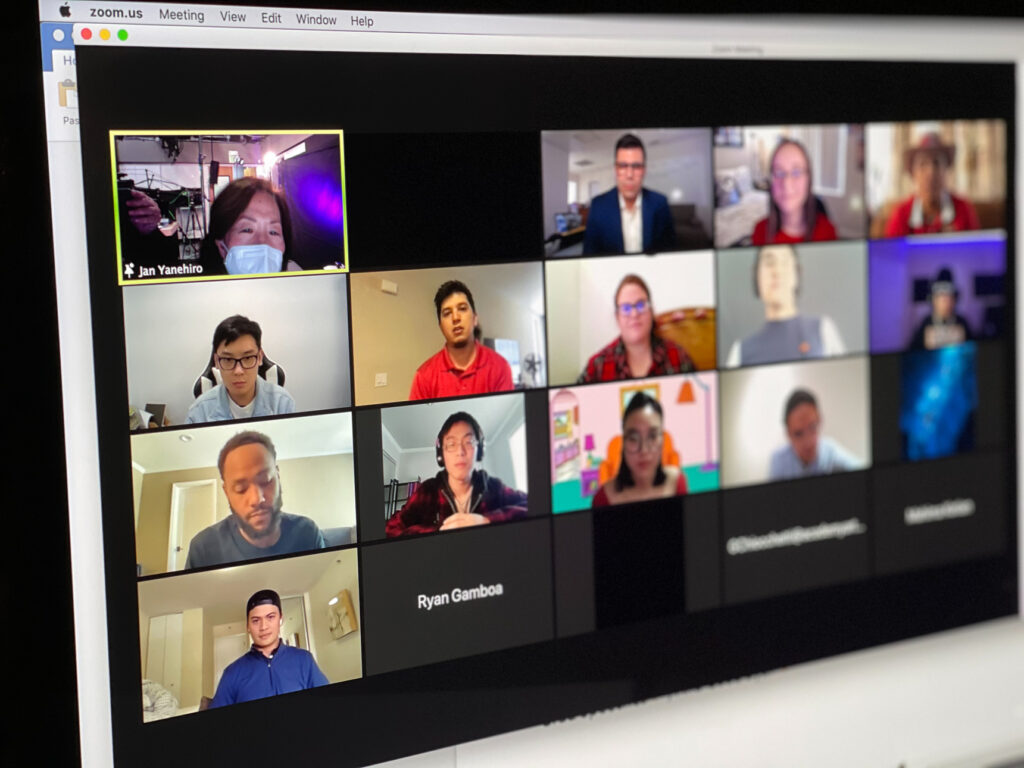 "So we asked ourselves, 'How do we do this now?'" said Yanehiro. "'If we can't do this in person, how can we do it virtually?'"
Finding a way forward
Yanehiro and Kotton split up the class, made up of both graduate and undergraduate students, into four teams—Team Dynamite, Dream Team, Team Powerhouse, and Team Legends—and tasked them with building the show from the ground up. Each student contributed to the reimagining of the show, regardless of where they were in the world—from Southern California, Nevada, and Texas to Vietnam and Malaysia.
After students voted on the game show's name, "The Smartest Artists," they auditioned for roles as hosts and signed up to join tech teams and production units that would build the show from the ground up.
"The Smartest Artists" pitted the four teams against each other throughout eight games, where they competed to gain the most points by answering trivia questions about history, architecture, pop culture, and more. Though hosting the show on Zoom had its benefits—allowing students and contestants from around the world to participate and streamlining some production processes—it still required much coordination to bring everyone together onscreen. Students invited guests within the Academy community to compete on the show each week. They wrote the show's scripts, selected the trivia questions, built a website, and taped and edited each episode.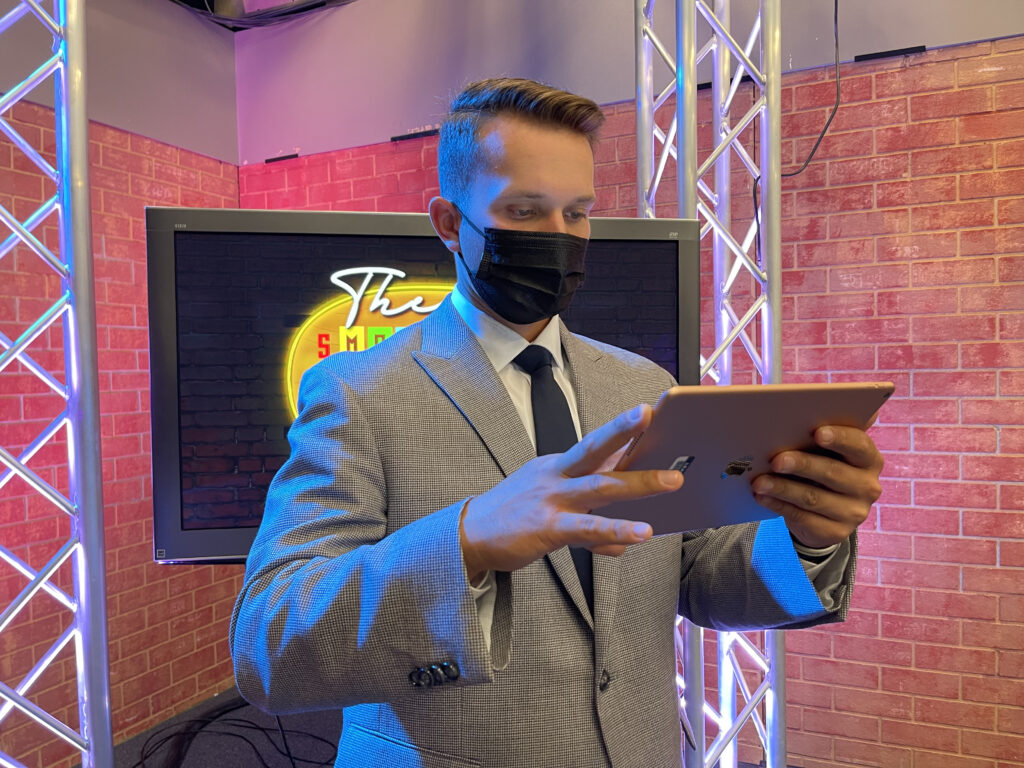 "Even though you're on Zoom, and you're far away, you can still do things for the show—you can produce, you can do motion graphics, you can do social media, you can do the website—you can do all that remotely, you don't have to be in person in the class. And those are the things that we learned with this pandemic," said Yanehiro.
For COM student Dinh Huynh, the transition to remote learning quite literally happened overnight. Each Wednesday morning last semester, she logged into class via Zoom at 3:30 a.m. from her home in Ho Chi Minh City in Vietnam.
"At first, it was really weird to wake up at the opposite time as everyone else," said Huynh. "But it's been over a year since we've been doing online classes, and this just feels normal now. I just go back to sleep after class."
From her bedroom across the globe, Huynh built a website for "The Smartest Artists." As a producer for the show, she created all of the show's motion graphics, including the intro sequence, which features a glowing neon artist's palette emblazoned with the show's title, as well as sprinkling confetti to celebrate teams as they won.
"For a while, it was kind of sad to see my classmates on set and not be able to be there with them," said Huynh. "But I was glad to be able to be a part of it even if I couldn't be there physically."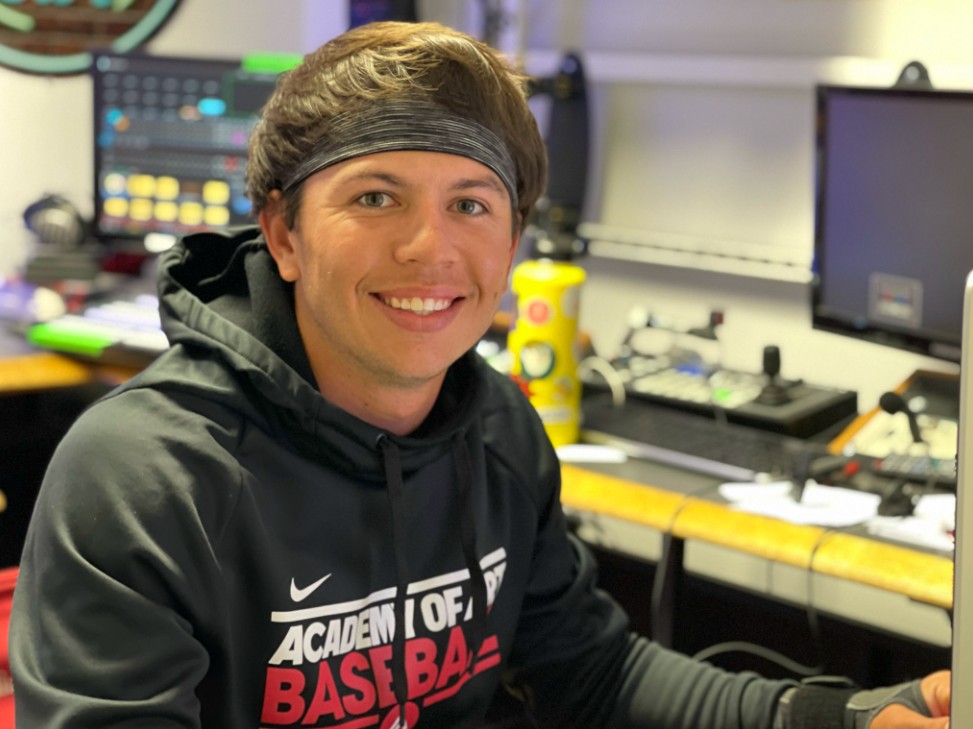 While students like Huynh tuned in from across the globe, those who were local to San Francisco had the opportunity to tape the show in the studio at 79 New Montgomery. As in years past, hosts arrived on set ready to bring the energy. The difference this time is that hosts Ryan Gamboa, Collin Carriger, Armando Rivera, and Mahima Kotian would perform in front of an invisible audience.
"I just want to let you guys know that I woke up this morning with a pit in my stomach," Carriger said. The host of Team Dynamite delivered lines in a carefully spaced studio ahead of the final show, which his team would win in just a few moments. "And you know what it was? It's a hunger, and that hunger can only be satisfied by a win today for my team, Team Dynamite!"
For Kotian, a graduate COM student who fell in love with the COM 720 class last semester, this was a great opportunity to learn about producing—in front of the camera this time. Led by studio technician Zayanya de Alwis and Kotton, students learned about the practical ins and outs of capturing the shots, syncing up the studio footage with onscreen guests tuning in via Zoom and mixing audio.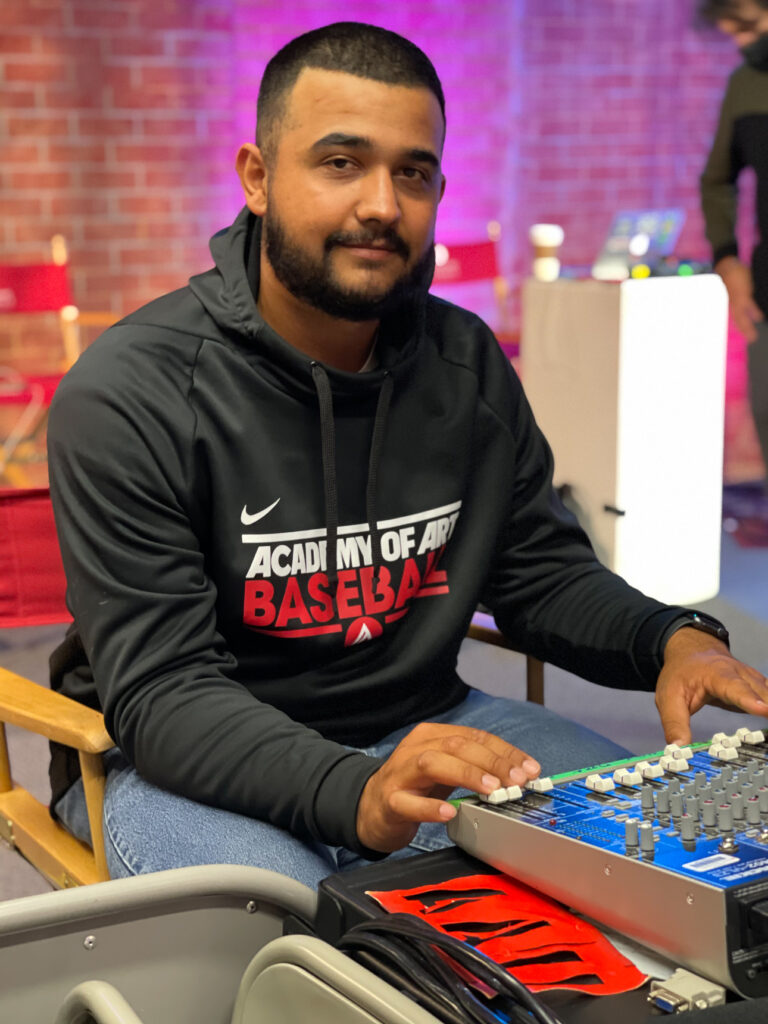 "Last semester, I saw the technical things behind the scenes; I learned how to operate the cameras and be the floor director. This time around, it's been fun to be in front of the camera and handle the front-of-scenes part of it," said Kotian, who served as a pre-producer and onscreen host for the Dream Team. "Typically, in our department, it's more individual-focused and not always so collaborative, so this has been a really fun experience, getting to be a part of a team."
Gold stars all around
Though Zoom offered its share of technical challenges to overcome, students worked closely to improve the show over the course of nine weeks. Each week, Yanehiro asked them to submit reviews of the past show with an emphasis on growth.
"We asked them in the reviews not to tell us how fabulous the show is. What do we learn from that?" said Yanehiro. "So, I say to them, in the reviews, 'I'm asking you to look at it critically and tell us where we can improve the show, where we can improve someone's performance, where we can improve that topic.'"
Yanehiro highlighted the best reviews with proverbial "gold stars," encouraging students to give constructive criticism each week.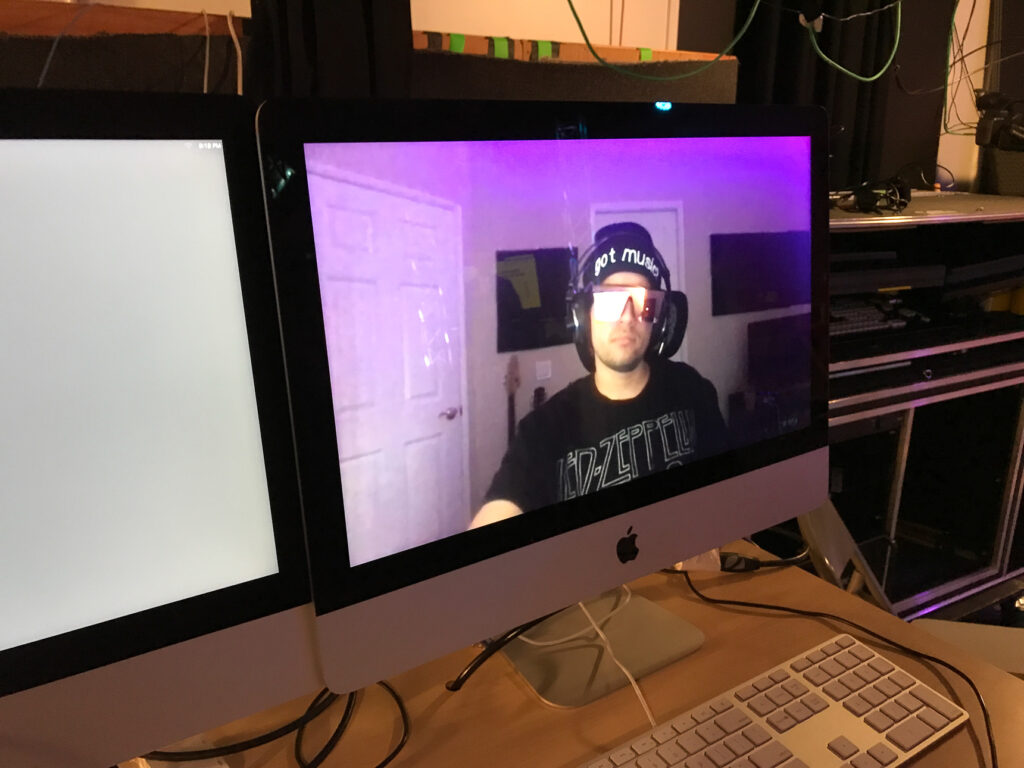 "I would say, for example, 'Mahima, you get the gold star this week because you said this and this in your review. Everyone read her review,'" said Yanehiro. "It was really touching to me that by the end, the students were giving each other gold stars. I was sort of tickled pink about that. It was a testament to me, in a small way, that this was of value to them. It gave them permission to not only share critical feedback but acknowledge when they really nailed it."
Each week, students pointed out what could be improved upon—from editing mishaps to sound inconsistencies. By the next week, there was a vast improvement.
"We have Jake (MUS student Jacob Guaydacan), who comes in as sort of our DJ, Musicman J. A lot of times, when we're rolling, you can't really hear him. And then we have to go back in and edit him in," said Kotian. "That's something that we've been working hard to correct, and over the weeks, a lot of us mentioned it in our reviews, so it's been getting better and more seamless."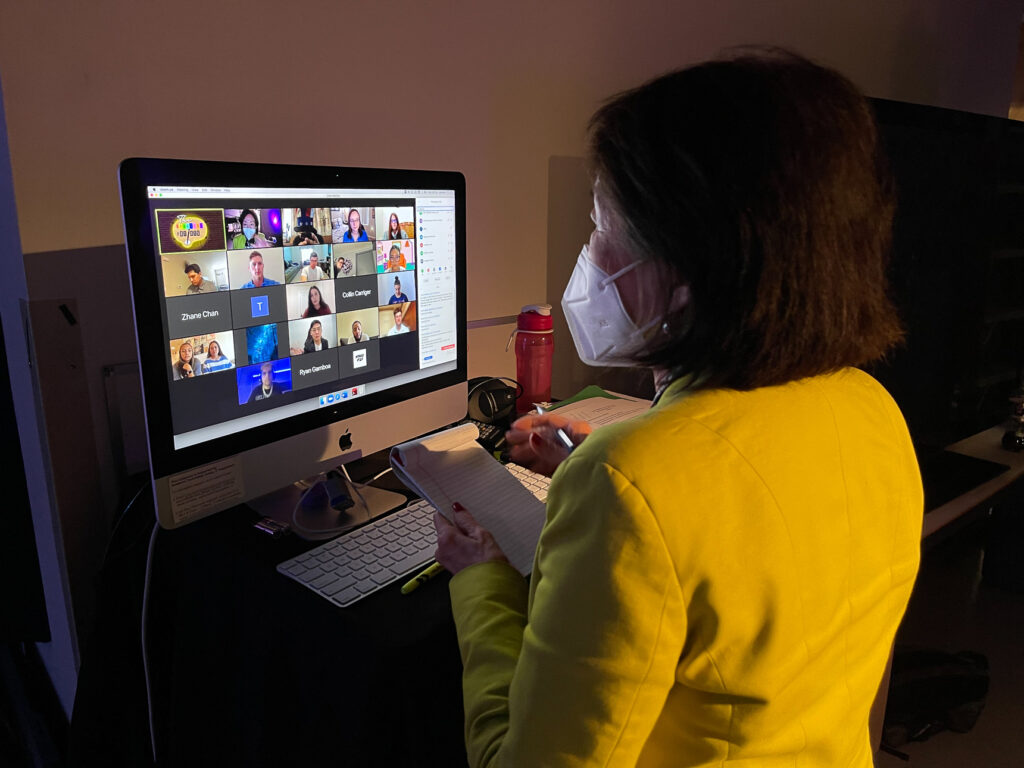 The class offers a safe space to make mistakes, said Kotton, which is invaluable. "As a student, I would have loved this," he said. "What a wonderful playground to be in, to do this, and to have 20 friends all working hard to create this show."
Beyond being a great learning opportunity, this global production of "The Smartest Artists" reflects a rapidly changing world.
"In terms of doing this kind of show, even though the threat of COVID is going to go away eventually, a lot of these things are going to stick around," said Kotton. "A lot of techniques—a lot of ways of producing a show—bringing people in from all different parts of the world in order to participate. That's something that's going to stick."