By Kirsten Coachman
Light bulb moments often arrive when we least expect them. For Academy of Art University School of Fashion alumna and founder and CEO of della terra Emily Landsman, it was during a period of COVID-related isolation nearly a year ago when she realized there was a void in the footwear market.
That void? Footwear that could bridge our indoor and outdoor worlds; shoes that could focus on comfort and sustainability while still being fashionable.
"One of the things that was really important to me was that it was easy for the customer, and that means easy to wear, versatile, had comfort built-in, but not at the expense of fashion. But, also, it was not a difficult decision to make in terms of sustainability and the footprint that the fashion industry has," said Landsman, who received her M.F.A. in 2008. "I wanted these choices to be really easy for the consumer because I think that's what they were dying for."
Footwear calling
Landsman's fascination with footwear dates back to her childhood when she would draw pictures of shoes. "Embarrassingly, I have some framed pictures that I drew when I was like four years old of shoes that my mother has kept all these years."
Originally from New York, Landsman received her B.A. in art studio from U.C. Santa Barbara in 2005, focusing on photography and digital media. It wasn't until she visited San Francisco and spoke with the Academy's admissions department that she figured out which direction she wanted to go for her graduate studies.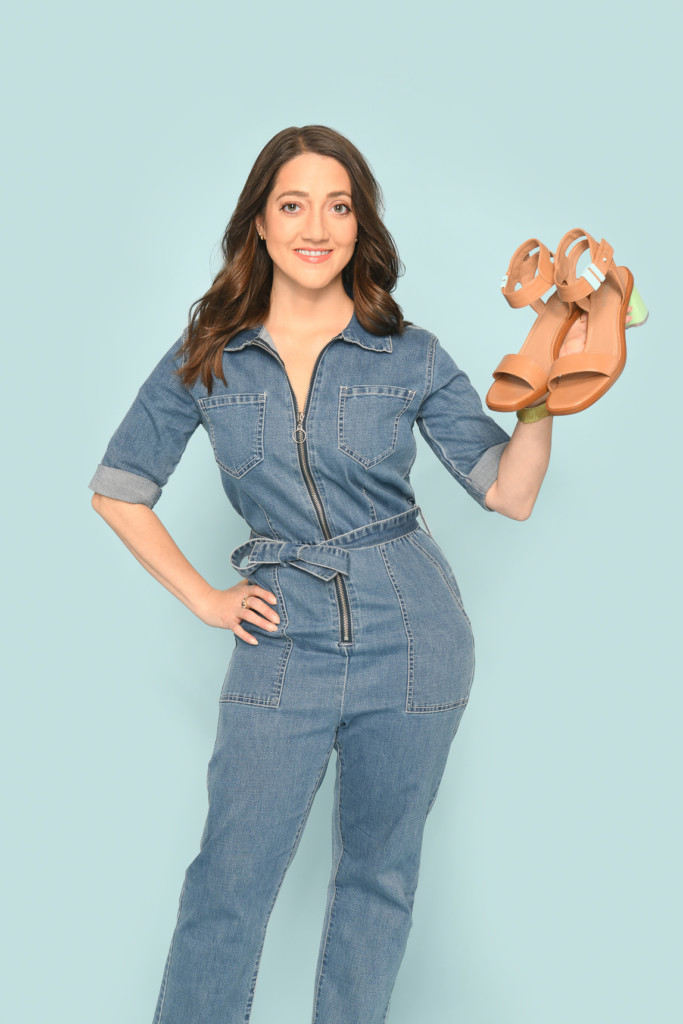 "[It was] a bit of pivot from where I had been, [and] I started to really feel like I had found my place," said Landsman. "Even though most of my classmates had already studied fashion in undergrad, I was able to work with Simon Ungless (School of Fashion executive director) and really kind of forge my own path, where I was able to learn a lot really, really quickly."
During Landsman's studies, the School of Fashion didn't have a footwear track just yet. However, with guidance from Ungless, she was able to shape her program so it would focus on footwear. "Simon said to me, 'Let's figure out a way that you can really make this the program that you want it to be,'" said Landsman.
"We built a series of classes for her from fashion design supported with sourcing and manufacturing classes from the merchandising program, and I think there was a rendering class from industrial design she was approved to take," said Ungless, who explained that the process of designing footwear and accessories is the same approach to fashion—from concept all the way to presenting in a collection format. "We also connected with Suzanne George, who was the only footwear designer/maker in San Francisco. … Suzanne was very generous with her time and resources as an advisor for Emily."
Ungless noted that Landsman's successful final review is what initially "planted the seed" for expanding the School of Fashion to include footwear design. The accredited footwear and accessory design program would come to fruition in the fall of 2018.
Opportunity awaits
During her time at the Academy, Landsman began an internship with Twenty Two Shoes which would later lead to an Assistant Shoe Designer opportunity. And that was only the beginning.
"I am so lucky to have had a pretty diverse experience in the workplace," said Landsman. "I've worked for large companies and small companies, worked for large commercial mass-market companies like Clark's. And then, I worked for smaller high-end fashion houses where I was really focused on runway like Vera Wang, DVF (Diane von Furstenberg), Alice + Olivia, and I think that it was amazing to really sharpen my skillset in all sides of that."
In 2016, she founded Shoe York City, a New York City and shoe-inspired collection of "on-the-go accessories," including beauty bags, cell phone cases, and tank tops. In 2019, she joined General Assembly in Boston as a Lead Instructor for their UX Immersive Program. She is also an instructor at the School of Fashion Design in Boston, where she's introducing footwear design to tomorrow's designers.
After building both an extensive and impressive résumé, it's not surprising that Landsman is looking to fill that marketplace void she sees with her new sustainable and inclusive footwear brand, della terra. The brand's first collection features five casual yet chic styles—ranging from their signature slip-on to strappy sandals with a block heel—that are each available in multiple colors.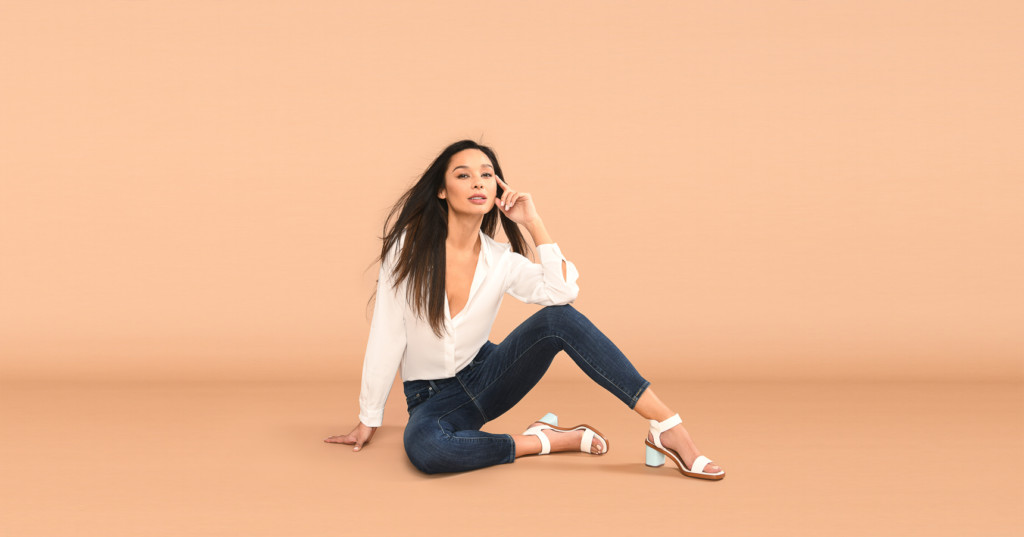 Ungless believes that his former student has navigated her career so far in the industry "perfectly."
"She was hired very quickly and for over a decade has maneuvered herself through positions at various companies," Ungless commented. "She has built her skills, network, and contacts within the industry to give her all of the resources she needs in order to launch her own company. Having several years of industry experience building solid industry relationships before launching one's own brand is the best way to do it."
Art U News caught up with Landsman over the phone last week to discuss della terra, working on a new brand during the ongoing pandemic, and her advice for current fashion students at the Academy.
How did you go from that initial lightbulb moment about della terra and expand on your idea from there?
I think that part of it was because, after designing shoes for going on 20 years now, I had all of this shoe passion and creativity built up. And there were so many times that I was working for other brands where I felt like I just wasn't completely delivering on what the market needed because I was making sure to cater to the needs of those brands. And it was like this simultaneous light bulb moment where I realized that I had a place for all of those creative ideas to go.
The name della terra (it means "of the land" in Italian) speaks directly to the sustainability aspect of your footwear. Can you talk a little about why sustainability is an essential factor for your brand?
So, for many years, I fell in love with leather, and I used leather, I used fur. I am guilty of indulging all of those fashion fantasies when it comes to footwear. And that was also what the market was asking for at the moment. When I was first starting della terra, I assumed that I would make shoes out of leather, just because that was the way it had been done for so long. And it wasn't until I started thinking about this connection to the land, to the Earth, and the importance of that, and really realizing that if we launched this brand in a way that was not taking into account our footprint, we would be setting ourselves up to be part of the problem that needs to be corrected. And I wanted to make sure that this brand was born as part of the solution from the very start.
Della terra is partnered with Soles for Souls and One Tree Planted—how did this come about?
I think it happened a bit organically over time. Soles for Souls is an organization that I've worked with over the years with other brands. Partially because, just being a designer at some of these larger companies, even the smaller fashion houses, there were a ton of samples—and even early production shoes—that we really didn't have good homes for. And a lot of the time, there ended up just being excess and waste. So, I partnered with Soles for Souls over the years because one of the things that they do is match up the right need for the shoe, with the right type of shoe. So, people often think shoe donations are all about work boots or sneakers, right? Athletic stuff, really practical stuff. But also, there are many people who need all different sorts of shoes. So, that's one of the things Soles for Souls does. In the back of my mind, I think I always planned to partner with them with any business that I've been a part of.
And One Tree Planted came about because we were really looking for a way to offset our carbon footprint as we're measuring it. I love that with One Tree Planted we can also pick specific areas of the globe that we want to target. So, right now we're targeting the areas where we're doing production. We're doing production in Brazil, so we're planting trees in Brazil. And I just think that's another level of accountability to really think about where we need to be giving back and contributing.
On the website, both women and men are featured wearing shoes from della terra. How important was it for the brand to be inclusive?
[I]t's something that's really important to us, and we hope that one day we'll be able to offer every size one could want. In the meantime, what we do is make as many sizes as we possibly can, let the consumer know the equivalent in men's and women's sizes, but we're not telling you, "Hey, if you're a man, shop in this department." We're sort of just saying, "These are the shoes that we've created, this is how they'll fit. And also, if you're looking for a size you don't see, please let us know." And we are considering that data every single season, and we'll add more sizes as we can.
What has been the biggest challenge of planning to launch a brand during a pandemic?
I think that one of the things that was really fun in the end, but a big challenge at first, was how we were going to showcase this brand to people. And that could include wholesale customers, that could include investors, potential people who now work for the company. We didn't know how to showcase the brand to people who have never seen the shoes before, who couldn't come and look and feel and touch the shoes and try them on. So, we actually hosted a virtual runway show, which was in Manhattan in December. We hired a model who was socially distanced from us in a hotel suite in New York. And we had some kind of fancy camera work going in a very DIY way where we actually had a split-screen Zoom going on with one screen close up on the model's feet, the other screen close-up of a stationary shoe in place so that the people who are looking to see the shoes—the buyers, the customers, etc.—could actually get a glimpse of the shoe on a foot moving [and] the shoe also standing still, [so] you could point out really close up details and attributes of the shoe. It was a big challenge to figure out how we were going to do that. But in the end, it's actually a technique that I think we'll use a lot going forward for remote meetings in general, even when we are able to meet more in person.
What's something that you've learned about yourself as you created and get ready to launch della terra?
I think that the fact that this is possible was a big learning curve for me. And part of the reason is that I had worked for these much larger companies with a lot of resources backing them. And I just thought that it wasn't a game that a small startup could really get in. It took a lot of years of just wrapping my head around the reasons it shouldn't be, the reasons that I shouldn't take the leap. And there was just this moment where I felt like there was nothing else to be done but take that leap because there was a void in the market, and I knew how to fill it.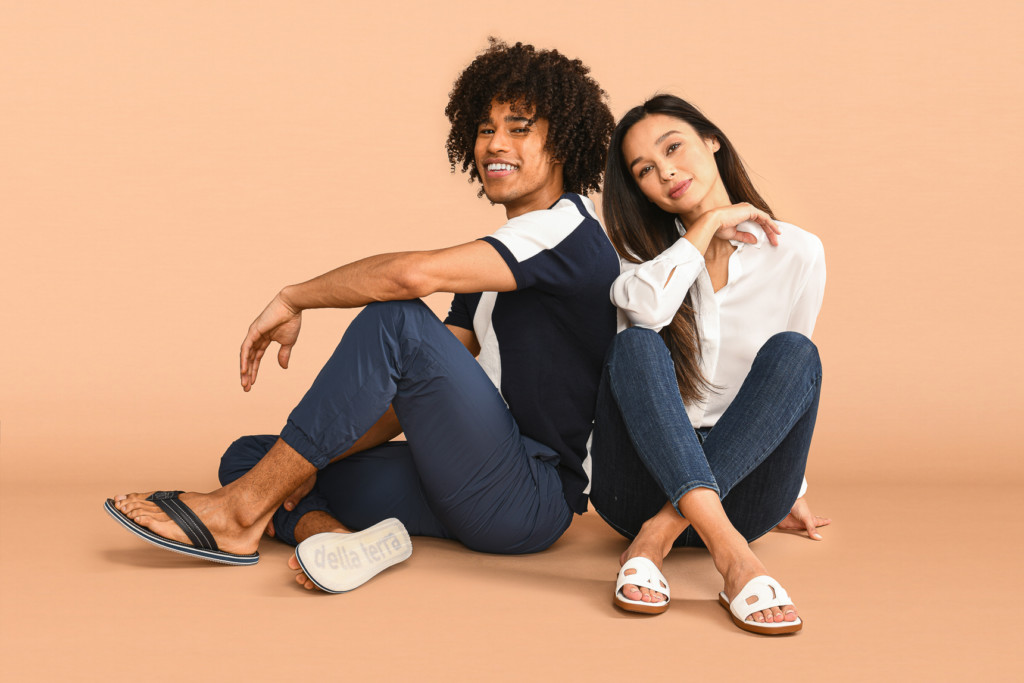 Launching your own footwear brand, I imagine you have to wear a lot of different hats. How do manage and prioritize your time, especially with your other creative endeavors?
It's a big challenge. I think anyone who has launched a startup goes through the growing pains of growing into that role of being not only designer, product developer, but also CEO, at the same time. And the biggest advice that I can give is to take care of yourself throughout the process. So, it's really important to get all these things done, and there's a lot of juggling that has to happen, but I realize also that I make much better decisions when I'm well-rested, when I'm practicing Pilates every day, when I spend time with my family. And I think that making sure that that balance is built into the culture of this startup from the very beginning actually enables us to be a lot more efficient and a lot more lean as we go. So, definitely, a lot of hard work, but I really can only make decisions based on the information that I have at the time. And sometimes, I need to give myself a little bit of a break, too.
What continues to drive your entrepreneurial spirit?
I love to learn, and I love to communicate with people. And I think that that is the commonality [with] every project I've ever worked on. It's really important that we're also not ever stuck in the same processes, just for the sake of them. I worked for a lot of companies that had so much history, and I was able to learn so much from that history, but also know that when it comes to della terra, there were no rules that were already set in place. We get to create our own along the way. And we want to make sure that we're really agile, we're really nimble as a startup so that we can react to exactly what our customers want and need.
What advice do you have for current Academy students who might be already be thinking about their future brands?
I think the most important thing is to stay open. And what I mean by that is even if you know that you want to launch your own line, talk to everybody along the way, because there could be a great opportunity to work for somebody else first [who's] going to just help you when you do take that leap; you could even be doing both things simultaneously. So, I would just say stay open to every opportunity that could present itself, and just know that the only thing we know for sure about fashion is that it's always changing.
This interview has been edited for length and clarity.