By Greta Chiocchetti
Andrea Ellen Reed was studying psychology at Howard University in Washington, D.C. when her brother gave her a Christmas gift that would change the course of her career.
Unlike his gifts of seasons past, which, Reed said with a laugh, are "usually terrible," he gave her a National Geographic book filled with portraits of people from around the globe. The vibrant, diverse subjects in its pages captivated her long after she put the book down.
"I thought, 'I can do this,'" Reed said of the portraits. Inspired by the people in the book, she picked up a camera and began practicing still life photography, which quickly led to photographing people around her university's campus. "At first, I had a little trepidation about just approaching people that I didn't know. But I started doing it on the streets of D.C., and, to my surprise, there were a lot of people who were willing to talk to me and willing to share their stories with me."
Reed graduated with an M.F.A. from Academy of Art University's School of Photography (PH) in 2007 and hasn't put the camera down since. A Minneapolis-based multimedia artist specializing in documentary-style photography, she has been featured in publications like The New York Times, Vanity Fair, Star Tribune, and W Magazine. In a recent visit to PH Associate Director Timothy Archibald's Senior Portfolio (PH 495) class, Reed shared about her path into the industry and finding a niche through spotlighting African American culture. 
"One of the reasons why I started doing photography is because I felt as though, in the media, African Americans were not always shown in the greatest light and shown as one-dimensional. And I really wanted to combat that narrative whenever I possibly could," Reed told the class over Zoom. "So, I always like to show my subjects as strong whenever possible—that's why you get that sense of confrontation with my work. I direct my subjects to look at me or directly into the camera, at the viewer, if you will."
Since protests erupted across the country last summer after the death of George Floyd and ignited a nationwide reckoning with systemic racism, Reed said she has received more opportunities to explore the Black experience in America and has delved further into her documentary-inspired projects. One of her projects, "The Streets Are Talkin'," is a portraiture series including voiceovers of Reed's subjects discussing protesting police brutality. Another, "Cali Nails," is an exploration of the significance of a nail salon through the perspective of women of color.
"I think a lot of it has to do with where I am—I live in Minneapolis, where a lot of the movement has really had a groundswell and reverberated throughout the world," said Reed. "As a result of that, myself and a number of other African American photographers have been given opportunities that, I would say, we should have been getting all along. But now, people are paying attention to the African American lens."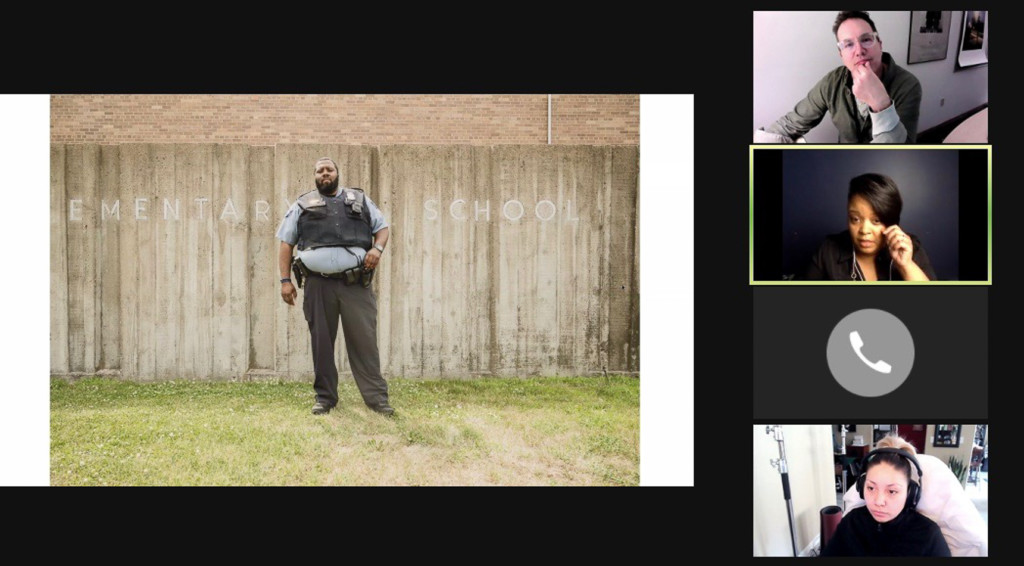 Last year, Reed was tasked with photographing a father and son duo, both police officers in Minneapolis, for The New York Times. The images would be used for a story about the police department's task of vetting and training new officers in the hopes of bettering the institution in the face of a surging anti-police brutality movement.
"I showed up, and this gentleman asked me, 'What are you doing here? Why are you here?' It was interesting because out of all of the people that I have been approached by on the street or who I approach, I had never been met with such interesting energy, if you will, especially from a Black man," said Reed. "He instantly said to me, 'I bet you're not interested in photographing me because I'm a police officer.' And I said, 'No, you're a person. And that's why I'm here.'"
Though Reed said she hadn't imagined herself as a photojournalist before, the opportunity to represent the many facets of a subject matter she holds so close—African American culture—made it a clear path to explore.
"I was very intentional about why I was doing what I was doing and that it was going to lead to my ultimate purpose," she said, "which is to tell the stories of African American community and be my own boss."