By Nina Tabios
Kenneth Brody McCasland, a student in the School of Fashion, knows what it feels like to be stuck in your head.
He's had his fair share of creative blocks, just like any student at Academy of Art University, but it was his experience with sleep paralysis that woke him up to create his evocative thesis collection, "The Void." Creating clothes inspired by lucid dreams, nightmares, and the subconscious, McCasland's designs caught the attention of fashion publications like Paper and i-D, as well as the discerning eye of those in the Council of Fashion Designers of America (CFDA).
As a young designer, the recognition was important to McCasland especially in light of how the pandemic changed his plans for his senior year. But when he received the news that Zendaya, star of the HBO hit series "Euphoria," would be wearing one of his looks for the November issue of Vogue Hong Kong, it felt like a dream he never wanted to wake up from.
"It's so hard to put it into words what that means to me," McCasland said from his home in San Clemente in Orange County, California. Zendaya had recently won an Emmy for Outstanding Lead Actress for her performance in "Euphoria," a show whose characters and storylines McCasland felt a strong connection with.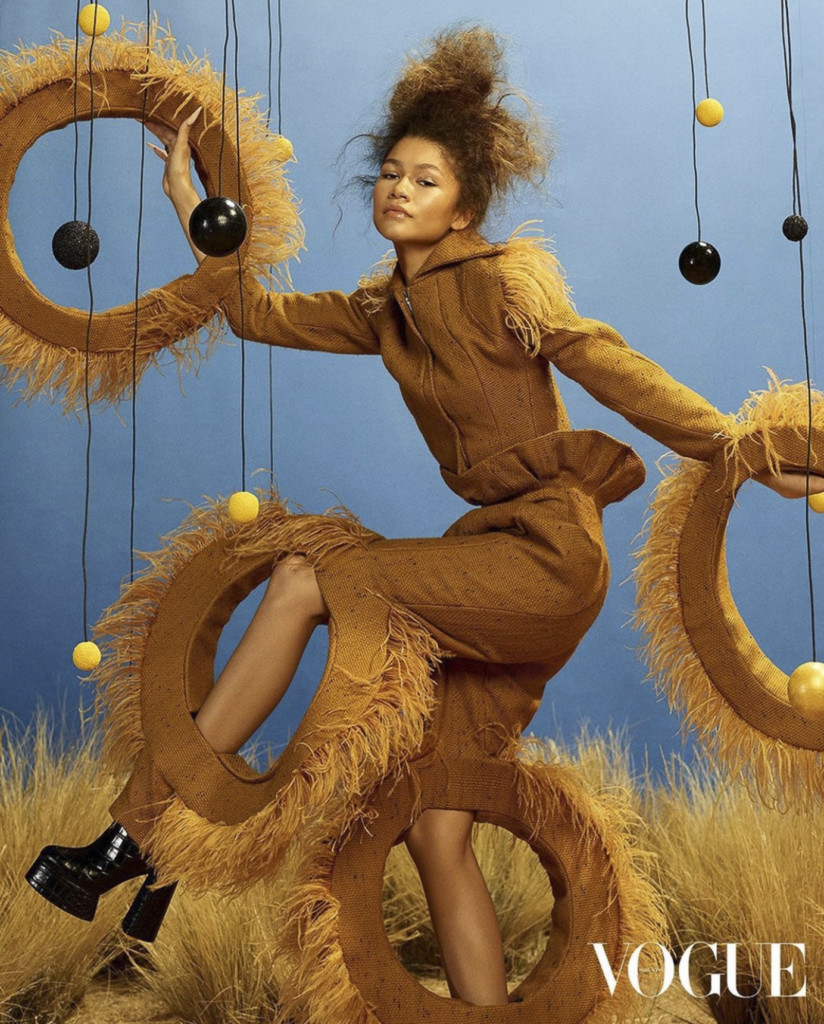 "'Euphoria' was so groundbreaking and changed so many of my generation's views. I don't think we've ever seen so many queer young people going through things that I can relate to in terms of identity," he said. "I think it was incredibly transforming to have that happen to me as a student."
According to School of Fashion Director Gary Miller, McCasland always expressed deep, fascinating concepts for his collection that derived from his alternative view on fashion. Design has always been a personal matter for McCasland, Miller recalled, who looked at fashion as a way to make his ideas literally a reality.
"He's always said that that's how he manifests his ideas—from dreams and thoughts that he had from his subconscious," Miller said. "That's what gives the collection its strength. He definitely put in the time and the effort and went the extra mile to make his vision come to life, and it paid off with something quite amazing."
In an interview with Art U News, McCasland discusses the Zendaya feature at length and how unforeseen challenges kept him motivated throughout the Fall 2020 semester.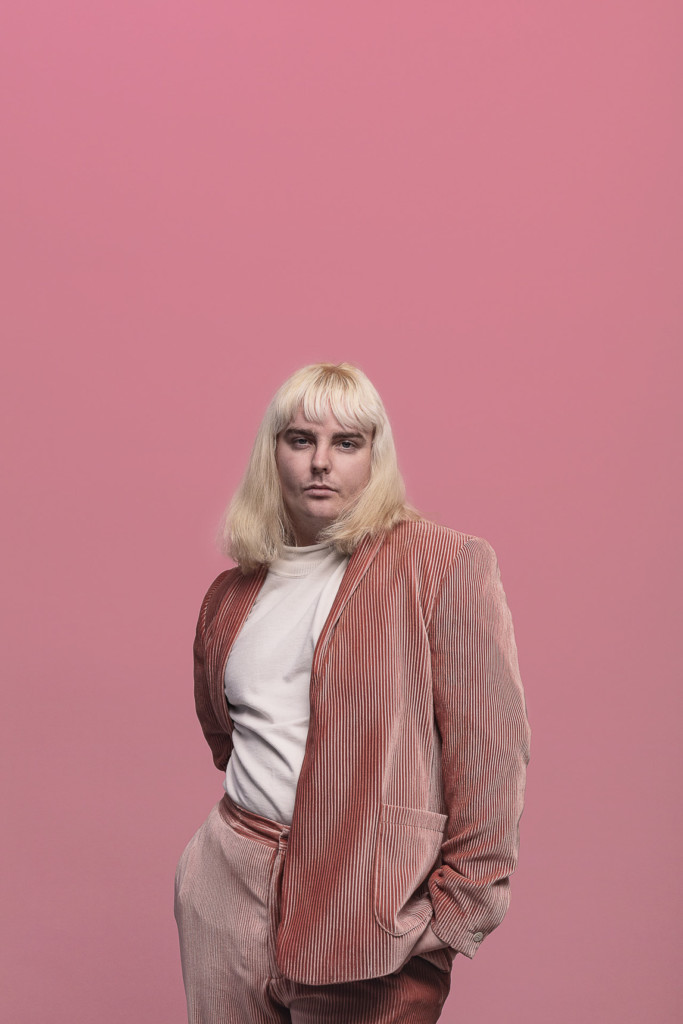 It's been a few months since you completed your thesis collection, "The Void." What have you been up to these days?

I'm graduating this December, so I've been working on my last class, which is a millinery, or hat-making, class. I've also been doing an internship with [designer] Edwin Mohney. I'm helping him with a personal collection where he re-constructs vintage garments he's collected over the past several years. He adds volume, texture, and I am helping him work on the actual garments. I was commuting from Orange County to Los Angeles to work in his private studio. We wore masks the whole time while we sewed, and I was also able to take things home because I have a big lab set up in my garage, which was where I made my collection in quarantine.
Speaking of your collection, one of your looks was recently worn by Zendaya for Vogue Hong Kong. How did that opportunity come about?
After I finished my collection in the spring, I posted it on my Instagram and a few outlets had picked it up. Paper covered it; the CFDA did; and i-D covered it through ArtsThread, which is the magazine's global graduate showcase. I think being on Instagram is kind of how it got out there. One of Law Roach's (fashion stylist and Zendaya's frequent collaborator) assistants had emailed me saying they wanted to pull my second look, my yellow look from my collection, and I honestly thought it was fake.
When did you realize that it was a real opportunity?

It was so insane. [The email] was just a very beautiful Vogue template and it was a letter to me. So, I sent it to Simon [Ungless, School of Fashion executive director] and Gabriel [Gima] and I'm like, 'Is this even real? What's happened?' They made a couple of calls and confirmed that this was indeed real and that they would send the garment out that following Monday. I drove from southern California early in the summer and turned it in to them in San Francisco. It's been really great because they've been able to ship it out across the country for shoots but Zendaya was the first pull.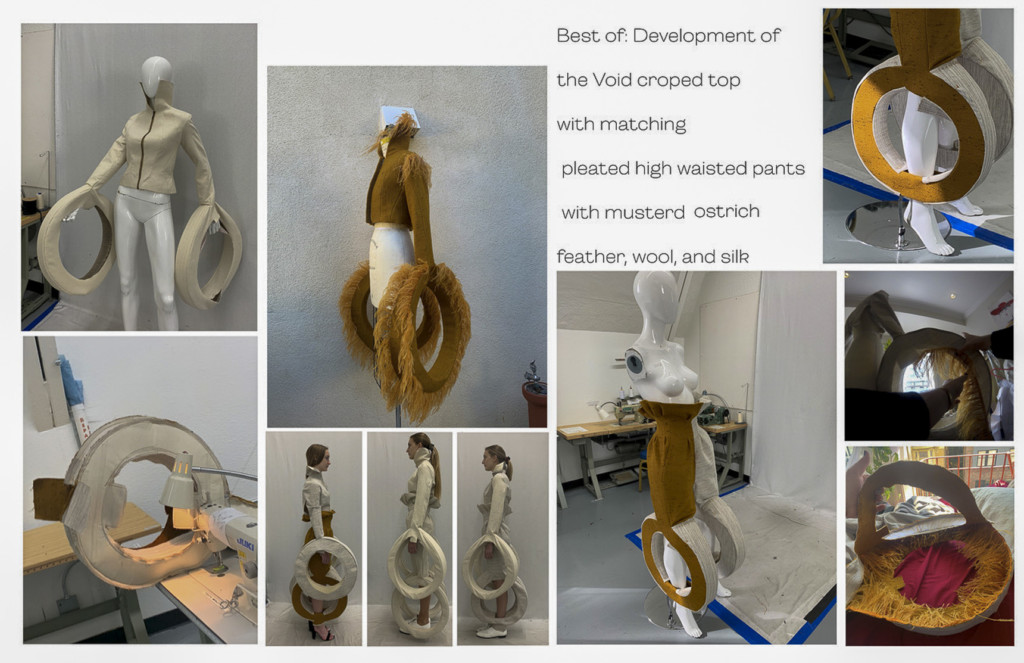 How did you feel when you saw the final look?
Weeks and weeks went by. I knew the photoshoot was right by me in L.A., but I didn't hear anything until one day I woke up and my friend sent it to me on Instagram. It was a month's worth of time of waiting—it was just very surreal. I haven't even graduated, you know? I was really emotional, but I felt very fulfilled especially since our show got canceled because of COVID. To get that notoriety without even having a show to present to the industry—I just kind of think where this industry is going. Everything is up in the air, but there's a way to do work.
How did the concept for "The Void" come about?
I really wanted to have the clothes replicate the actual effects of sleep paralysis. When you experience sleep paralysis, you can't move your hands or your neck or your legs, so I really wanted to focus on those things and make the limbs of the body go through the garment but not touch it. Sleep paralysis is basically when you're in that area of sleep and wakefulness, so I was just combining those ideas in a way that can translate into a garment that is also practical for a runway. I loved talking to the models and explaining that this is what I was trying to say with this garment. A lot of them did say [that] they felt engulfed by this garment, which was my ideal endgame.
You mentioned you made your collection at home. What was it like putting these looks together?

I had to hand-stitch a lot of things closed. It was really labor-intensive, and there were quite a few really long days and not sleeping. Usually at the Academy, once it comes down to the last two weeks before a show, you have so much technical support with faculty and students coming in to help; I helped with all senior collections throughout the four years I was there. For my own collection, it was all up to me. If I didn't do the work, then no one else would. I even tried to teach my mom to stitch, because I really needed another hand.
That [help] was something I definitely missed, but there's also something I really liked about doing it completely by myself. Being able to say I did this in isolation—it's almost like a testament to what the actual collection is about, which is being stuck in your head. By really throwing myself into the work in the last two months of producing that collection, it was just very immersive.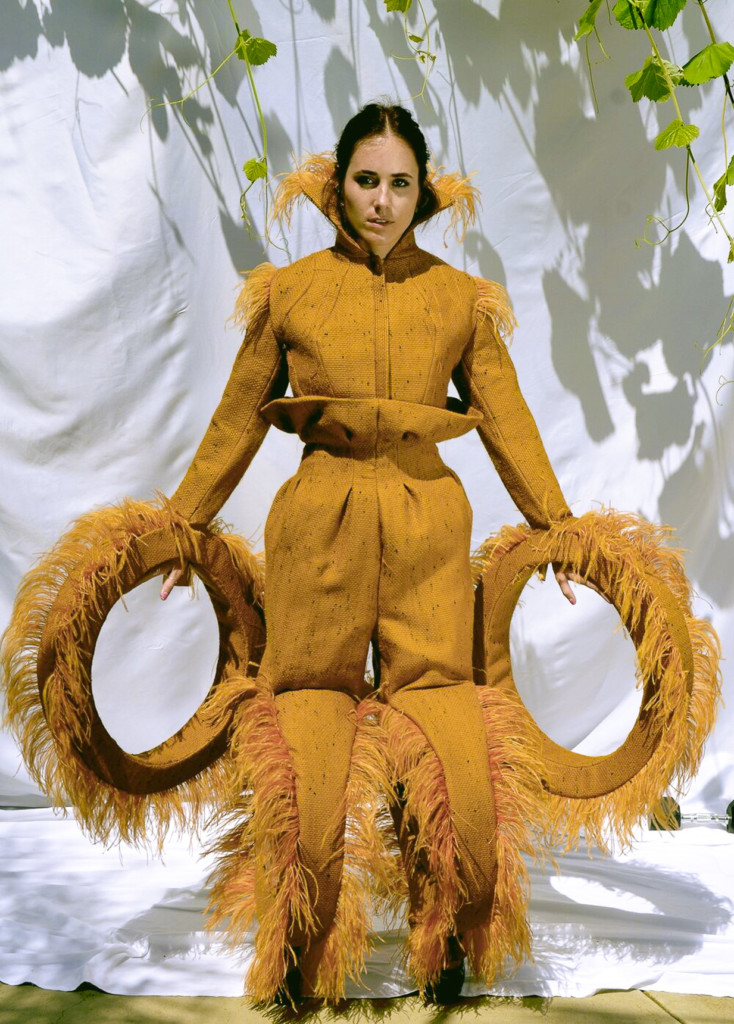 When you look back at this collection and everything that went into it, what are you most proud of?

I think I'm most proud of actually doing what I planned to do. My looks were very crazy, so we knew that I was always going to be doing four complete looks. So, for me, completing those looks was enough. That alone was enough to roll it into the fashion building in quarantine. It was worth it, and I'm really proud of everything. I think the best thing that happened was Vogue—I mean, how could that not be? I think it's insane. To me, it hasn't really sunk in and hit me but to me that really made the most impact.

What's next for you?

I really am looking to go into a company—I'll always want to make my garments, I think I'll always make garments and release things on my own—but I really want to get into a company where I can continue my learning experience. I just want to keep building on what I believe in and gain experience, knowledge, and variety with brands I admire and respect. And it might not even be a fashion brand, I would love to do fashion shows or magazines. I'm very open to all art industries.