By Nina Tabios
Congratulations are in order for three Academy of Art University graduates whose work was recently accepted into an upcoming fall issue of Creative Quarterly, an international art and design journal. 
The magazine hosts a highly-selective quarterly competition throughout the year to celebrate the best in illustration, graphic design, photography, and fine art. Selected by a juried panel of accomplished artists and designers, School of Jewelry & Metal Arts (JEM) alumna Zhongfang "Aka" Zhang (M.F.A. '19) was named a winner in the Fine Art: Student category, while fellow JEM alumna Wanni "Charlotte" Xiang (M.A. '20) was a runner-up. School of Illustration alumna Yun Yao (B.F.A. '19) was also listed as a runner-up in the Illustration: Student category; both Xiang and Yao's work will be displayed online.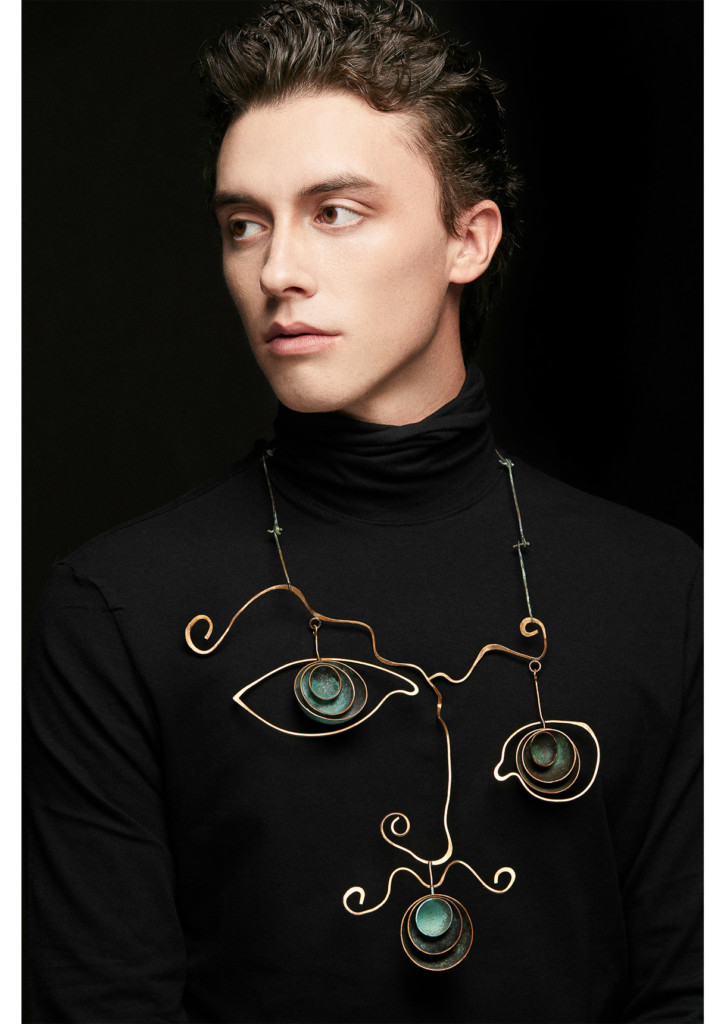 As a winner, Zhang will have her work included in the approaching Issue 60 of Creative Quarterly, now in its 15th year. She will also advance into the year-end 100 Best Annual Show, where if selected, she would join a handful of past Academy alumni who made the Creative Quarterly cut, including cover artist for the 100 Best Annual 2016, 2015 JEM M.F.A. alumna Jizhi "Gigi" Li. The recognition continues an exciting year for Zhang, who was the recipient of the "Best Jewelry Piece" award at the Enamelist Society 2020 Surface Matter earlier this summer. 
"Before [jewelry], I was doing illustrations for 10 years. When I changed to jewelry, I feared no one would understand me," said Zhang, whose sculptor father initially dissuaded her from following in his footsteps. Jewelry was the answer. "For me to have my work in a professional magazine, it means I'm doing well. That's really great [for] me."
Zhang's submitted work is a neckpiece called "Hi Artist." It was made in JEM instructor Killean Evans' forging class, which requires students to forge three semi-circles into a single piece. Inspired by Picasso, the project brought back memories of her childhood in China.
"There is a wall of books in my apartment and a variety of art books by my father," Zhang recalled. "I would climb up the shelf when I'm alone at home, take out his art book and read it. There were human faces that were a weird shape and distorted sculpture. The image was [more] fascinating to me than those in textbooks."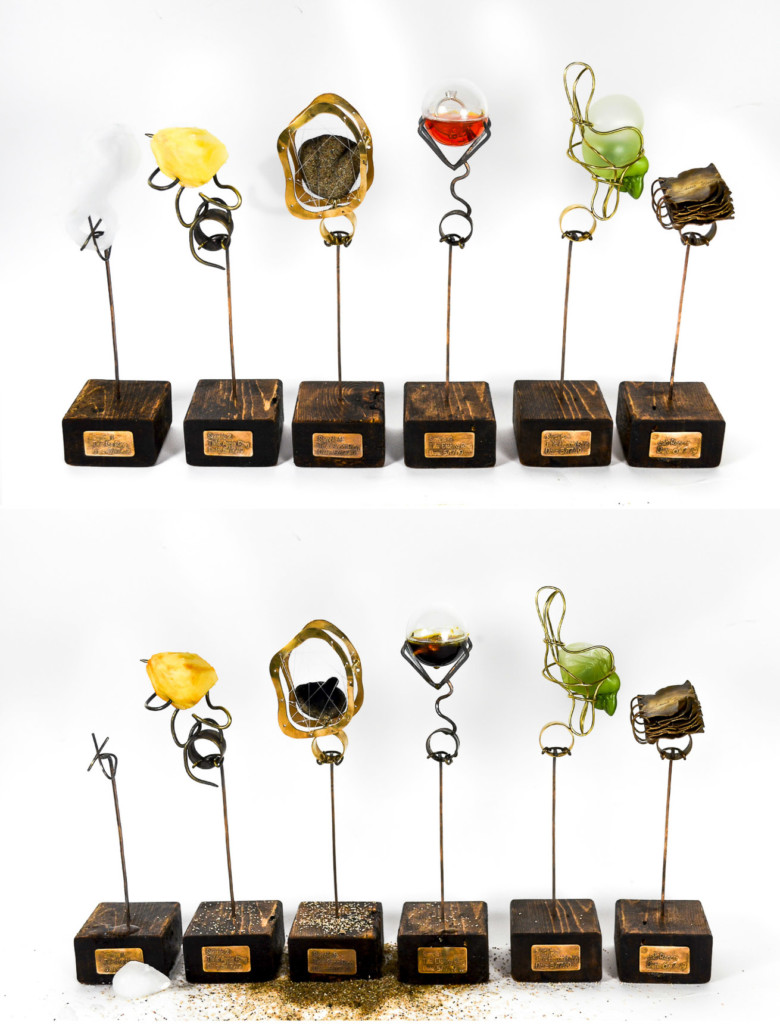 Xiang submitted two projects for consideration. She was inspired by Sigmund Freud's "Interpretation of Dreams" to create a ring set called "Dream Machine," which she made by laser-cutting and riveting together pieces of acrylic. A second submission, a set of wedding rings, pushed her creativity further by questioning traditional perspectives on marriage.
"I'm always thinking about what makes a successful marriage. Some people think it's love, some people think if the two people can improve or develop over time … But for me, I don't think any of these things can decide if it's a good marriage or not," Xiang said. "I was very interested to use unconventional materials such as ice, apple, sand, silver solution, and bubble gum. Those rings are designed to decay and fade away at different rates… It means the marriage may change, each one is unique."
As an illustrator, Yao's project spoke to recent times. Her piece, simply titled, "Studio," portrays a scene we are all currently familiar with.
"That one was done just before quarantine started," Yao said. "I was trying to create a peaceful working environment at home. When I started quarantine, I was still looking for jobs, so I spent most of my time at home—even though that's not what my house looks like [this is how] I wanted to imagine it."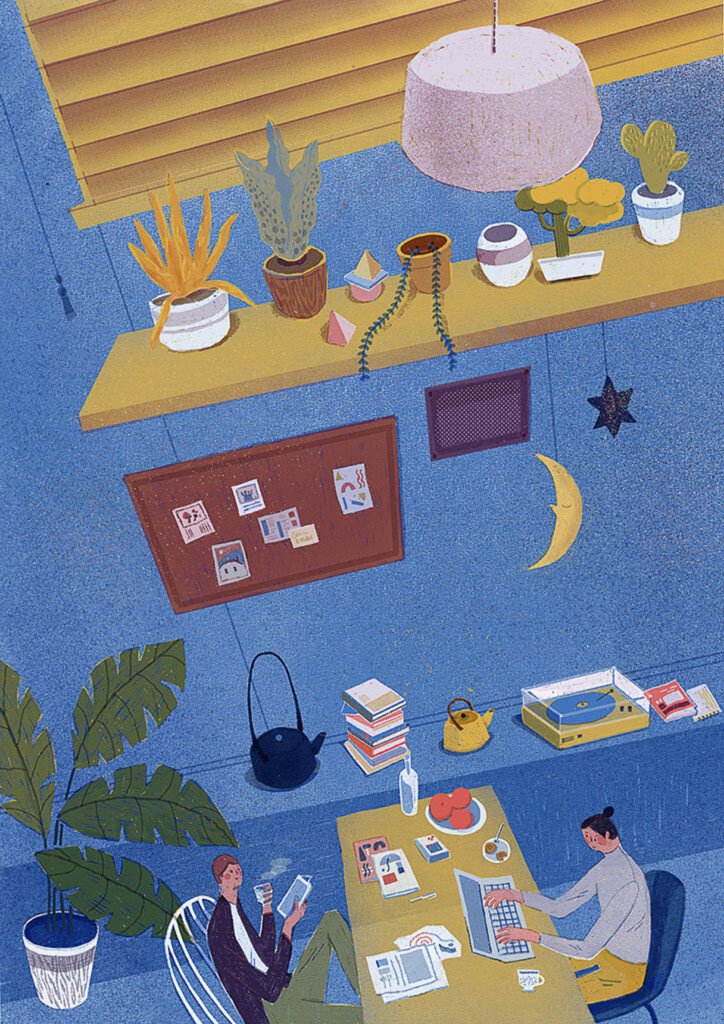 A large swath of blue gives the drawing a peaceful, homey mood, purposefully avoiding the typical warm palette of red and orange. Before taking up illustration, Yao wanted to paint. She credits the Academy for really opening up her eyes to the possibilities of illustration, especially in regard to collaboration.
"It gives us the opportunity to fully understand what we like in this career so we can choose our path after school," Yao said. "In my last year, I decided that I wanted to do more editorial illustration, [which means] creating an illustration piece based on an article or literature. I dedicate my portfolio to those types of pieces."
Her dream job would be to draw for The New Yorker. For now, Creative Quarterly is a good start.
"It was definitely rewarding. I submitted to a lot of contests this year and I thought that was a good chance for me to have my work be recognized by people," Yao said. "It means a lot. Because I realize that after graduation finding a job in illustration and editorial was definitely not easy. I did a lot of cold emailing, I sent out postcards. I think having an award is definitely just encouragement."