By Nina Tabios
When the outside world seemed to shut down in a matter of days, the global pandemic forced most of us to social media. But over the course of the last six months, platforms like Instagram and TikTok have become more than a last resort at normalcy. As people scrolled away on their couches, people started to change how they use—and consume—the content feeds on their phones.
"For so many people during the pandemic, social media remained one of the last outlets for them to be their creative selves, connect with friends, relatives, [and] family who are far," said Academy of Art University Fashion Journalism and Social Media Center Coordinator Elena Eberhard. "For some people, it's a working tool in some of their professions. Definitely a lot of focus and attention shifted to social media globally, because people are working from home."
On July 22, Eberhard led a panel of instructors from the School of Fashion and the Social Media Center through a discussion about the state of social media, addressing how their work as professional journalists and content creators shifted with the pandemic and the Black Lives Matter movement. As students followed along on Zoom, Diane Dorrans Saeks, Olia Kedik, Uduak Oduok, and Flora Tsapovsky each shared their own unique perspective and advice on what meaningful content looks like in 2020.
Initially, it was a tough position. Many panelists mentioned how the coronavirus, anxiety, stress, and uncertainty were high within their audiences. No one was interested in the newest collections, vacation photos, or branded posts anymore—as Kedik, a blogger, influencer, and instructor for Blogging: Content Creation and Promotion, said in the talk, the luxurious Instagram lifestyle of "beautiful people sharing beautiful lifestyles and expensive items are gone."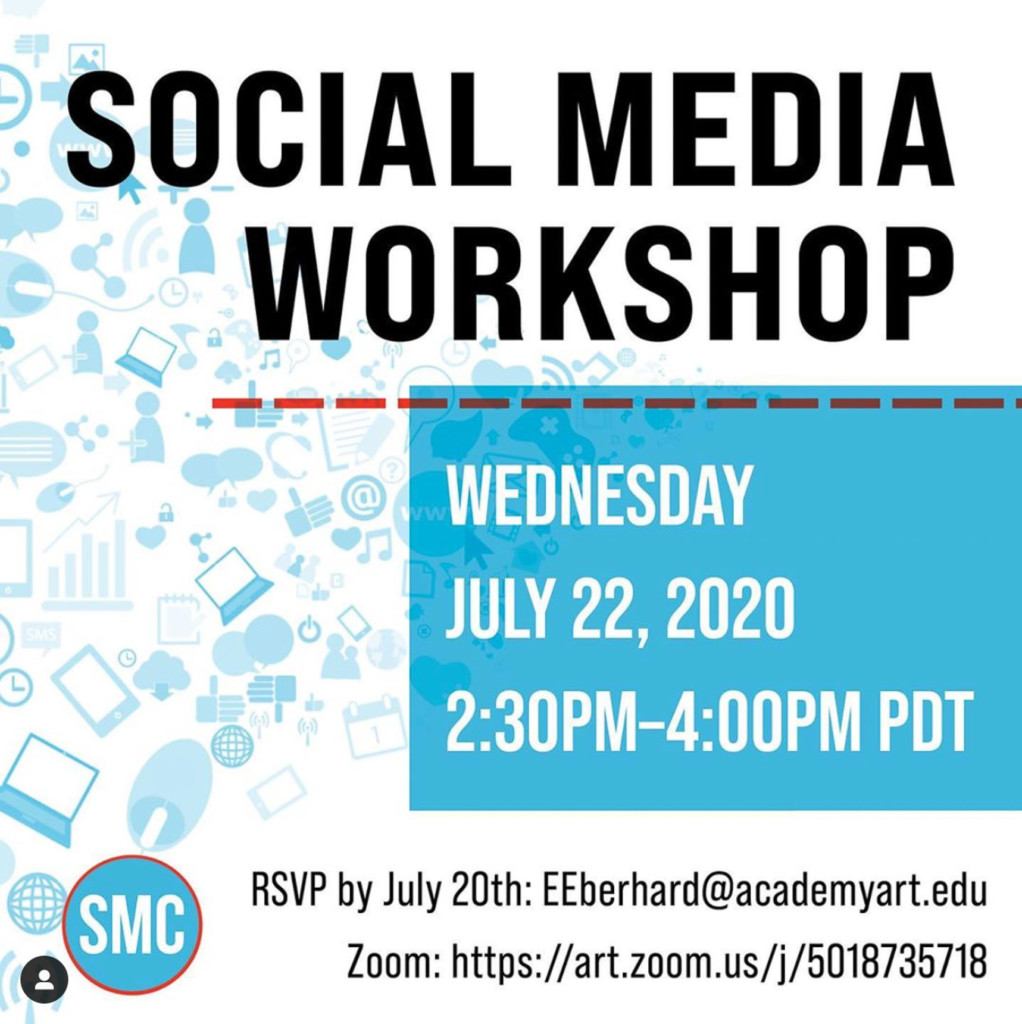 "Appropriate content with the appropriate tone is really key … And when we're looking at creating content, I'm looking to entertain, to inspire, or to educate," Kedik said. "In the end, this is what the world is screaming for in this whole situation. For all of us to come down and live more [simply] and be more real and use our resources in a different way."
Normally, Kedik would curate her Instagram with fashion, travel, and lifestyle posts to an audience of 171,000 followers. But as Tsapovsky mentioned, influencers like Kedik are now forced to reckon with what the influencer space looks like during and after the coronavirus. As a freelance journalist for outlets like Wired and the San Francisco Chronicle, Tsapovsky advised anyone creating content to listen for the ebbs and flows of the collective mood.
"Are we in a state of panic or are we hopeful, looking forward?" asked Tsapovsky, who teaches Journalism, Fashion Creative Writing, and Storytelling and Social Media Strategies for the Social Media Center. "What is the next thing people want to hear about, not just currently, but what is appearing on the horizon? I'm constantly pitching things ahead of the curve and I highly suggest applying that thinking to social media as well: 'What is the next thing we're going to be talking about in the next month?'"
As the conversation moved on to discuss #BlackOutTuesday and #ShareTheMicNow, the panelists spoke at length about how they reacted when social media became an instrumental tool for Black Lives Matter. Many of the panelists attested to how that movement further widened the scope of who they are as creators in the public eye.
"As a writer, [Black Lives Matter] made a big change in perspective on who I write about, who I feature. I am now more aware than ever of the percentage of people of color I feature in my articles," Tsapovsky said. "I always [sought] out people of color to feature but I wasn't doing it with much intention. For that, I'm very thankful [for] the movement and the changes that have been happening. I feel like it's made me a better journalist."
Kedik offered that the movement had a much bigger effect on content creation than the pandemic. It was a sign of real change, "a big seed that is now going to continue to be watered and hopefully going to grow."
"It really put a massive stop sign up for many voices that are still trying to figure out how to speak," Kedik said, acknowledging how fashion, as well as social media, is a white privilege industry. "I think I learned more than I ever did and more than anything I realized how privileged I am and where I am."
With feet in both fashion journalism and social media, Eberhard hoped the workshop could bridge them together. For students learning the fundamental skills in social media—from content development to data and analytics—it was important that they see how it all ties together from a real industry standpoint.
"I thought that it might be a good moment for us to unite, align, and bring students [together] as we talk about the bigger picture and understanding where social media stands within that bigger picture," Eberhard said. "I really appreciate that the panelists gave a personal perspective on it and not giving an outsider opinion on the events going on. It really was a generous act in the way everyone was really giving an insider story about how they were working with it, what do they do, how do they act in their lives in addition to being instructors for us."
For more information on Social Media Center events and initiatives follow @AcademyUSMC on Facebook, Twitter, and Medium.