By Greta Chiocchetti
Dante Williams, a guard on the ART U Men's Basketball team, has played ball since he was six years old. The sport has been a mainstay in his journey through high school and college.
But he's more than just an athlete.
Williams, a student at Academy of Art University's School of Communications & Media Technologies (COM), was moved by the mass protests against police brutality and racial inequality that erupted across the country after the police killing of George Floyd. Though he couldn't protest in person due to concerns about the ongoing COVID-19 pandemic, he used social media as a tool to make his voice heard.
"I don't have a big platform, but I still wanted to use the platform that I do have to speak up," said Williams.
When ART U Women's Basketball Head Coach and Senior Woman Administrator Krystle Evans saw Williams' tweets about wanting to take action in support of the Black Lives Matter movement, she felt called to coordinate their efforts.
"Both of us represent athletics in a way, but we also represent our authentic selves. What are we going to do with that? We can vent all day, or we can do something about it," said Evans. "So, we really discussed: How can we still get our message across without being put in harm's way, whether it's getting COVID, or being pepper-sprayed, or being shot at with rubber bullets? That's when the idea of trying the virtual approach came about—it was a way to speak out while keeping the athletes healthy and safe."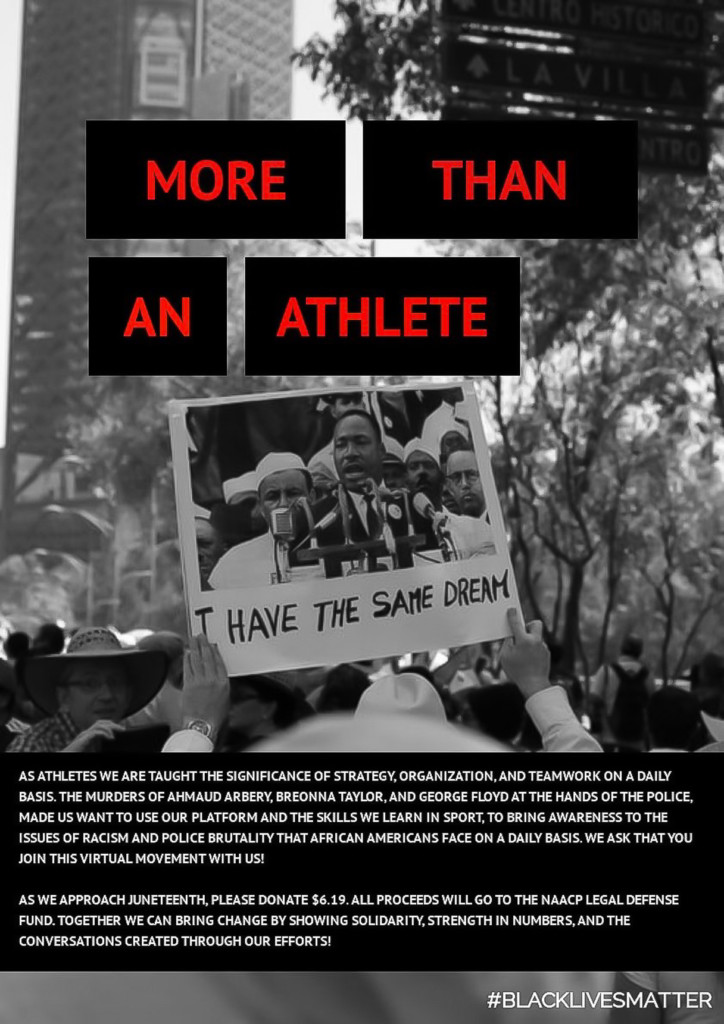 The More Than An Athlete campaign became a two-week virtual protest, launching strategically the day after Blackout Tuesday, a nationwide response to racial inequity in the U.S. Instead of physically taking to the streets, campaign supporters were invited to donate in the amount of $6.19—which symbolized the fundraiser's end date on Juneteenth, June 19, a holiday celebrating the emancipation of slaves. Evans and Williams largely organized through social media, where members of the Academy community as well as athletes across the country donated to the NAACP Legal Defense Fund.
"I'm a 22-year-old male from the city of Compton. When the police look at me, they see that I'm Black, they see that I have tattoos, and they automatically profile me," said Williams in a video he shared on Twitter promoting the campaign. "I've been in situations where police have drawn their guns on me and I've had to fear for my life. I, fortunately enough, was able to make it out alive. But I want that to change—not only for myself, not only for my community but all across the country, all across the world."
Though many athletes are affected by systemic racism, Williams says society seems to discredit them when they get political.
"A lot of people expect athletes to stay silent as if we're not also human beings who are going through these very real things," said Williams. "I mean, [Laura Ingraham] told Lebron to 'shut up and dribble' when he spoke out about Trump."
The campaign's name, More Than An Athlete, was a way to fight back against the stereotype of the "dumb jock."
"You know, that's not the only thing that makes me who I am. That's not the main part of my identity; it's a part of it. It is not even number one on my list," said Evans. "I had quite an accomplished career as a basketball player myself, but that's not what makes me who I am—it was that way for both [Dante and I]. Our sport was a vehicle to get us to where we are today. Period. I have a master's degree. I'm working on my Ph.D. right now—I take my comprehensive exam next week. I'm much more than simply an athlete."
Shampayne Clay, a COM alumna (2011) and former ART U Softball player also took to Twitter to voice her concerns with the state of racial inequality and became a prominent organizer in the More Than An Athlete campaign, tapping into the COM network to draw support.
"This is not new, even though a lot of people are realizing that it happens for the first time," said Clay. "So, I'm glad that people are finally seeing it. But it's also not a fad, this isn't just the cool new thing to do—we're not done here. We need to keep talking about it and educating ourselves."
In the two weeks that the campaign's GoFundMe was active, it raised over $4,000—but Evans said she believes its biggest success is not monetary. Generating dialogue and encouraging people to educate themselves on the issues is the biggest win.
"With the privilege that comes with being a student-athlete, a professional athlete, a coach, we have a platform that's more diverse than the average person. And more public than the average person. And with that platform, we have the responsibility to generate informed dialogue," said Evans. "One day I will no longer coach, and one day we will no longer play our sport, but we will always be Black."