By Nina Tabios
From their very first classes, styling students at the School of Fashion rely on the work of models, photographers, hairstylists, and makeup artists to bring their fashion imagery to life. So when the COVID-19 pandemic forced her students to conduct photoshoots at home, Associate Director Flore Morton knew it would be a test of their creativity.
"The circumstances to create would be very different," Morton said. "They would have to do photoshoots while wearing so many hats. Photography, makeup, and hairstyling, those are core classes they have in the program anyway so they can communicate properly with their collaborators. But this time they actually have to do it all themselves."
But under this new set of challenges, Morton's students in her editorial styling class proved to be resourceful. Using only what they had at home, the student stylists created dynamic editorials that would be compiled into three magazines—titled 1solation, Oneself, and Antidote—that effectively captured fashion in the age of the coronavirus.
"I wanted to ask them 'what did they think of the situation' and for them as stylists, 'what was the feeling in terms of fashion in the future,'" Morton said. The student magazines were so successful that coveted fashion publication The Impression published the books on the site's front page and newsletter, commending Morton's students as "fresh creative problem solvers who, when times got tough, they rolled up their sleeves and got going."
"We had no idea how long the shelter in place would last and how long this crisis would last," Morton continued." There was almost this sense of urgency to record it, actually, and to see what was happening from their point of view."
Shot in all parts of the globe and assembled remotely, the student stylists covered quarantine topics, ranging from how to dress for Zoom meetings to coping with feelings of isolation and loneliness. Under the constraints of shelter-in-place, students had to be savvy—and in the process, many discovered the depths of their creativity.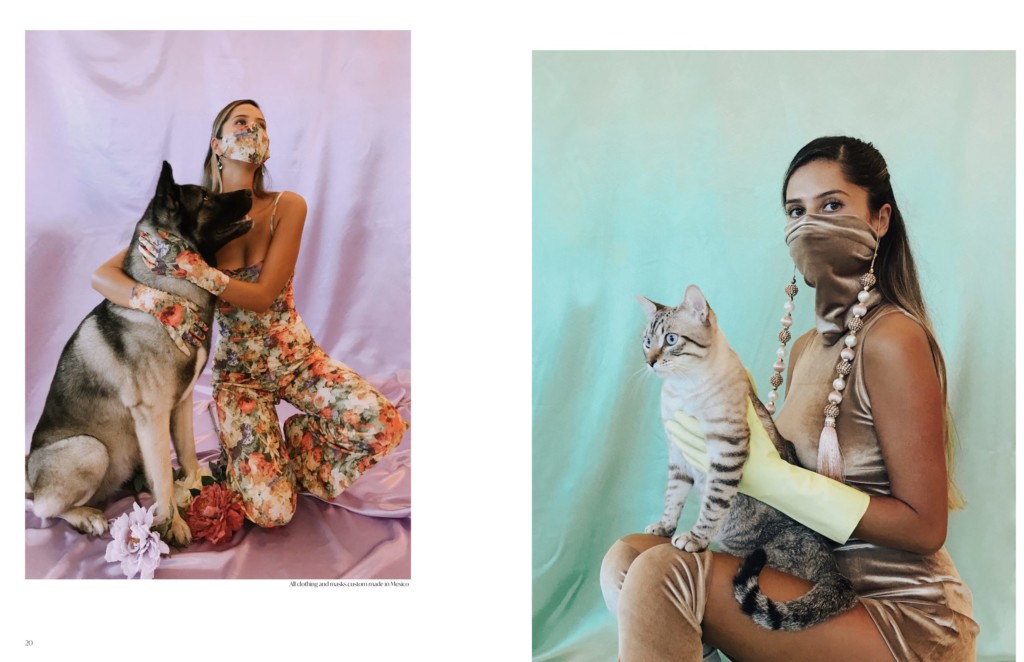 Styling student Pia Haro was quarantining in Cancún, Mexico, with her mother when she did her photoshoot. Initially, Haro struggled with working a COVID-19 theme into her feminine, glamorous aesthetic. But a trip to a nearby fabric store was all she needed.
"There were so many fabrics that I instantly got inspired by that," Haro said. One of her friends in Mexico is a seamstress and turned the purchased fabrics into the custom garments, masks, and gloves for the shoot. Haro modeled the clothes with flowers and her neighbors' pets (or "quarantine buddies," per Haro) while her mother took the photos on an iPhone.
Like Haro, Saybria Drayton's mom also took on the role of photographer for her shoot. Inspired by Zoom as a quarantine necessity, Drayton styled herself in the typical work-from-home uniform to juxtapose the ways we present ourselves to our colleagues over video chat versus how we may be really feeling.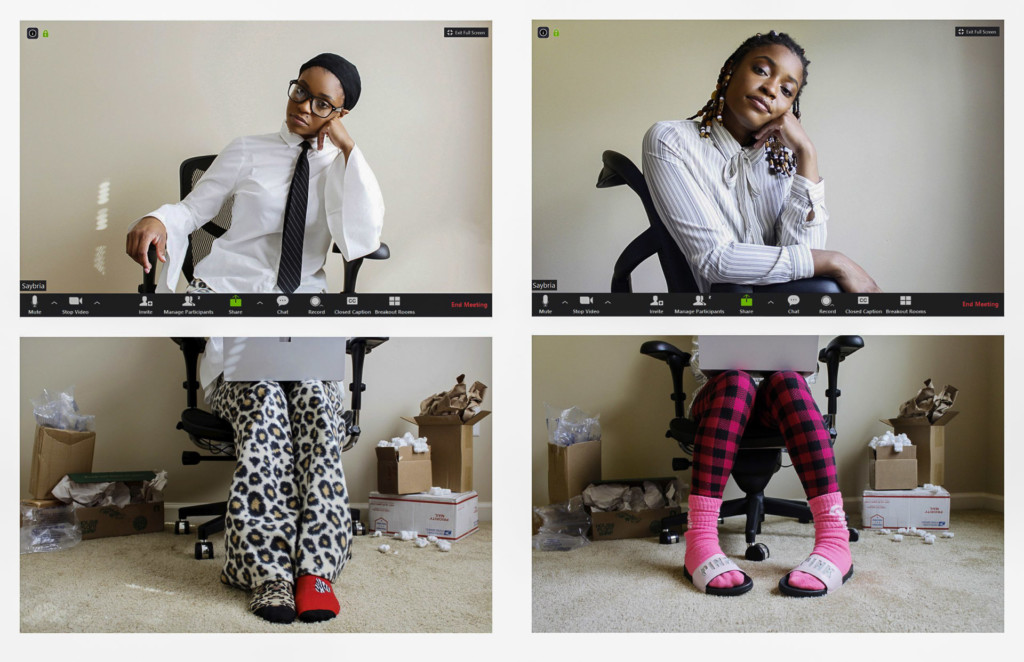 "I kind thought of the idea of once I graduate the pandemic still may be going on," Drayton said from her parents' home in North Carolina. Much of the clothing in the shoot was taken from different family members' closets. "I feel like I want to be more presentable on the top, but you can't see what's on the bottom. Anything can be going on down there."
Alexandra Cheng's shoot was an exercise in spontaneity. Staying in San Francisco, she couldn't go outside or shoot with friends, so Cheng captured the immediate items and space surrounding her.
"Since I was with just myself at home, I was shooting every day," Cheng said. "I shot in my bathroom so every time I came up with an idea, I just went and shot it [because] the studio is right beside me! I don't have any lighting equipment, all I had was a flash on my iPhone—so I just kept shooting."
Other students focused on unconventional fashion. Styling student Leif Lei incorporated toilet paper as a key component in his shoot, from dress to set. Anna So thought of ways people could style around wearing a mask or gloves.
"We aren't used to thinking of masks as fashion unless we're sick," So said. "We wanted to get some ideas of home fashion, like how people are dressing inside the home, and bring that to the way we'd dress out in public. We want to bring that [outside fashion] inside."
Regardless of where they were in the world or the circumstances they were under, Morton's students rose to the occasion. In the coming years, 1solation, Oneself, and Antidote magazines will be time capsules in these styling students' careers.
"I thought that they were really creative in how they've changed with the world for a few months," Morton said. "They really embraced it. And I was really surprised and really proud of them actually because I realized that the students were well prepared and were also ready to tackle anything they could in the industry—they were just not giving up. It was really positive."