By Greta Ghiocchetti
When the COVID-19 pandemic forced his students out of his classroom, Academy of Art University School of Illustration (ILL) Director Chuck Pyle saw an opportunity in an otherwise bleak situation.
"As artists, we've been handed the gift of time," said Pyle, "but it's burdened by this dread and lack of focus that sort of derails us for some indescribable, unknowable reason, and then tomorrow comes and it's the same thing—you have to really work hard to force yourself to get focused to do something."
To motivate his students to document their experiences during this unprecedented time, Pyle introduced a new assignment: "The Corona Chronicles." Students submitted portrayals of their lives throughout the ongoing pandemic, ranging from their own reactions to social isolation, to raising concerns over the ways the most vulnerable members of society are being impacted, to the importance of community.
"I can't tell you how proud I am of what they've done. They are doing work wise beyond the number of semesters they've been here," said Pyle. "The depth and pathos that goes along with their depictions—it's quite poignant. I mean, one of them brought me almost to tears."
Students were given working conditions very similar to the industry standard; they were expected to submit overlapping assignments—a finished piece along with the next rough draft at the same time—in two-week intervals. At the end, they walked out of the class with a valuable addition to their portfolio: a five-part series, all tied to a current event.
"This has been a really meaningful opportunity for them to make significant contributions to a diary—essentially a visual diary of this time in all of our lives," said Pyle. "There's been a lot of empathetic overlap, but I've also been impressed with how diverse their experiences have been."
Whether Pyle's students remained in the Bay Area or traveled home (across the country or around the globe) to shelter-in-place, their submissions explored the challenges of living through a pandemic.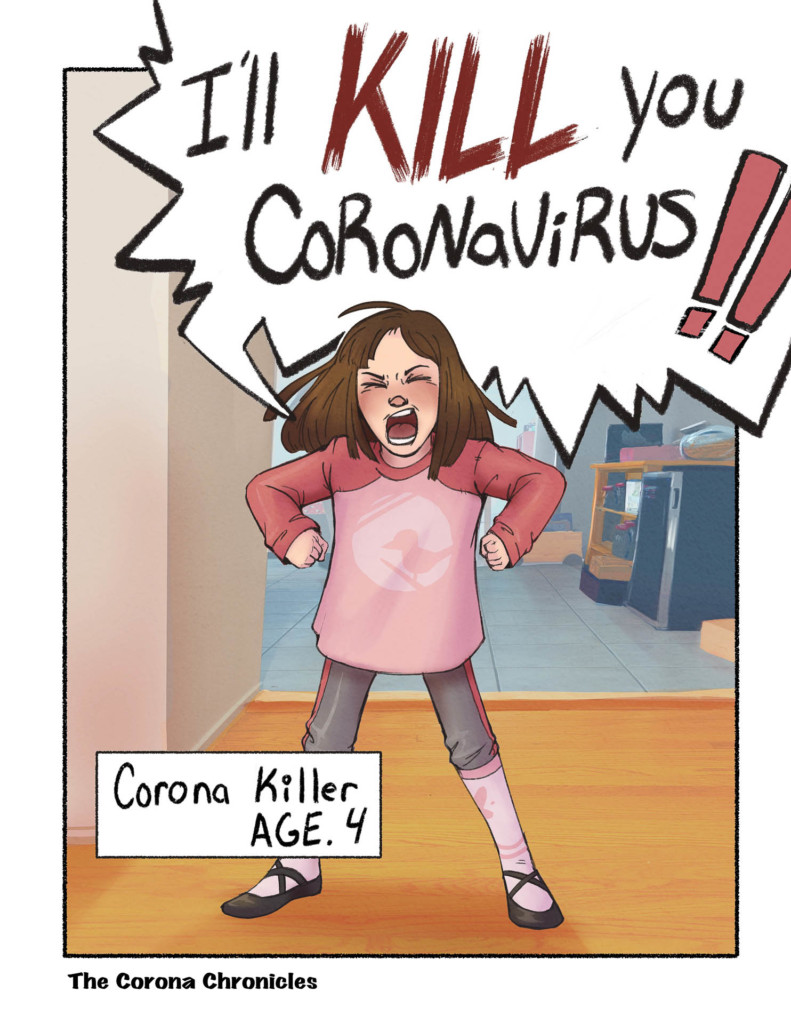 ILL student Ashley Seely went home to San Antonio, Texas, and was inspired by her five-year-old cousin, Alé, who she depicted in all of her submissions, "I was walking around the house and I heard her yelling, 'I'm not happy! I'll kill you, coronavirus!'"
Alé became the Corona Killer in Seely's first submission, but in later pieces, was a mask model and "sidewalk warrior" leaving affirming messages with chalk.
Julia Wisner, who lives in the East Bay with her aunt, initially had a unique reaction to the shelter-in-place order: her life really hadn't changed much.
"I only ever really go to the city for school—I don't really have many friends in San Francisco, and I usually spend a lot of time in my room," said Wisner. "In the beginning, I guess I just didn't fully understand how serious the shelter-in-place was and how it was going to affect people—in my later work, I kind of touched on that."
For others, quarantining meant returning to a difficult home life. In his work, Spencer Truong explored the complicated feelings of being distanced from his friends and instructors while coping with non-accepting family members. Upon returning to his hometown of Dallas, Texas, Truong found himself needing an outlet.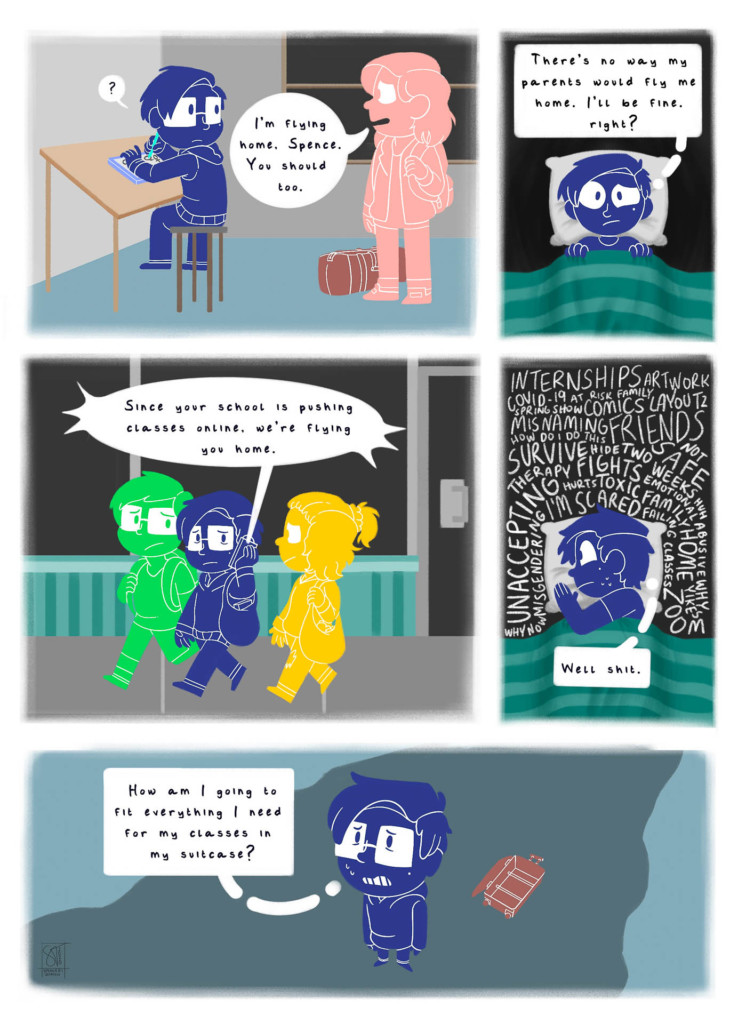 "Most of my submissions were expressed from the feelings of restricted freedom," said Truong. "I struggle a lot with depression and a toxic home life, so I took a lot of my emotions of feeling trapped. I feel like I definitely lifted some of the weight off my shoulders, because I've never made art that raw before."
Other students focused on the glaring disparities between housed and unhoused residents of San Francisco. Odelia Sadrach, who is originally from Indonesia but is sheltering-in-place in the city with her sister, said the homelessness problem has only been amplified now that the streets have emptied. In one of her works, she depicts the Trader Joe's on Market Street, where she shops regularly, and the people in need who are often waiting outside.
"Everyone who has a home stays at home, but not everyone has a home," said Sadrach. "It's hard to miss—and I wanted to touch on that, give a little reminder to people that there are individuals who are really struggling right now, and we should find ways to help."
Regardless of their diverse circumstances, Pyle's students said they could see bits of themselves in their classmates' work and found comfort in their shared experiences.
"It was really nice to feel like I'm not the only one struggling, even if it's not the exact same situation for everyone," said Truong.