By Nina Tabios

In late March, top game industry leaders from Activation to Blizzard to Jam City launched a new initiative to bring gamers across the world to #PlayApartTogether.

With the support of the World Health Organization (WHO), game companies united to encourage players and their communities to stay inside, adopt healthy habits and preventative practices to fight against the COVID-19 pandemic. Video games aren't just a diversion; they are the perfect platform for people to connect and be social while they are homebound.

"I'm telling my students what we're doing right now is a public service," said Game Design Lead Steven "Goody" Goodale from the Academy of Art University's School of Game Development. "[Video games] are keeping people at home—keeping them engaged and communicating with each other. We're helping people cope with this situation."

In the spirit of #PlayApartTogether, Art U News and Goodale have compiled a list of games developed on campus. The list comes from Goodale's Prototype class, which simulates the process of pitching and developing a prototype of a game within a span of six weeks. For many students in this class, this project is their first public game.

"[They] might be a little rough around the edges, but all [of them] are still a blast to play," Goodale said.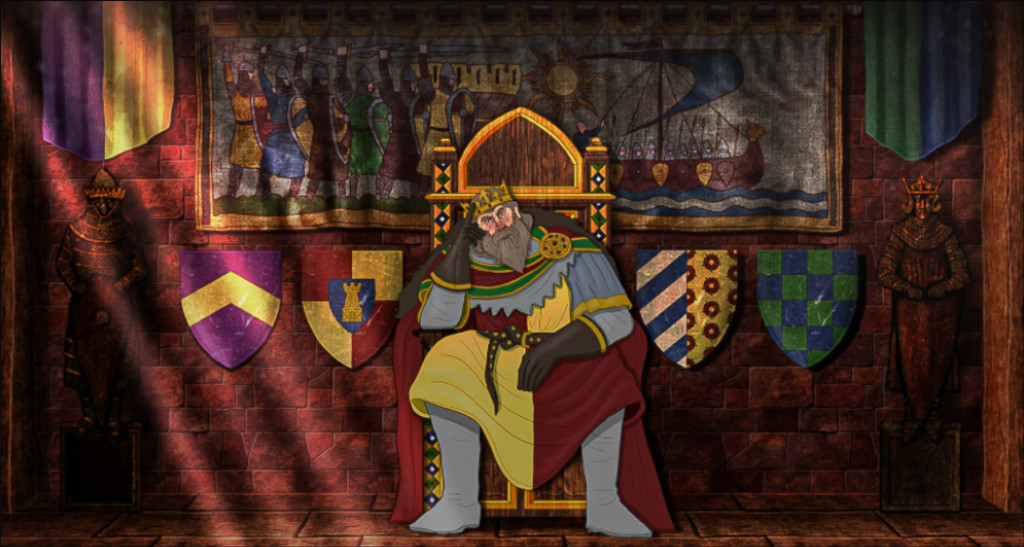 First up is one of the department's reigning games. Since it was uploaded to Newgrounds in Fall 2016, "Liege" has racked up over 23,000 plays, an impressive feat for what Dante Finn (M.F.A. 2018) calls, "a fairly simple game."

"You play the role of a king in the twilight of his reign, making decisions as random events occur in your kingdom," said Finn, who wrote and illustrated the game's medieval world after the lighthearted humor of Monty Python. It's a game of take it or leave it: advisors can offer suggestions to players with unexpected consequences just around the corner. And there's more than one ending to this story—the variety of events and outcomes keeps players guessing on what else is headed their way.

"Only you can decide in this choose-your-own-adventure," reads the game description. "Listen to your advisors… or not. You are king after all."

A classic zombie arcade game, "I Don't Want to Die!" is about survival. Produced in Fall 2018 by graduate students Duy Phan, Alberto Guerra, and Neil Banez, it's a shoot 'em up against waves of what feels like an endless spawn of zombies. The fun part is seeing how long you can ward off the swarm with an array of weapons falling from the sky.

"This is a game where you can just pop in and play for short bursts of time," said Phan, who graduated in 2019 along with Guerra and Banez. "You know, to relieve some stress."

Designing the weapons was Phan's favorite part of developing. "Creating the weapons and different effects, seeing how they work on the enemies was an enjoyable experience," Phan said. "I Don't Want to Die!" was his first public game. "Seeing people having fun with our game is one of the best feelings ever and it motivated me a lot."
"My Chosen Fate" is another decisions-based game that takes place in the afterlife. Players take on the form of a soul who is met with angels deciding their fate. The angels' questions will determine the reincarnation of your soul, but there's a catch: all player responses are food-based—a unique (if not quirky) twist to 'you are what you eat.'

Also created in Fall 2018, it's clear from the start "My Chosen Fate" is largely inspired by anime. The project's scripter and lead designer Alvin Chan decided to model each character after his teammates, adding a few recognizable looks from some classic anime tales. The main angel, in particular, resembles a certain someone in the game development department.

"That was my favorite part; creating the angels, their dialogues, and personalities," said Chan. He is expected to graduate in 2020. "Each angel represents a student who worked and helped on the project, as well as the main angel being our teacher, Goody."

Two players, one keyboard. That might sound troublesome—and crowded—but that's the exact objective of the game developed by the tag-team Liang Hong and Runlai Li. The pair describes their Fall 2018 game as a "couch co-op game."

In "Brain," players control one side of the digitized cerebrum: The left brain controls mathematics and logic, while the right brain controls imagination and art. The better they cooperate, the smarter and more creative the brain will be in solving problems throughout the game. It's a lesson in coordination and teamwork, with a little anatomy mixed in.

"We wanted players to have to work together to get better scores," said Hong, who graduated in Fall 2019, as did Li. "This is the best relationship test you can take."