By Caroline Andrade

The Gojo Short Animation Gallery, located in Kyoto, Japan, known for showcasing the animated works of renowned artists in Japan and worldwide, recently featured the works of Academy of Art University School of Animation & Visual Effects (ANM) alumni. Curated by ANM Stop Motion Lead Aaron Guadamuz, the gallery featured a mix of 2-D and stop motion animated films by Fu Yang, Tada Kondjonrak, Ashley Cisneros, Nathania Zaini, Annie Wong, and Polla-Ilariya Kozino.

Guadamuz selected the films that showcased a variety of traditional animation techniques and compiled them into a single 20-minute film. "A lot of the [films] had mixed techniques, and they were all very well done," he said. The screenings of the film began on Jan. 10 of this year and were scheduled to be shown until April at the gallery.

"Every film shows all day on a loop, and people come in for 20 minutes or so at a time. It is literally a gallery designed to heighten the awareness of short animated films," Guadamuz added.

He shares a unique connection with the gallery's co-founder Chihiro Tanikawa, as they have been friends who have worked together in Japan for a few years now. "When [Chihiro] found out I was coming to work as the Stop Motion Lead, he asked if I could curate around 20 minutes of 2-D and stop motion student work to be shown during the first gallery show of 2020," said Guadamuz, who has been involved in curating art since the early '90s.

"Aaron did a great job selecting pieces using a variety of techniques with a wide range of perspectives which should stimulate many art university students and animation lovers in Kyoto," wrote Chihiro via email.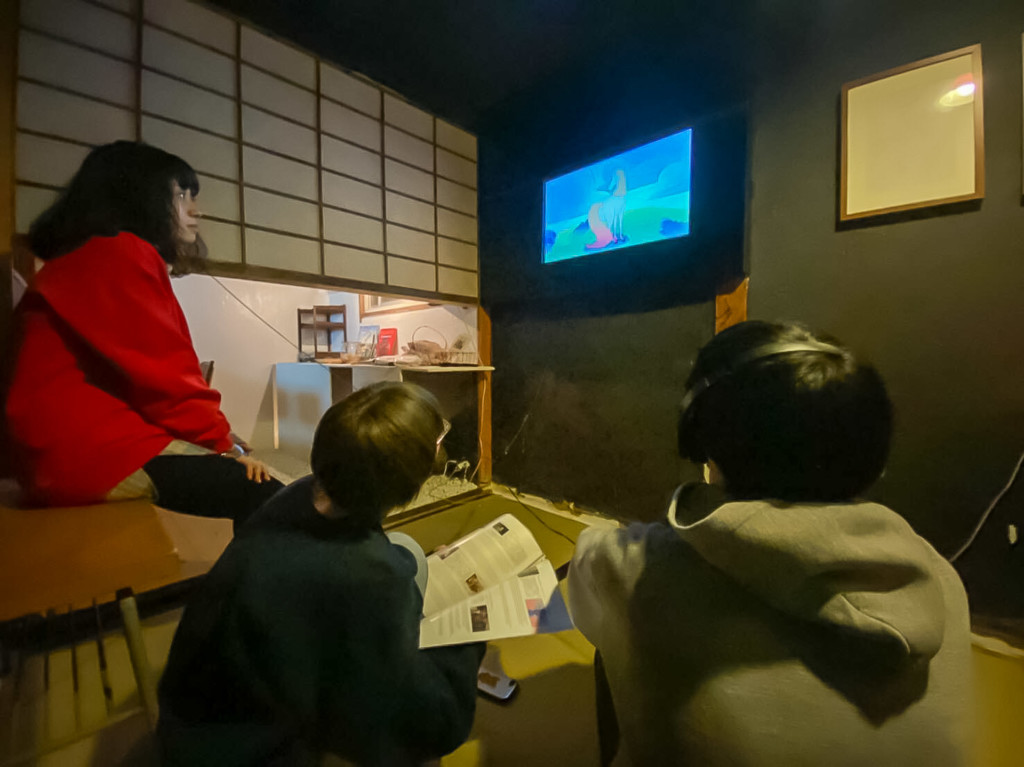 Kozino (B.F.A. '16) worked on her 2-D animation film, "The Ribbon," through ANM's Studio X. "It's a big honor," she said speaking by phone from Taiwan. "I took four years to complete [the film], and I worked on it for about a year before I brought it to Studio X."

With support from ANM Production Lead Sasha Korellis, Kozino was able to work with a team of supervisors who helped her on the project. The near four-and-a-half-minute film was accepted in over 60 film festivals across the globe, winning 40 awards, including Best Original Score at the Los Angeles Film Awards and an Award of Excellence at the One-Reeler Short Film Competition. 

Yang (M.F.A. '19) was surprised that her film (and ANM thesis project), "TellTale," was selected to be featured among her classmates and peers whose work she admired and considered "amazing." "It's just very meaningful because I already know all the other students' work, I've seen them," Yang said.

"TellTale" was the stop motion short winner at the 2019 Spring Show, which helped boost her confidence in submitting her work to more festivals. The stop motion animated film won Best Film Abstract at Animation Studio Festival in Paris, France, and Best in Show at Aggregate Animated Shorts, International Short Film Festival in Oakland later that same year. The four-and-a-half-minute film features a mix of stop motion and motion graphics. 

Zaini's short film, "Goodnight, Mr. Sandman," was also a part of her ANM thesis project at the Academy. Since graduating with an M.F.A. in 2019, her film has been featured at upwards of 20 different festivals and been recognized in the U.S. as well as internationally. Zaini explained that her style of animating has been influenced by her background in illustration. "When I was doing illustration mostly, I never planned things. So when I'm animating—although in stop motion you usually have to have a lot of planning—I'm just going along with whatever comes my way, all the obstacles, and all the mistakes. I try to work from those mistakes and make it work for the next scene."

The ANM graduate shared that she was grateful for the opportunity, as she was looking to get her work in front of more audiences and previously relied on submitting her work to film festivals. "It helps build my confidence," said Zaini. "Knowing that other people actually enjoy your work and feature your work along with these amazing artists makes you feel more hopeful to make things again and motivates me."