By Nina Tabios
Game Design Lead Steven Goodale and his School of Game Development (GAM) team were in for a spooky treat at one of the latest playtests for their pirate-themed augmented reality therapy game series, "Adventure Bay." It was Halloween at the Avalon Academy in Burlingame, California, and in between a special movie screening and trick-or-treating, students Teddy Moore and Anjelo Gomez agreed to do some treasure-hunting on the beaches of Adventure Bay.
It's been over a year since Goodale and his group of Academy of Art University student-developers started "Adventure Bay" as a way to create game-based physical therapy for kids.
After several rounds of playtests, updates, and some outside funding from UCSF Benioff Children's Hospital, "Adventure Bay" is ready for hand-off, which means the game is ready for select testers to try on their own. For children with cerebral palsy and other physical disorders, regular access to tech-fueled therapy isn't too far away.
"These kids we've been interacting with and making these games for are hugely underserved," Goodale said. "The reality is that [most] games aren't targeted toward that audience … but what we're doing is very much focused on their specific needs and wants."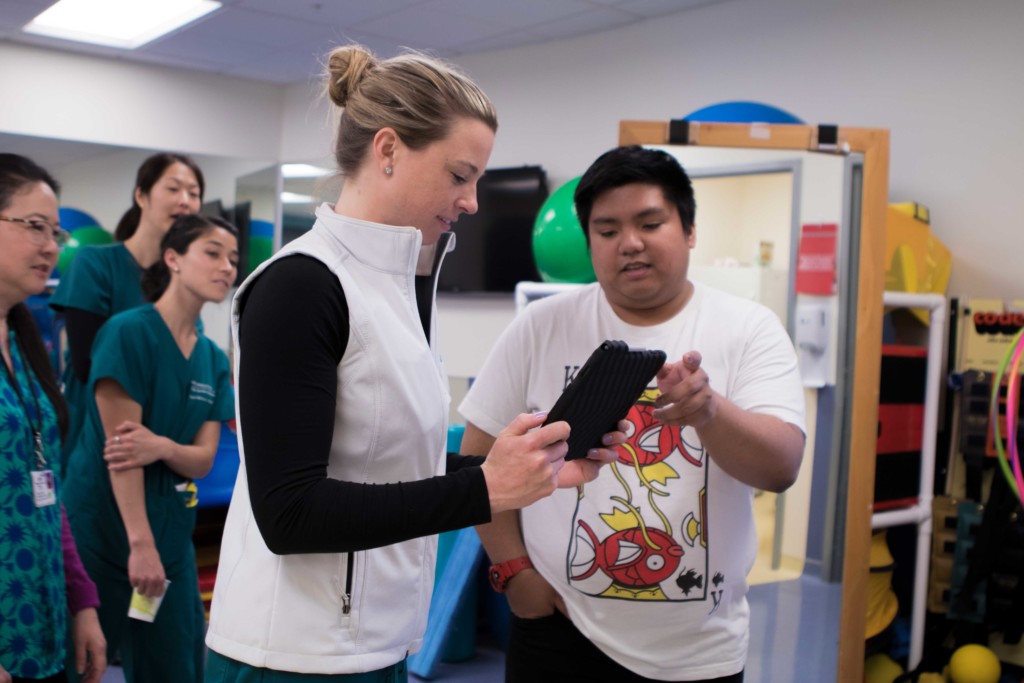 Goodale and his team aren't doing it alone. UCSF's Director of Pediatric Physical Medicine and Rehabilitation Clinic Dr. Mitul Kapadia didn't just sign off on the generous grant of $22,000 to fund upgraded tablets, sensors, and hardware; he also granted access to the hospital's therapists, which allowed the team to gather actionable feedback directly from the source.
"And that's been our challenge with commercially-available games. They're not made with therapy or rehab in mind," Dr. Kapadia said. "So being able to have that very collaborative relationship with Goodale and the team to change things, to make sure that it will benefit kids and have good outcomes is what is really exciting for me."
Brenda Huey could say the same from over at the Avalon Academy. As Avalon's Director of Movement Education and Physical Therapist, Huey was one of the first to invite the "Adventure Bay" team to play with her students.
That first visit in the summer of 2018, she recalled, 17-year-old Moore and 15-year-old Gomez weren't all too interested in what "Adventure Bay" had to offer. But for the Halloween playtest, both teens were visibly excited to wheel around the room to pick up gold chests in "Treasure Chase" and twist their wrists to shoot down balloons in "Shark Drop" using the AR tablet.
It took a lot of polish and nuance to get "Adventure Bay" to that point. A bulk of the improvements centered on rounding out the gameplay and making sure it reflected what they were hearing from the therapists.
But they still had to make it fun. At UCSF, where patients can stay in the hospital for weeks at a time, keeping kids excited and engaged about therapy is paramount. Adding technology, Dr. Kapadia said physical therapy now has that "cool factor." And by Moore and Gomez's reactions, it seems "Adventure Bay" has hit their mark.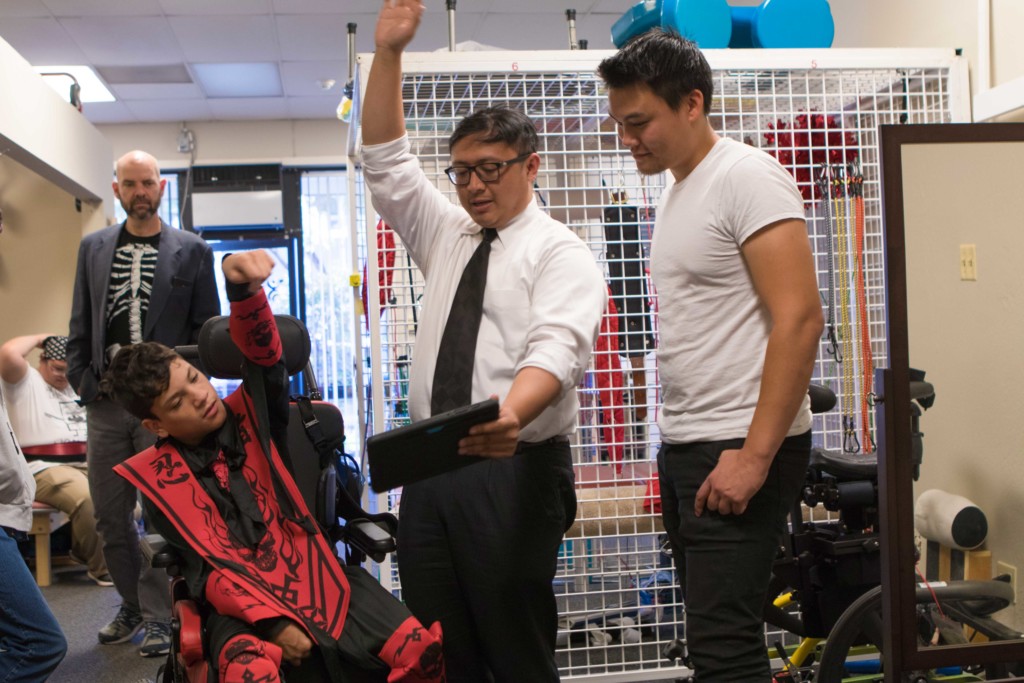 "It felt like the games were more refined and developed," Huey said. "This time it seemed like our students were more comfortable [and] had a better understanding of the game's purpose. They seemed more enthusiastic while playing and were excited to level up or find treasure."
"All of our kids, especially in this day and age, are using technologies on their own anyhow; they have smartphones, they play video games and VR technologies," Kapadia said. "It keeps us—our therapists, our team—on our toes in terms of making sure we're expanding our scope of options with our patients." Goodale added: "One thing that we learned is that these kids are just kids. Some of them want to blow things up, some of them want to find the pony. And we just want to provide them with a fun game experience."
With the hand-off underway, "Adventure Bay" has achieved another milestone. But it also means losing the core of its longstanding student developers and designers, including Alex Agcaoili who has been on this voyage since the beginning. Agcaoili, who graduated from GAM at the end of Fall 2019, hopes the next crop of students will continue to push the game further into uncharted waters.
"We want more people to be involved with this," Agcaoili said. "We've got the game in the doctors' and caretakers' hands and that was the main goal, to get them to see this is something that they can use. I feel like we accomplished at least that part. But there's plenty more to do."
Agcaoili left knowing he helped an underserved population through a very special, one-of-a-kind project. And it was equally bittersweet for Sarah Baek, the "Adventure Bay" producer who closed the Academy chapter of her career this past fall semester. But she is thankful to have been a part of it.
"It honestly shapes the way I think about making games now. You don't think about other target audiences so this really opened up my eyes," said Baek, who studied game design, level design, and producing. "I think the main important thing is remembering the experience I had here and carrying it with me into the future as I make games."