Alumna Katie Longua's passion for comics led to illustrating her first full-length book
By Caroline Andrade
Academy of Art University School of Illustration (ILL) alumna Katie Longua was always interested in books and illustration but wasn't confident about pursuing it as a career. Having grown up reading comics, her love of comic books and illustration became a passion she pursued at the Academy.

The 2011 B.F.A. graduate has come a long way since then, and recently illustrated her first full-length book, "Debian Perl Digital Detective." While she has worked on many comics in the past, this is the longest comic book she has worked on in her career as an artist, spanning 189 pages. "I love [comics] so much, even though they are difficult to make, I can't stop. They are super addicting," she said during a phone interview.

"Debian Perl Digital Detective" is a five-book series, featuring characters Debian and Digits who embark on mystery adventures. "It's almost like a 'Blade Runner' style, but it also teaches kids about coding. It was really fun to weave in storytelling aspects with the educational material and to try to make it so fun," shared Longua.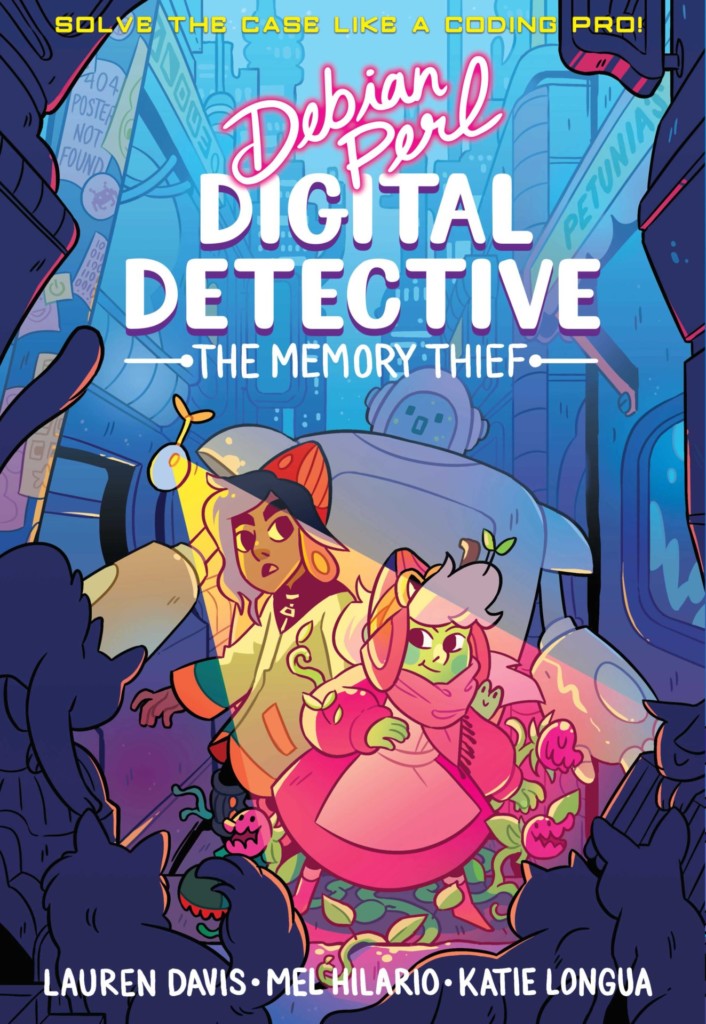 Longua was "super excited" when she found out she would be working on the series, although, she admitted that she was also nervous going into it, daunted by the number of pages. Setting a specific schedule, the project turned out to be the easiest Longua has worked on. "It took a long time, but I always knew [if] I was on schedule or not," she said, later adding that scheduling out her time proved valuable.

Longua reconnected with her fellow ILL alumna Brittany Currie, who served as a colorist for the book. "It was amazing," Longua said of reconnecting with Currie. "I had pictured her help since we went to school together and we have a similar color scheme going on with our work. It was so much fun."

"It was a really good experience," said Currie. "I got to experiment with a lot of color palettes that I usually use. Both Katie and I do share a lot of similar type of color palettes preference, so I feel like that helps us work together better. We usually have similar ideas about coloring."

The book has different fun elements that the team has worked on. For sections of the story that take place in a sort of virtual reality or as if it were on a computer screen, Longua switched to a more simplified cartoon style, and used different, neon and warm yellow color schemes. "It was super fun to plan that out, because I think it gives the book a really cool look. You can really tell when you are changing into this location in the comic," she said.

Longua explained that her career in comics had a lot to do with the connections she made with her peers and instructors at the Academy. "I didn't actually take a lot of comic-specific classes, but everyone around me was constantly making me feel inspired to try new things. It was towards the end of my time at the Academy that I went full force into comics, and having that support network around me was really helpful," she said.

She credited former ILL instructor Dan Cooney, who introduced her to the world of comics through his comics class (ILL 192). He opened her eyes to the possibilities of comics, and what it could be to build her own stories on her own. "Also, Joko Budiono's Advanced Perspective for Illustration, Film and Games class (ILL 243) is one of the greatest things that ever happened to me," shared Longua. "It was the hardest class I ever took, but I think of the lessons I learned almost every day. If I could take one class over again, that would be the one. I'm always recommending it to students interested in comics."

"One of the many virtues that Katie has is that she is doggedly persistent in the pursuit of her craft," said ILL Director Chuck Pyle. "Even when she was a student here, you could see that she was just relentless and upping the quality, the storytelling, and the writing of her own comics. Now in collaboration with the rest of the team on 'Debian Perl,' she has just taken it to a whole new level."