Animation director Mike Owens shared advice on finding industry success with students 
By Erasmo Guerra
Mike Owens, the co-creator and director of the award-winning animated show "Danger and Eggs," gave a recent talk at Academy of Art University. Owens spoke to students about his career as an artist and the years-long journey from when he first hatched the idea in 2003 for an egg character named Phillip to the cartoon series now streaming on Amazon Prime Video. Since its debut in 2017, the show has received a GLAAD Media Award nomination in Outstanding Kid and Family Programming for its inclusive representation of the LGBTQ community and the issues that affect their lives and the show has earned a Daytime Emmy for Outstanding Directing in an Animated Program.
The guest lecture, presented by the School of Animation and Visual Effects (ANM), was held Dec. 20 at the 79 New Montgomery theater. Owens shared video clips of the show's first season, as well as the original sketches he made when he was first developing the concept for Phillip, an egg who lives with his mother—or, rather, inside his mother—Becky, a Godzilla-size chicken that roosts in the town park. And while Phillip has a passion for helping people, he's also anxiety-ridden about personal safety. The character was inspired by Owens' own childhood, growing up terrified about everything from dirt and water to bugs.
When Owens first pitched the idea to Amazon, they were nervous about a show that featured an egg with anxiety, so Owens paired Phillip with an adventurous teal-haired girl named D.D. Danger, the daughter of a former professional daredevil. Storylines developed around the unbreakable bonds of friendship between them, based on what they called "the buddy system" that goes something like "You look out for me and I'll look out for you."
According to Owens, it took a year to develop a pilot episode, but once Amazon signed on for a full season, he and the team he assembled pumped out 25
11-minute episodes in nine months. While in St. Paul, Minnesota, where he resides, Owens worked with a team of animators in South Korea, and voice talent based in New York City and Los Angeles (D.D. Danger is voiced by Aidy Bryant, a current cast member of "Saturday Night Live").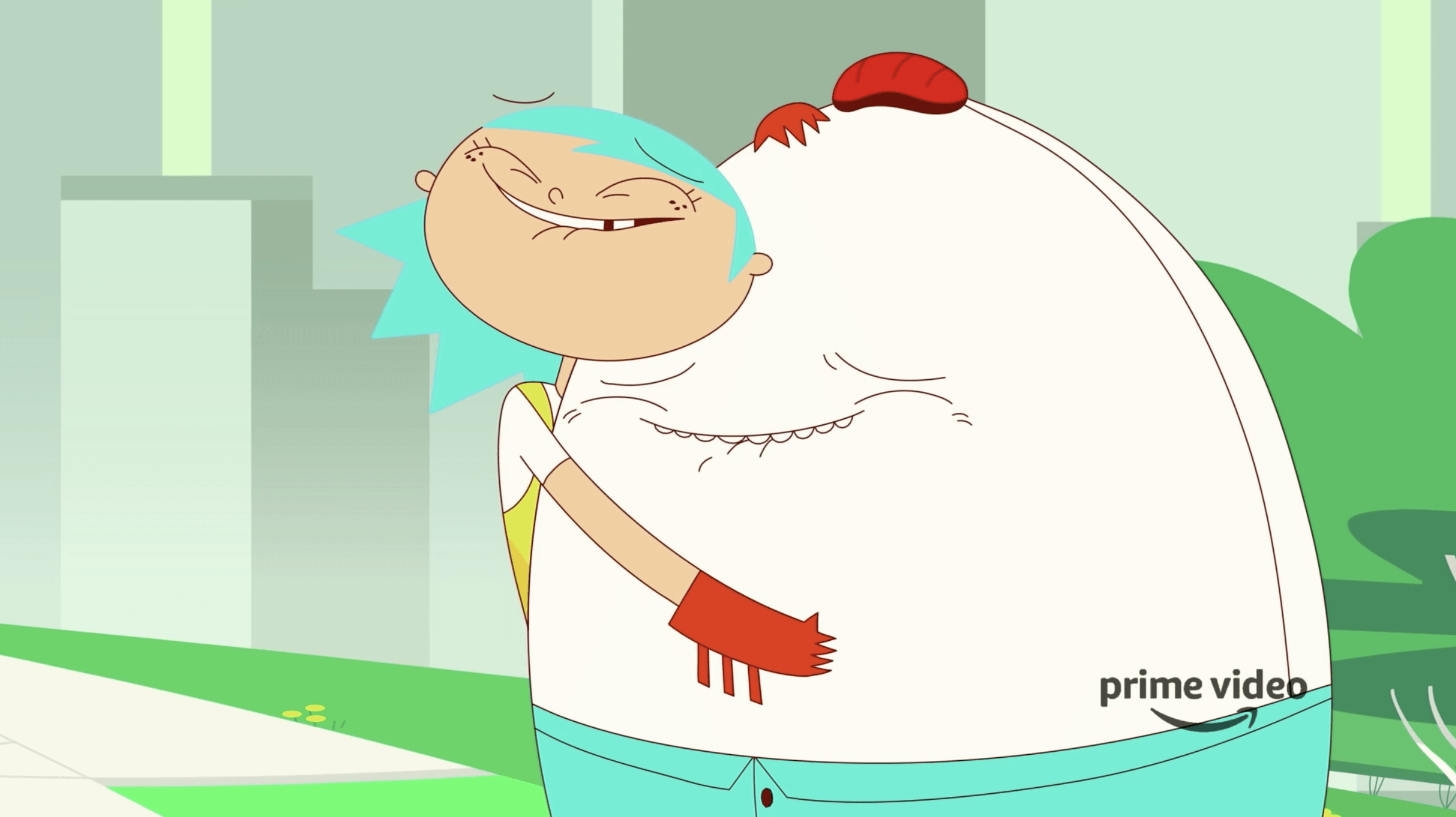 At his talk, Owens shared images of the extensive, color-coded spreadsheets he kept of production deadlines he oversaw as executive producer and supervising director. Despite the fact that he and many of his team members were taking on these new roles for the first time, they stuck to an exhausting pace of putting two episodes of the show into production simultaneously.
A big proponent of the maxim of "learning by doing," Owens told the students in the audience, "My basic advice: make something. Fail at it. But go through it." He encouraged them to not be afraid to make something—anything. "Then make another thing and make it better."
A 1996 graduate of Columbia College in Chicago, where he earned a degree in film animation, Owens credits his teachers Steve Lieber and Luis Contreras for the big influence they had in his life and career. Even now, he admitted, "I still talk to them to this day."
While a student, he interned at a small studio, where he heard about an opportunity to do some character animation for "Animaniacs," his first break into a career. For current students, he said, "Get yourself in a professional capacity. Get that experience." And even if that role might not be your ideal job, Owens insisted that it "allows you to be in the environment."
Also, he stressed the importance of building community while in college. "That's what you're paying for," he said. "Embrace your craft and the people who are going to push you forward."
Among the Academy students attending the talk were Victoria Pauls, an ANM student in her final year of a B.F.A. focused on 2-D animation, and Marisa Franco an ANM student, also in her final year, focusing on 2-D and stop-motion animation.
Pauls said she came to learn about "how to pitch and run a show." She was also interested in how to narrow your focus. "I have a billion ideas I want to get out," she said.  
Franco recalled the moment she became interested in animation while attending Bear Creek High in Stockton, California, when a friend was working on a senior project and she saw page after page of drawings that would eventually be filmed. "It never occurred to me that animation was something you could do—that I could do—until I saw her work," she said. "I wanted to do that, too."
Hani Farrukh, an ANM graduating senior, earning a B.F.A. in 3-D animation, explained his excitement not just with the talk and his upcoming graduation but also due to a copyright certificate he recently received (he submitted his application in March) for a character he created inspired by his own moustache, which he said had grown wild and he remembered thinking one morning "It looks like electricity, like a lightning bolt." His character, Dr. Zap, a crime fighter, has to learn how to control the powers of his electric moustache. Farrukh, who lived in the East Bay said after the talk he was inspired to go back and tweak his demo reel before submitting it to prospective employers.