"A Private War" star, screenwriter, and director discuss the making of the film at the Mill Valley Film Festival 
By Kyle Roe
Based on the life of war journalist Marie Colvin, "A Private War" is a compelling peek into the harrowing final decade of her career, and her courageous, borderline morbid fascination with armed conflict. After it made its U.S. debut at the Mill Valley Film Festival (MVFF) on Oct. 4, attendees were able to get an even closer look at the story, thanks to a post-screening Q&A with screenwriter Arash Amel, director Matthew Heineman, and lead actress Rosamund Pike.
Both the screening and the Q&A were held at the Smith Rafael Film Center in downtown San Rafael and touched on the challenges of playing a character with PTSD, the filmmakers' efforts to achieve authenticity, and the massive quantity of cigarettes Pike consumed for sake of her craft.
When asked about the exact number, Pike recalled what the film's props department had said: 2500. It's a lot for someone who doesn't smoke regularly, but Colvin's avid smoking habits were an important part of who she was. Pike also took extra care to memorize and mimic Colvin's physicality and natural rhythms, "where she'd take breaths, and the way she inhaled, and when she'd smoke," Pike said, adding, "I think Marie was the most interesting physical study of anyone I've ever played."
By the time she finished filming, Pike was "a genuine smoker. Obsessive about my brand." So much so, that she "actually ended up writing to the [cigarette] manufacturer and saying that they changed the formula, which it turned out they had. I knew the taste of them so well."
Though "A Private War" is centered around the life of one person, Heineman didn't set out to make a biopic. "I wanted to, over the course of the film, really get inside the mind of Marie, and see the effects these war zones were having on her," Heineman explained. "PTSD is a really difficult thing to understand, it's a very difficult thing to portray, it's a very difficult thing to act. Roz and I spent a lot of time talking about that."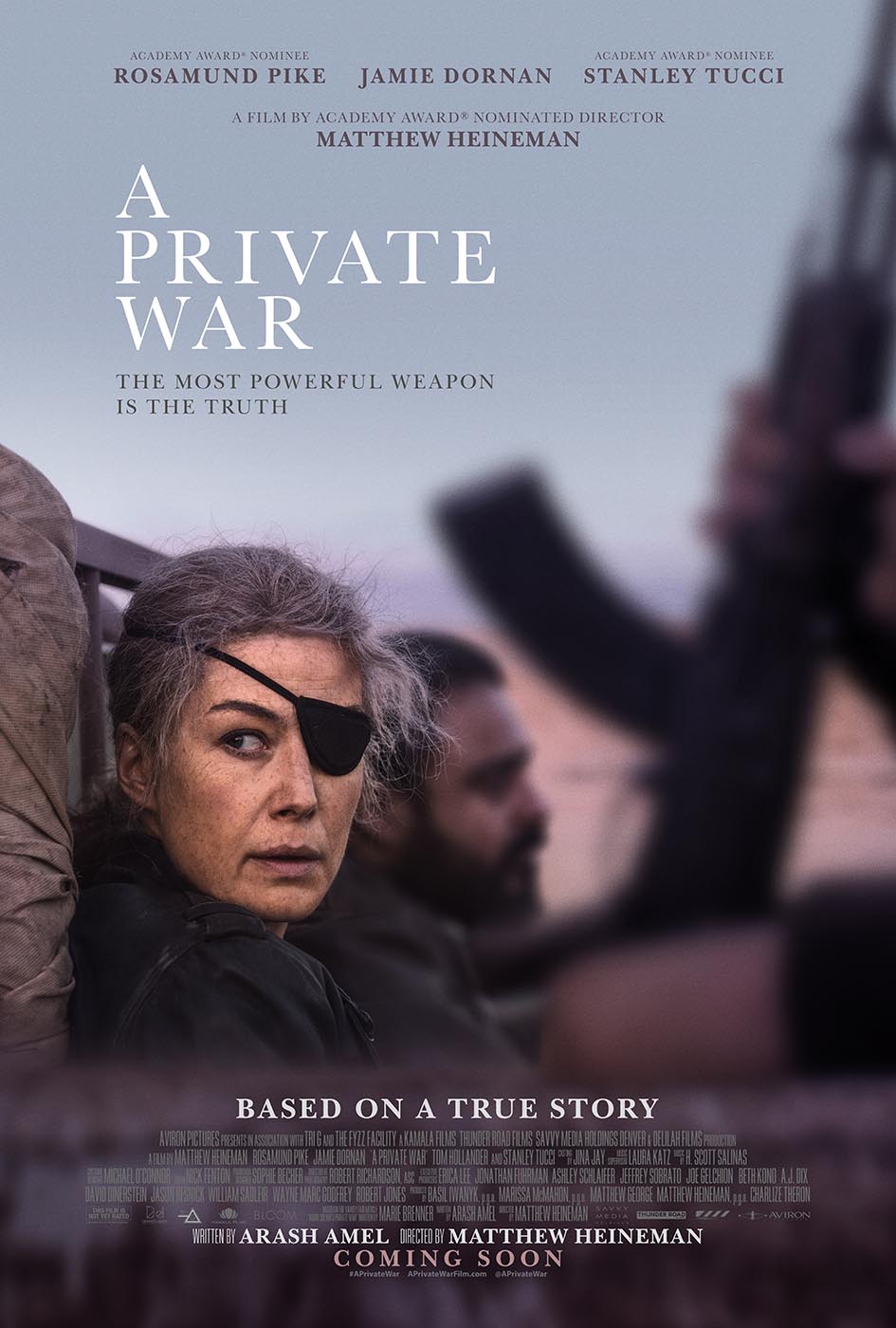 Pike watched a lot of documentaries in preparation for the role, viewing footage and photographs of wartime atrocities that fundamentally changed the way she thought about war.
"In order to explore her PTSD I had to see images of all the kind of things that don't ever make the papers. Y'know, from war journalists, from photojournalists," Pike said. "The images that they've shot that the editors would never put in their papers. And war is so much more violent and horrific than anything I'd ever imagined."
Colvin's life revolved around reporting on those kinds of atrocities while in close proximity and great danger. Her courageousness was what attracted Amel to her story, which he first heard of through the article "Marie Colvin's Private War," which was written by Marie Brenner for Vanity Fair.
"I came to Marie's story as somebody who was a child of war, if I can say that? I spent my childhood in the Middle East. I left Iran at the age of seven, shortly after the Iran-Iraq War," Amel recalled. "I was really compelled and really blown away by the empathy [from] somebody from a place far away…I became fascinated by the courage, the bravery, the dogged determination of somebody who believed in the truth, believed in everything, believed in connecting people like me, whose stories I don't often see in the news, to the people in the West."
Amel and Heineman took pains to ensure that the film's depictions of the conflicts and the stories told on screen were authentic. Heineman said that "authenticity was my north star at every step along the way in the script." Sometimes this involved substituting acting and scriptwriting for actual memories. For example, for the scenes in Homs, "all of the extras are from Syria. Most of them are from Homs," Heineman said. "Those were real women telling real stories, with real tears."
"A Private War" is Heineman's first non-documentary feature. His previous work includes last year's "City of Ghosts," which tells the story of a group of Syrian journalists and activists called Raqqa is Being Slaughtered Silently.
According to Heineman, his background in documentary filmmaking allows him to "dive into a world every couple of years, and examine that world, and live that world, and feel that world, and then you move on. But hopefully you grow through that, and there's no question that I grew through this process."
"A Private War" opens in San Francisco on Nov. 9.