By J. Elliott Mendez
It's that time of the semester, and the School of Advertising (ADV) is looking to take center stage at this year's Spring Show.
As the spring semester comes to a close, Academy of Art University has been gearing up for its highly anticipated 2023 Spring Show. The hybrid event, which opened on Thursday, May 18, showcases the best work from the most promising students from every academic department across the Academy.
A small group of ADV students were selected to have their work on display at the event. According to ADV Director and Creative Lead Ross Patrick, these talented individuals "have shown their amazing ability to juggle brand strategy, copywriting, and art direction to craft insightful ad campaigns."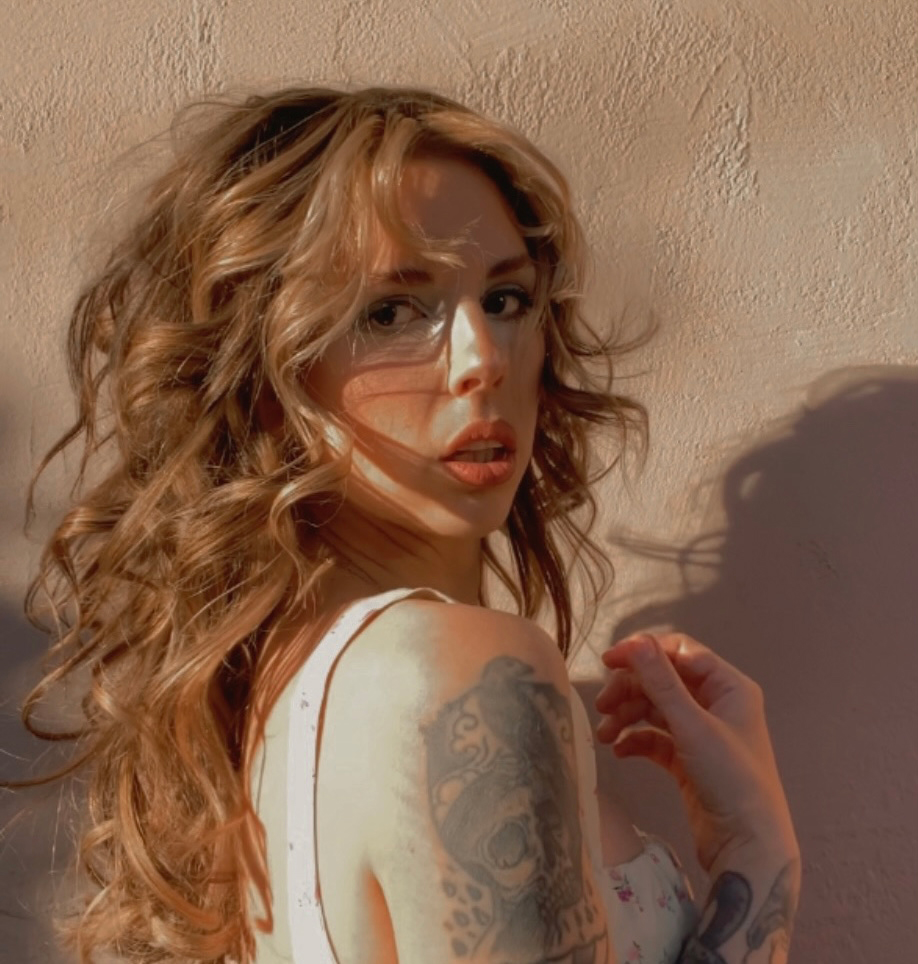 We'll take a closer look at three of these up-and-coming stars as they discuss their journeys in the advertising world, their creative inspirations, and how the AI revolution may be impacting both.
Hannah Whatley
Hannah Whatley is about halfway through the courses she'll need for a 2025 graduation, and already she knows her focus: art direction.
She's always been an artist and has always known that whatever she did in life needed to be in a creative field. After taking an Academy course on advertising with Roger Muller, Whatley realized she wanted to be the person "problem-solving and coming up with new and interesting ideas." She describes her art style as "edgy with a little pop culture" mixed in to raise an eyebrow or two. It's this personality that has found its way into her advertising campaigns.
Combining that with faculty-encouraged access to use AI technologies like Midjourney and ChatGPT allowed Whatley to truly replicate a professional work environment and product output that she says might not have otherwise been possible. Though, she still has her reservations about its use over the long term.
"There's only so much you can do with stock imagery, and … as a student to come up with everything. We don't have a million-dollar budget, we can't hire these photographers and illustrators. So, it's really helpful to push our vision forward," explained Whatley. "I don't know how I would feel about it in the real world. … I know this is the future, so I'm grateful that this course and this school is keeping up with the times. It feels like we're in the moment, which is really nice."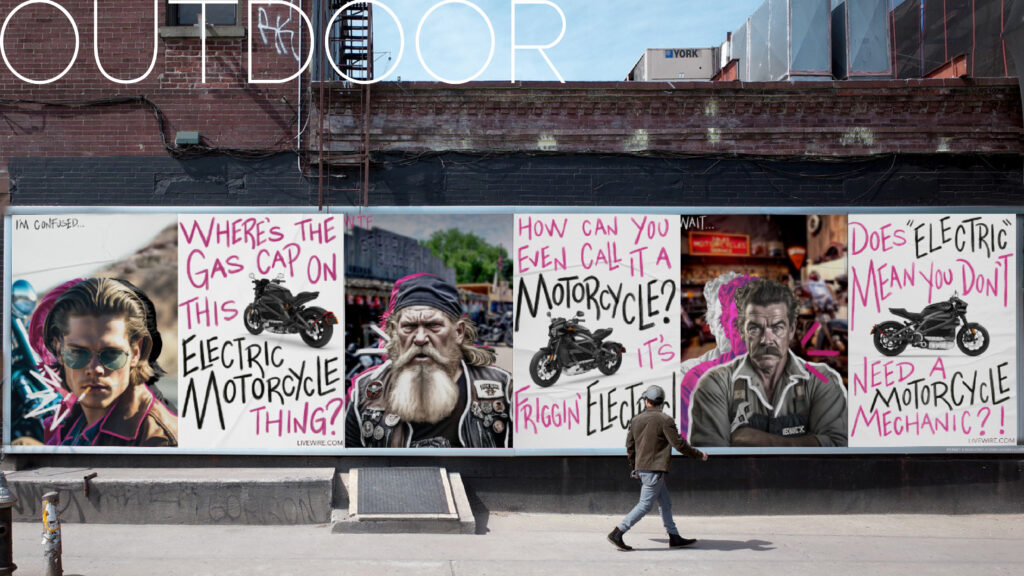 Whatley's Spring Show feature is an anti-electric campaign to promote the LiveWire ONE electric motorcycle. "My whole family is hardcore Harley riders," said Whatley. "I was like, 'Oh, this is perfect.' They would never, ever sit on an electric bike, like it's against their beliefs. I interviewed them and got some quotes." With a little prompting from Patrick to either move away from this direction or go down this road full force, those quotes became the inspiration and strategies for the campaign designed to highlight the benefits of the fully electric bike by saying the opposite.
"People are going to look at these ads and be so blindsided and appalled," she said. "[They'll] want to see for themselves what it's all about. The group of people that we are advertising to don't believe any of the headlines. They think it's ridiculous. It's so ridiculous that it just works."
Washington Chua
Creative Director, Content Producer, and United States Air Force Airman Washington Chua finds himself landing in the advertising world at the intersection of business and art.
His experience observing his father's business while growing up in the Philippines inspired him to find a way to continue merging the two paths—art and business—into a single trajectory. "I find it really interesting," said Chua, "how in advertising, certain messaging, a certain film, or a certain logo, or certain branding… it impacts people [and] in a way influences their decision making."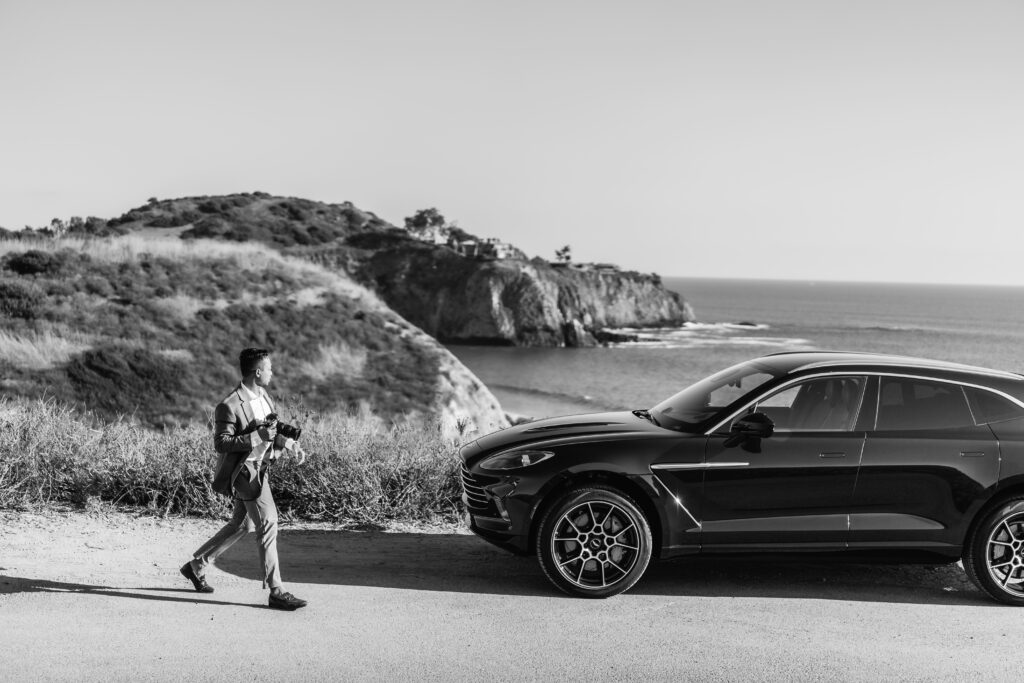 While he doesn't have a particular focus yet, Chua's enthralled with the process itself. Each project pushes him to hone in on the particular ideations needed to get a specific campaign into various media placements that move consumers to the point of making a purchase. So, whether it's copywriting, art direction, or design, he's in for it.
"There's a funnel of messages," explained Chua. "Awareness, interest, desire, the purchasing power is at the very bottom. Each of those has a different type of messaging; you have to cater your ads to meet those specific funnels."
Versaviya Despars
Preparing to graduate in the coming weeks, Versaviya Despars is looking to use the advertising industry to make whimsical waves in everyday life.
Her project involved creating a campaign around scented candles and envisioning the real-world application of her art to create spaces where consumers are temporarily transported to a fantastical world of wonder, in some cases, without even realizing it.
Despars also used AI during the generative process to translate her artistic philosophy into imagery that fully grasps the concept she envisions. She understands the concerns around the new technology but had a more pragmatic response to it.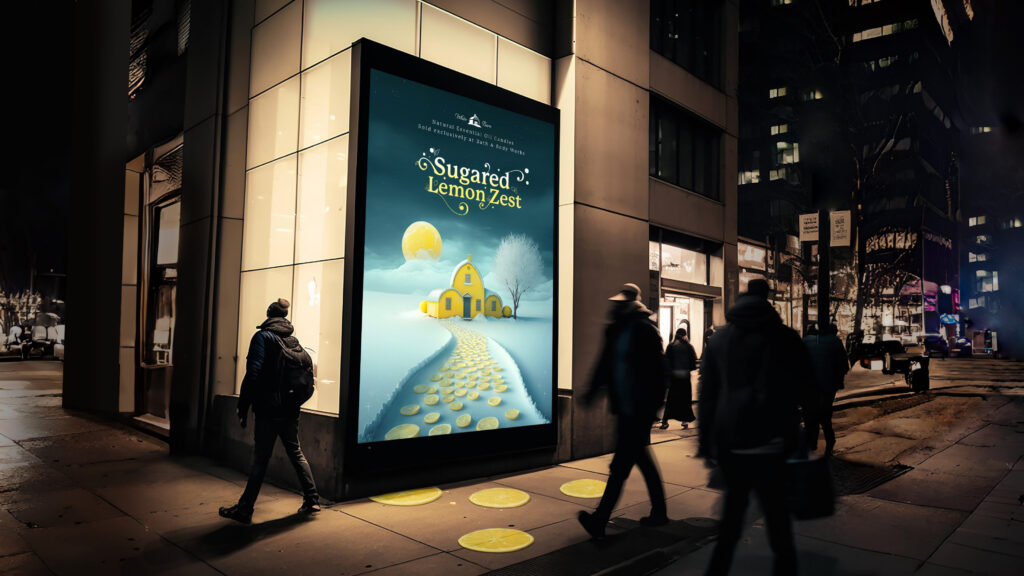 "AI is changing the industry so much—we really don't know what it's going to look like. But I know for sure that AI is here to stay," said Despars. "There's already systems being developed in order to use AI ethically. That's one small step in the right direction of being able to develop and change and evolve as an industry. But we, as creatives, need to learn how to work with it versus against it. If we work against it, we're just going to get left behind. As someone who is just now entering the workforce, I need to show that I can keep up with the latest technology, and that is what everyone's looking for nowadays."
If asked about her inspiration for her style, Despars will tell you it's almost entirely Disney movies, her favorite of which is "Beauty and the Beast."
"Just that intro with piano instrumental," said Despars. "The 'du-na-du-na-du-na-du-na-du-na,' then you zoom in on this beautiful storybook stained-glass window—it just inspires this creative fire in me. I want to create something like that, and this is my way of creating it. I'm not going to create a Disney movie, but I am going to create an ad for a lemon candle that you can experience."
Spring Show 2023 is open at 601 Brannan St. Tuesday through Saturday, 11 a.m. – 5 p.m. It will be closed on May 29, Memorial Day, and July 4. To view this year's Spring Show online, visit springshow.academyart.edu.