By J. Elliott Mendez
"I knew it was a bad idea to save Brooklyn."
"The Super Mario Bros. Movie," directed by Aaron Horvath and Michael Jelenic, brings the beloved characters of Mario and Luigi, voiced by Chris Pratt and Charlie Day, respectively, to life in this CG-animated adaptation that oozes with color and whimsical charm. The film follows the iconic duo as they embark on a daring mission to get their new plumbing business off the ground by jumping in to save Brooklyn from a borough-wide plumbing emergency. When the brothers are flushed into another dimension, they are separated for the first time in their lives and forced to navigate the parts of the realm where they've landed—Luigi to a dark place of lava and bone, Mario to the bright and colorful Mushroom Kingdom.
What follows is a very early Nintendo-esque video game adventure quest. Mario must team up with the coveted Princess Peach, voiced by Anya Taylor-Joy, and a fearless Toad, voiced by Keegan-Michael Key, to save Luigi and the entire realm from Jack Black's toxically infatuated King of the Koopas, Bowser.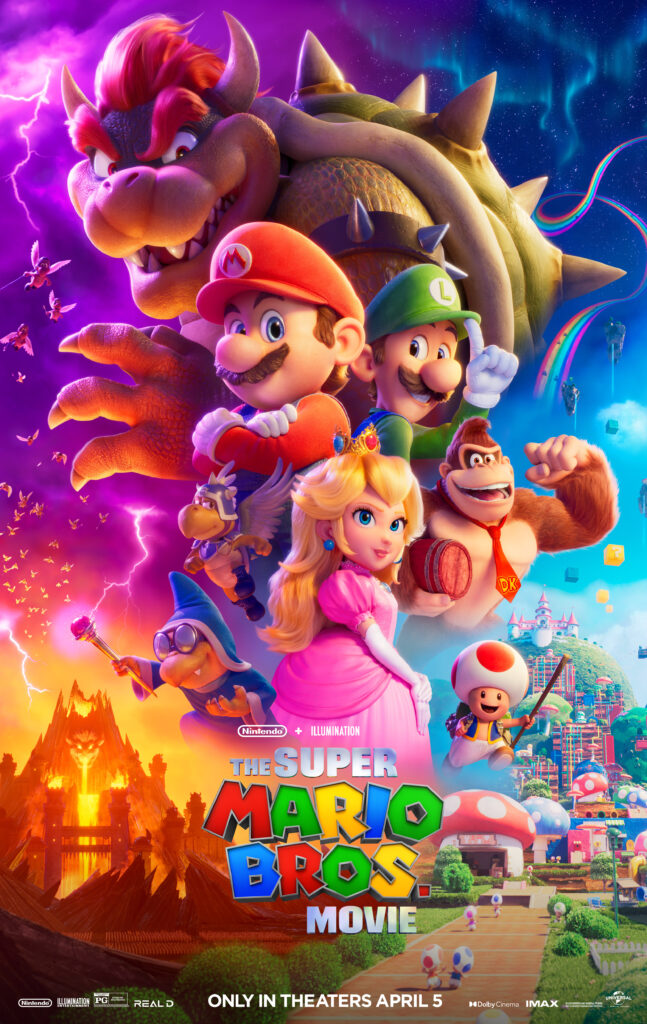 With 42 years and over 200 game appearances since Mario's debut in the 1981 game "Donkey Kong," directors Horvath and Jelenic certainly had their work cut out for them. If we've learned nothing else from the 1993 live-action outing, adapting Nintendo's "Marioverse" into a feature film that would both honor the character's long legacy and fan expectations would likely be a hero's quest of its own. If there's any lingering doubt, "The Super Mario Bros. Movie" certainly jumps the distance it needs to capture the flag.
Of course, there are remarkable performances from the cast who went a long way to give Mario, Luigi, Princess Peach, and the others (no spoilers here) real stakes, motivations, and backstories beyond their game caricature counterparts. Though, somewhat sadly, Bowser is a villain that, while portrayed brilliantly by Black, remains stuck in '80s masculinity.
The real standout feature of "The Super Mario Bros. Movie" is its stunning production design and visual effects. Many of the games Mario has been part of have been imagined here as different kingdoms in this magical realm and brought to life with vivid colors, lush landscapes, and an impeccable attention to detail. The film encapsulates not only the spirit of the video games but the actual gameplay experience that many have come to have a love/frustrate relationship with over the decades. Happy to report that it is wonderfully nostalgic.
The film strikes a balance between adventure, comedy, and fantasy elements, capturing the whimsical and quirky nature of the video game franchise. It's packed with references and Easter eggs that are so seamlessly woven into the fabric and operation of the film that it will take repeat viewings to catch everything. With a 92-minute runtime, the film never drags; rather, it moves from level to level, giving you just enough to be excited but not too much to be overloaded or bored. It'll make you long for the days when blockbuster movies weren't so bloated with filler.
The story itself isn't complex, but it is a heartfelt message about the power of family, friendship, and loyalty. Mario and Luigi's unwavering bond as brothers and their superpower-like determination to never stop gives "The Super Mario Bros. Movie" the added power-up it needs to get the job done.
It's official: Mario is a SUPERHERO.
"The Super Mario Bros. Movie" is now playing in theaters.