An in-progress look at one of the Parkmerced murals by the School of Fine Art at Academy of Art University.
By Greta Chiocchetti
Last semester, students from Academy of Art University's School of Fine Art (FA) were invited to add some color to San Francisco's Parkmerced neighborhood.
As a part of an ongoing, semester-long collaborative project headed by FA instructor and muralist David Burke, FA 350: Mural Painting students transformed a dull, gray wall in a courtyard into a cheerful interpretation of a quintessential Bay Area street, lined with Victorian houses and trees. The mural is the first of three that the class will complete for Parkmerced.
"It was a really special opportunity—I had never done public art before," said Chu Huang, an M.A. FA student who was part of the team that made the mural a reality last semester. "By the end, I was so proud of what we had done together as a class."
Students met over Zoom for the first four weeks of the semester while they drew up their designs. They later met at the site, where they pinned up their designs on the actual wall to be painted and took a vote that included the residents of the community.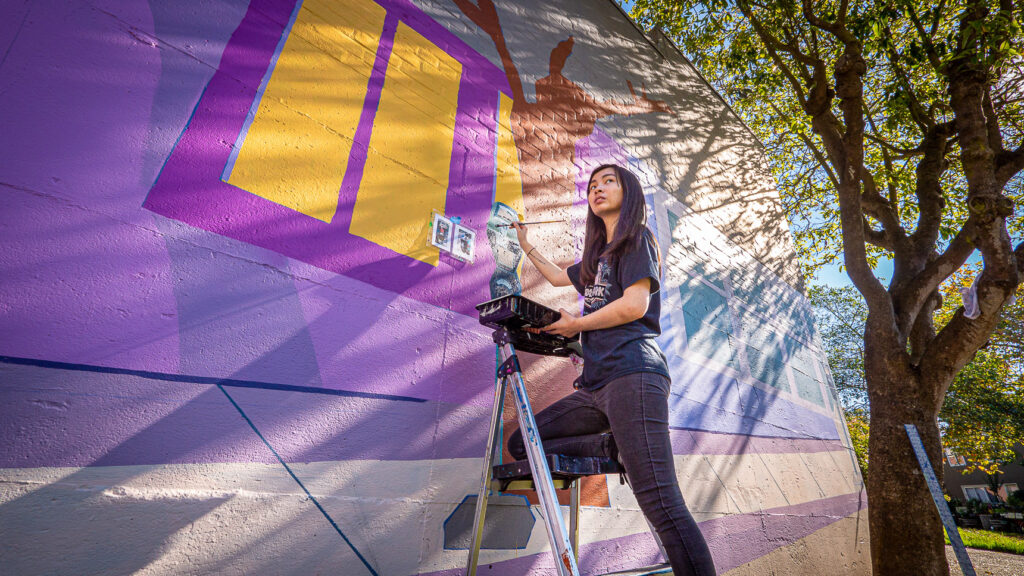 "I think it meant a lot to the neighbors that we were there," said Jeffrey Geronimo, an M.F.A. FA student. "Every time we were there working, we'd get really positive responses from people passing by."
In addition to the project's sheer scale—19 feet by 108 feet—which was much larger than many students were used to working with, inclement weather forced students to delay painting.
"We tried to keep painting, but the rain was making the paint drip down the wall and it would ruin everything," said Geronimo, who said students ducked in and out of the rain for four days in an attempt to recover lost time. "In the end, we had to wait for the rain to stop, which put us quite a ways behind."
Despite the hurdles they had to overcome, the students got it done, pending a few finishing touches, including their signatures.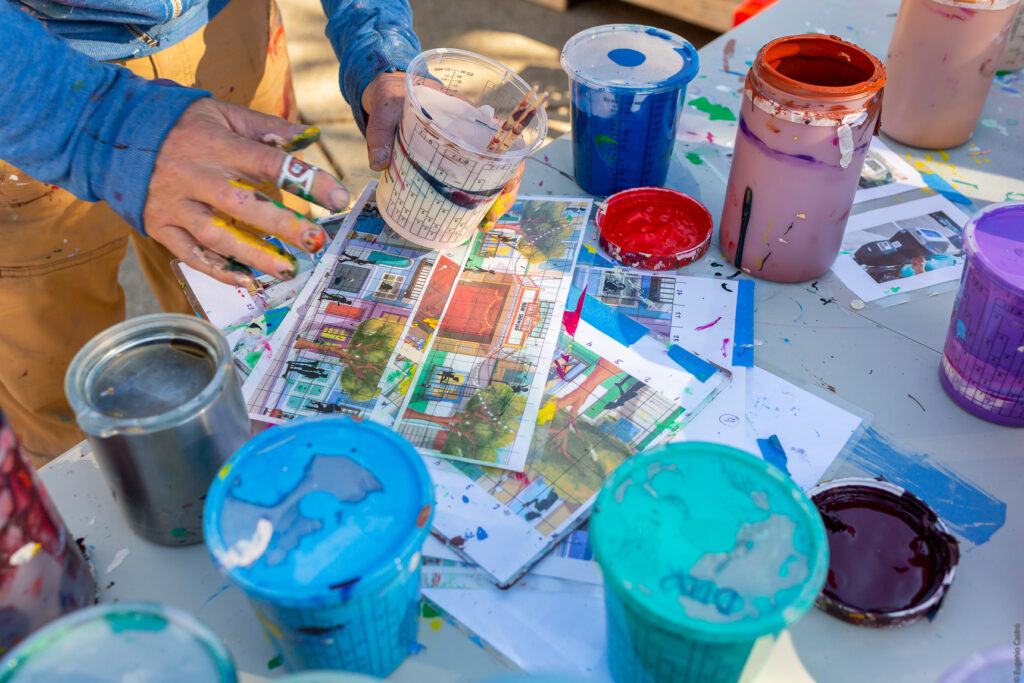 "The mural really activates that space—I mean, it was just a gray wall before," said Geronimo. "I'm so happy to be a part of the team that beautified that courtyard for the community."
In addition to teaching technical skills, FA places an emphasis on the business side of the fine art industry to ensure that students have the tools to be successful after graduation.
"Obviously it's about the art, but it's important that the students are versed in the practical side, like how you bid on things, how you figure out your costs—scaffoldings, paints, coatings to protect from graffiti," said Fine Art Executive Director Craig Nelson. "But if you can figure that stuff out, murals are a very lucrative way to make a living as an artist."
"It requires everyone to work together as a team and really trust one another as they all work toward finishing the project," said Burke. "They learn how to create design proposals, how to budget a project, how to navigate deadlines … all skills that will be valuable once they graduate."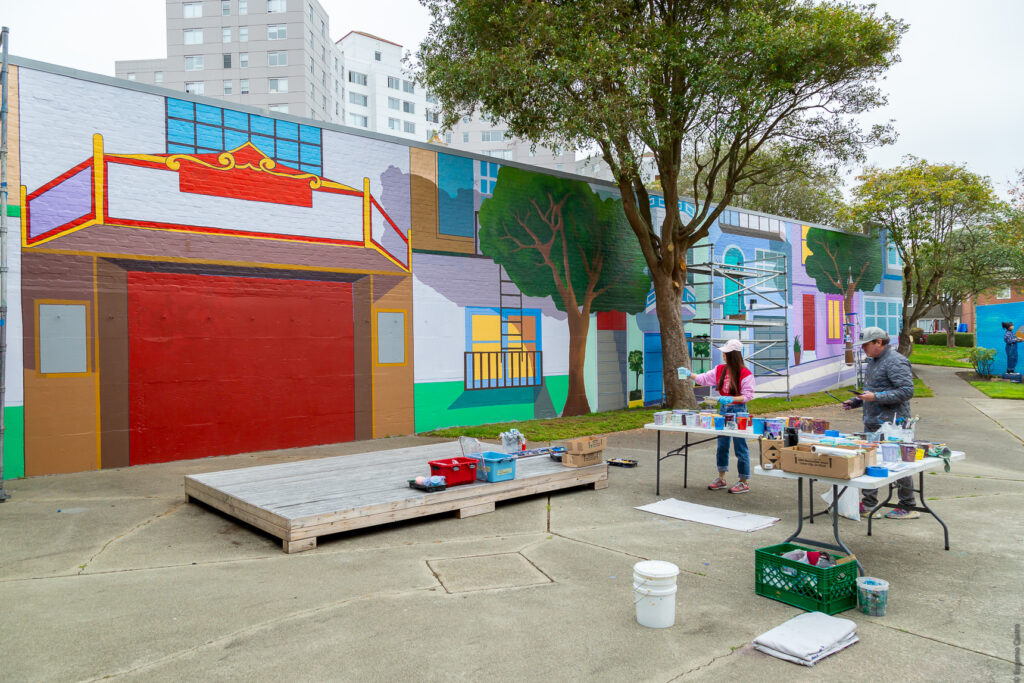 Nelson said that moving forward, the department will continue to seek out community partnerships, including plans for an upcoming mural downtown for Fleet Week 2022.
The community outreach aspect of the project is especially important to the department, as well as the university as a whole. "It gives the community a chance to see what's being taught in our department," explained Nelson. "They can see the quality of the work that comes out of our school."
"I am really proud of what the students accomplished on the mural last semester. The scope of the project was very ambitious and the mural design itself was complex," said Burke. "It was a dedicated and talented group of students, and they rose to the occasion."