By Greta Chiocchetti
Last spring, when a statewide stay-at-home order required Academy of Art University to pivot to online classes, there were questions about how on-site students would be able to continue their studies without physical access to the university's state-of-the-art facilities, like studio spaces and computer labs.
But the Academy didn't skip a beat and almost instantly began experimenting with ways to get students the resources they needed to create: transitioning to online Zoom instruction, mailing gear to students who needed it, and in the case of the School of Animation & Visual Effects (ANM), pioneering a remote desktop lab that students all over the globe could tap into.      
"That's the tricky part. Being remote, we were kind of limited by our toolsets," said Ron Marelli, an ANM alumnus who worked as a compositing lead for Studio X, ANM's faculty-mentored animation production studio.
Marelli was part of Studio X's exciting collaboration with independent filmmakers on "Strawberry Mansion," which, unlike in previous years, was completely remote in the wake of the ongoing pandemic. With a tight deadline closely looming and real-world clients with very real expectations standing by, the students felt the pressure mounting and had little time to spare.   
"Being able to utilize the remote lab was a huge help," said Marelli. "Then we could focus our time on doing more animating, not sitting around while we waited for our computers to catch up."
As most animation students know intimately, rendering can be a lengthy process. In one of the final steps in the production pipeline, data stored on a computer is calculated and translated, pixel by pixel, into an image. It can take 15 minutes to render one frame, on the low end—of which there are 24 per second in film—meaning that render times can quickly add up. To make matters more challenging, rendering monopolizes a computer's capabilities, making it impossible to simultaneously work on other projects or attend Zoom classes. 
But luckily for ANM students, rendering doesn't have to be such a headache. After classes transitioned online last spring, the department rose to the occasion by revamping its remote desktop system, the likes of which are also used by renowned studios like Pixar and Industrial Light & Magic. The system, dubbed rLab, allows students to remotely tap into a lightning-fast computer in a physical computer lab on campus and gain access to industry-standard animation software and the Academy computer's powerful GPU and CPU, freeing up their personal computer for completing other assignments and attending classes.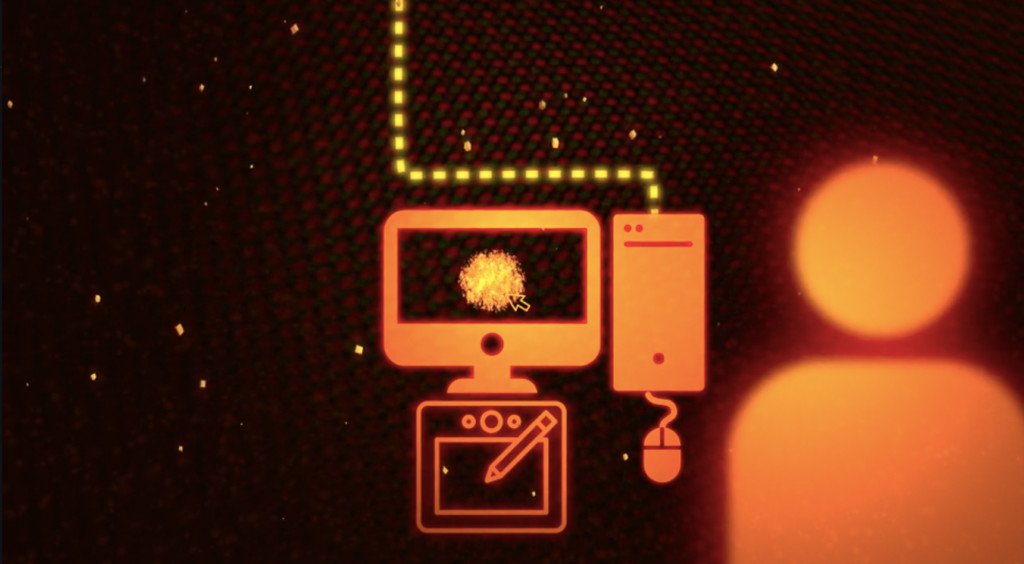 "The rLAB is about connecting you to a workstation that is more powerful than the one that you have in front of you. The render farm is connecting you to 20 of those," said Associate Director of Visual Effects Derek Flood. "A good analogy is, it's like having the world's longest cable plugging your monitor or screen into the computer at the school."
In addition to providing access to the remote computers, the department can connect students to its render farm, which allows students to render their projects more quickly and efficiently by spreading the job out between 20 powerful workstations. A job that might normally take 10 hours to render on a single machine could take 30 minutes through the render farm.
"I hadn't ever used the [render farm], not even when we were still on-site. I was really unfamiliar with it," said Maria Cifuentes, who worked as a CG artist on "Strawberry Mansion." "When I finally learned how to use it, it made all the difference. It made everything move much smoother and was so much faster."
The render farm has been available to on-site ANM students for several years at the Academy. It has been an asset in every film to come out of the department, including the award-winning short film "Soar," which won Gold at the Student Academy Awards in 2015, as well as "Wishing Box," which received a number of awards on the festival circuit.
"The rLAB has been available pretty much since the coronavirus hit. From the very beginning, back when we had to grab our stuff from our offices as fast as possible and leave campus, we initially began offering the remote desktop solution," said Flood. "I think it was only a matter of days [after the stay-at-home order was put in place] before it was set up. But it's gone through iterations—we've been trying to constantly improve it."
In a recent update, an intelligent, automatic check-out system was added to the rLAB, allowing students to access the lab 24/7. Users can check out workstations for four-hour blocks of time, and then reserve more as needed. To keep spots free for as many students as possible, the system can sense whether a student's mouse and keyboard has been idle, issuing a warning that the unused machine will be disconnected and returned to the pool for other students to use.
"Especially since they introduced the automatic broker system, the whole rLAB experience has been pretty seamless," said Diana Lee, an M.A. ANM student and a texturing and lighting artist for Studio X. "Even with long, long, long render times, it's always done overnight, which is what you want because you don't want to be wasting time during the day waiting for a render. And I think that's the biggest benefit of having a render farm—is that you can get bigger jobs done overnight, or you can walk away and when you come back, it'll be done."
Thanks to the Academy's innovative, cutting-edge ANM facilities and supportive faculty, going fully online actually proved to be beneficial to Lee's workflow. 
"I don't feel a lack at all in my fully-online experience," said Lee. "I feel like I have everything I need. Staying at home all day has given me a lot more time to just sit and work on things—and I can really just pick up and work on something whenever I'm really feeling it, without having to worry about scheduling that lab time in."