By Greta Chiocchetti
Aviation Operations Specialist Alycia Johnson-Dardiz of the U.S. Army National Guard always knew she would fly.
As a child, the student from Academy of Art University's School of Animation & Visual Effects (ANM) dreamt of becoming an astronaut and planned to study astrophysics later in college. But at the age of 17, she realized that joining the service was an alternate path to the sky—and one that would later allow her to pursue an education in art, her other passion. 
"The morning that I swore into the military at the age of 17, I had no idea I'd be swearing in," said Johnson-Dardiz. "It all fell into place so fast, and I joined that day. It just made sense to me."
Though the decision to join manifested itself quickly at that moment, there's a history of service in Johnson-Dardiz's family.
"It's deeply-rooted in my family to be either military or an artist, or both," said Johnson-Dardiz. The cousin who introduced her to her recruiter painted murals on her deployment. Her grandfather was one of the first Air Force pilots, having served in the army in World War II before the branch was created. He was later scouted by Walt Disney as a founding member of the Disney company.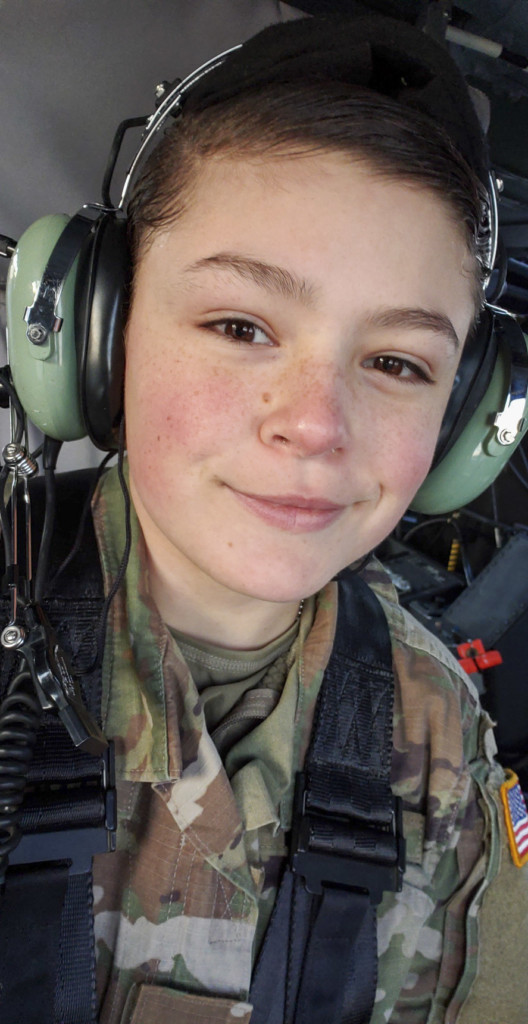 While still in high school, Johnson-Dardiz was assigned to a Recruit Sustainment Program (RSP) unit and began drilling for one weekend a month before leaving for basic training. Despite the early mornings—she would leave home before 6:30 a.m. on weekends to get to first formation on time—she was able to juggle her many roles as president of the school's art club, lifeguard at the local YMCA, and member of the varsity wrestling team.
"The most chaotic weekend I had during RSP was when I did my physical training (PT) test, then drove home for an hour and got ready for prom. I didn't go to bed until like 11 o'clock that night, and then the next morning I had to get up at 4:30 to be at the base by 5:30 a.m.," said Johnson-Dardiz. "From there, I had to leave at noon, have my cousin pick me up with my cosplay outfit, and then went to a convention in full cosplay with friends. So, I went from boots to sneakers, to heels, to boots, to heels again."
As an active duty Aviation Operations Specialist (AOS), a resident advisor and student at the Academy, as well as a part-time barista, Johnson-Dardiz has to balance her schedule carefully to get everything done.
Before COVID-19 forced its closure, Johnson-Dardiz was a regular at the Veterans Resource Center (VRC) on campus. Run by Student Services, Veterans Resource Center Coordinator Chrystal Beamon, affectionately referred to as "Mrs. C," the VRC was a preferred spot on campus to get work done between Johnson-Dardiz's classes. 
"Our student veterans are so, so disciplined. They will sit in that room and do their work with their earphones on and just get it done," said Beamon. "My job is to make the space as welcoming and comfortable as I can, so they can relax, or get work done, or whatever they need."
In Johnson-Dardiz's role as an AOS, she's responsible for communicating with pilots on the radio and maintaining flight logs and records. For one weekend a month, she makes the three-hour drive to Mather Airfield outside of Sacramento, where she doesn't have access to Wi-Fi—meaning she needs to be prepared ahead of time.
"It can definitely be crunch time before a project is due," said Johnson-Dardiz. "I've learned to communicate with all my instructors and to always get started on something well before it's due, so I don't have to cram as much."
Though Johnson-Dardiz remarks that her time in the service has given her self-described "chaotic" life structure, she says she wishes civilians could understand that she and her fellow service people aren't the stoic caricatures that are often portrayed in TV and film.
"There's a diverse array of people serving—I was shocked to meet people who are also really into anime and comics," said Johnson-Dardiz. "Some of the dorkiest people I've ever met are in the military."