Fine art student Jeffrey Geronimo joined the Academy after completing his military service
By Nina Tabios
Jeffrey Geronimo knew he wanted to go to Academy of Art University even before he was in the military. In fact, art school was the reason why he enlisted in the first place.

"I heard a lot of good things about the Academy, even back in high school," said the School of Fine Art—Painting (FA) undergrad. "And so now I'm just continuing my dream of getting my bachelor's degree in art."

Geronimo's work was featured in this year's Veterans Art Exhibit, which ran from Sept. 23 through Oct. 19 at the Academy's Atelier Gallery located at 79 New Montgomery. It was Geronimo's second time having work in the exhibit and he said having his art hanging among fellow veterans will always feel like a true honor. A talented photorealistic painter, Geronimo believes with each piece he's consistently progressing and getting better.

"Growing up I always wanted my work to be as detailed as possible. But coming to the Academy taught me that sometimes it's okay to let loose," said the former Navy shipman. "I'm still learning that. I'm learning something new every day."

In high school, Geronimo was "the guy they would go to whenever they wanted to do floats for homecoming or spirit week, to do the art and design for it," he said. And even during his two tours, Geronimo was still the go-to art guy, putting his creative talents front and center.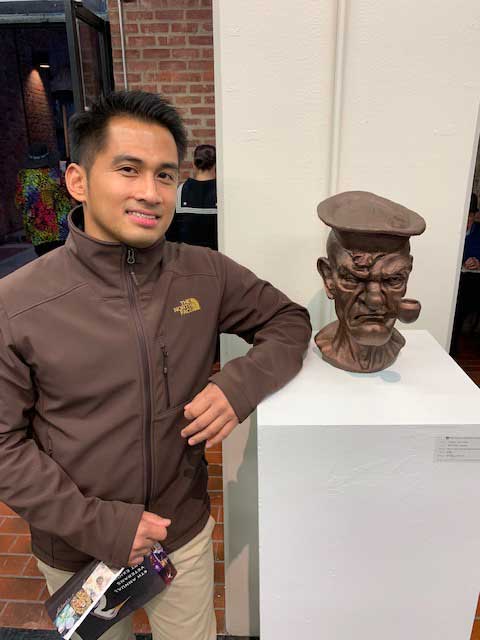 "They let me paint some of the doors, a little bit of designing the command coin, some logos. A little bit here and there without having any formal knowledge yet," Geronimo recalled of his Navy superiors. When he wasn't adding his artistic touch to the ship, Geronimo was a shipboard firefighter and a promotion led him to sign on for a second term. "They knew my background and they knew what I was there for. And they made use [of my talent] in other ways like designing or painting the walls and doors, which was really cool."

Leaving the Navy in 2014, Geronimo knew that going from sailor to student wasn't going to be easy. But as he made his way through his foundations classes, learning the basics and fundamentals, Geromino eventually understood that the principles he learned in his time in the Navy—discipline, dedication, and commitment to his goal—could also steer him throughout this pathway to becoming an artist.

"Once you learn these techniques you can tie it into your own personal choice or design, or whatever it is that you want to do for your art. It helps me become the unique artist that I am for my work," Geronimo said. "I feel more free, I have more freedom in doing the things I want rather than being dictated into what I have to do. My teachers at the Academy also help me a lot, trying to help me become my own artist, which is a good thing."

"Jeffrey is definitely one of the strongest students in my class right now," said FA Executive Director of Painting & Printmaking Craig Nelson. "His work is very well-executed: basically realistic, drawn extremely well, good color, good value, and good technique. You can tell he really cherishes his education."

With still a few years to go until he completes the fine art program, Geronimo hopes more veterans can consider art as a viable next chapter in their lives. Sometimes, you just have to take the leap.

"The hardest thing for me was to just get my foot out the door," he remembered. "I didn't know if I'm going to do well, how will it turn out, will people like it. But once you start, you'll figure it out as you go. That's what I'm doing right now."