Photography session and student panel event at Apple was filled with styling insight and audience engagement
By Nina Tabios
As Academy of Art University guests and curious patrons stepped onto the second floor of Apple Union Square on April 4, they were met with what looked like a small runway show. Wearing an elongated white sweatshirt and knitted vest, a model struck different poses in front of a screen of rotating backdrops, switching between hued patterns and textures. As the photographer snapped away, School of Fashion Associate Director Flore Morton was delighted at the moment.
"I've been dreaming about this screen since we started planning this," she said excitedly. "And now we finally have it!"
By the end of the evening, attendees would be giddy about that screen and photographing models too. Part student panel and part interactive photography session, the Fashion Styling Photo Lab invited guests into a crash course about the Academy's styling program and then let them try their own hand at shooting fashion editorials. Informative and interactive, guests were excited to capture striking images of the models in student-made garments on their iPhones.
"It was just really fun to just play around with angles, try different things with the phone settings," said Michael Nicer, a freelance UX designer based in San Bruno, whose picture received high praise during Morton's live critique. "The fashion part of it, too, was a unique subject and, from a photo perspective, it really made me appreciate the beauty of the model and the garment itself."
"It's really not uncommon for someone to capture a photo on set with an iPhone and then we use it in the editorial," Morton said, who thought the iPhone photography component made the event more accessible to those in the crowd. "That's an aspect that's perhaps more approachable for this type of event than just bringing all the big, professional cameras. You can really engage at that level."
At the core of the event, which was organized in collaboration with the Union Square flagship's Today at Apple educational programming, was the student-focused discussion that gave audiences a much deeper perspective on styling as a profession and collaborative process. Revealed throughout the conversation, fashion editorials act as creative visual storytelling. "You can dress people just to dress people, or you can actually say something," Morton said.
For her portion of the presentation, Krystyn Nakamura (B.F.A. 2018) explained to the room that her ideas often come from a personal place. One collection of photos, shot in a moody, red living room was heavily influenced by the loss of family members. "A lot of the colors on the location represented the colors that were in my grandma's house," she recalled.  "I was immediately just thinking this was meant to be, it was perfect."
One of Nakia Pleasant's (B.F.A. 2019) shoots blended fashion with basketball. One set of images, shot at the Lincoln Rec Center in Oakland, was an example of Pleasant's knack for location, casting characters, and creating a cohesive narrative between the subjects. "Context is everything," she told the crowd. A changing beauty standard, Pleasant added, also pushes her to find "the coolest natives" around her from East Bay locals, friends of friends, and, more often than not, Instagram.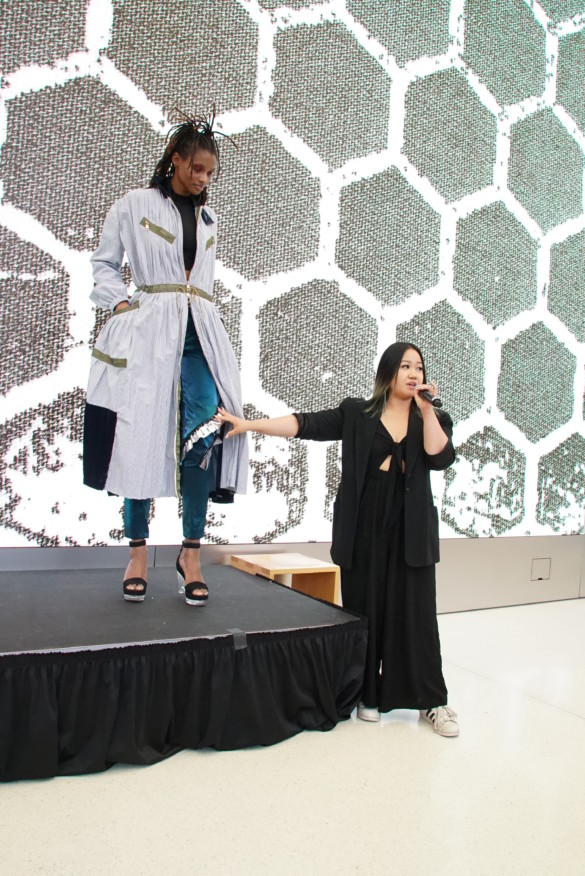 Robert Bala (B.F.A. 2018) talked about the ways his stylist experience transferred to his current work as a model and artist agent with Look Modeling agency. To him, being a stylist and an agent is problem-solving, "fanning the fires" to not just get the right shot but also to create the right opportunities. "My first client was a big moment for me," he said. "That was me reaping the benefits of all the hard work I had done behind the scenes, learning all that is in the fashion industry. It solidified what I was going to do for the rest of my life."
For fellow B.F.A. styling student Anne Duka, the event brought to attention how fashion stylists rarely perform their work in front of spectators. She volunteered to re-style the model for the audience photoshoot and selected a neoprene black dress with red embroidery and glossy elbow-length gloves. Her choice backdrop, a rippling black and white pattern that she believed would make the red pop.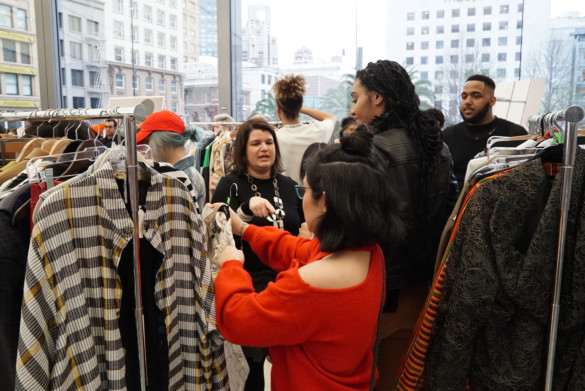 "Putting that outfit together felt really high pressure," she laughed. "But I feel like it was great for us to do it front of an audience. We only had a short amount of time to pull an outfit together. It was something that really describes our lifestyle behind the stage."